LOUISVILLE, Ky. (WDRB) – They're expecting some packed houses for the NCAA Baseball Regional at the University of Louisville this weekend. But for Indiana University freshman pitcher Gabe Bierman, there will be a massive empty seat.
Three weeks ago, the 19-year-old Jeffersonville, Indiana, native and former Jeffersonville High School standout lost his father. 
On May 14, Doug Bierman watched his son pitch two innings against, of all teams, Louisville. The game went to extra innings, so the two didn't get to see each other afterward. 
Two days later, Doug Bierman collapsed on the job at the construction company he owned in Elizabeth, Indiana, and never regained consciousness. He died of a heart attack at age 49.
Now, Gabe Bierman, still stunned and dealing with the loss, is coming back home to pitch in the NCAA Tournament.
"I try to keep it away as much as possible, keep doing my job," Bierman said Thursday after the Hoosiers worked out at Jim Patterson Stadium. "He would've wanted me to be here. He told me a lot of things when he was here, and I'm going to follow up what he said and keep playing the game."
Baseball helped strengthen the bond between father and son. Bierman grew up in Jeffersonville, while his father lived and later remarried about a half-hour away in Elizabeth. But, whenever Gabe played, his father was there, through little league and his career at Jeffersonville High, where Gabe set a school single-season record for strikeouts and won a sectional as a senior.
Most of the time they spent together in recent years, Bierman said, was at the baseball field.
"We spent a lot of time playing catch in the front yard," he said. "It got to the point where I was teaching him a lot of pitches."
And it was at the baseball field that Bierman found out that his father was gone. He said he was sitting around at home waiting to go to IU's Bart Kaufman Field when he got a call from his grandfather, saying he needed to meet him at the field.
"I went up to my grandpa and he said, 'I've got some bad news for you; your father passed away,'" Bierman said. "At that point, I can't tell you why I didn't really think it was real. I was in shock.
"I talked to coaches, and they gave me the option to stay or not," he continued. "I told them I wanted to stay with the team, because all the support from all these brothers would help me out and help me get through this."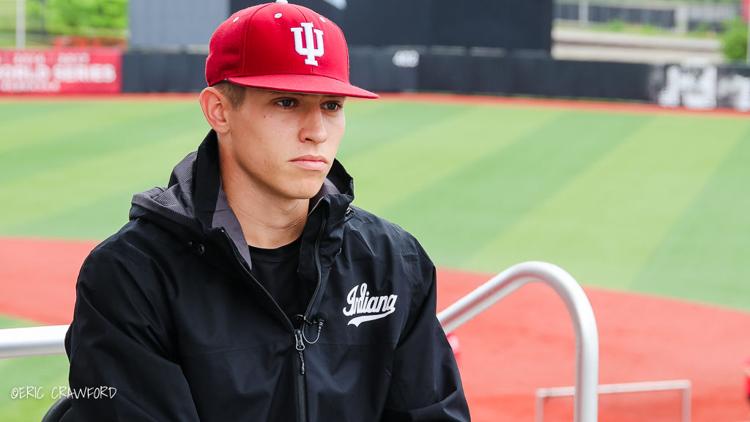 Indiana coaches, who were aware of what had happened, had put some thought into how to handle Bierman's situation. Hoosiers head coach Jeff Mercer said he remembers that day, Bierman asking him if he could spend some time with his family and saying he might be a bit late for stretching. Mercer shook his head remembering it, and saying, "Yes, you can be late to stretch."
Mercer said he let Bierman lead him in the day following Doug Bierman's death. Two days after, with Bierman having decided to remain on the active roster in his usual relief role, the freshman found himself on the mound against Rutgers, three outs away from securing the Big Ten Championship.
"We put him out there, and you could tell pretty early on that he was pretty composed and he had his stuff," Mercer said. " ... When you have a player who is having a superstar performance, you just get out of his way and let him do what he was meant to do and let him have his moment."
Mercer said he told his pitching coach, "Let's let him ride as long as he goes. We'll have some guys up, but we're not taking him out unless we can't avoid it. But he was very good."
Bierman worked three shutout innings and struck out four. As he threw his last pitch, a called third strike to end the game and clinch the Big Ten title, the emotions hit.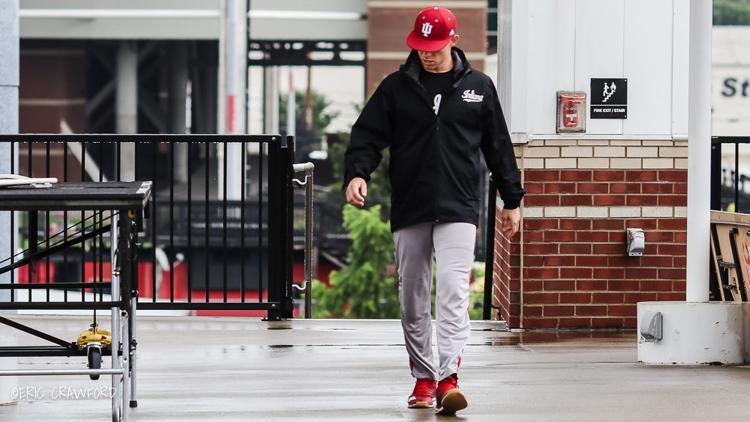 "It was like I was outside my body, standing next to him," Bierman said. " ... Throwing those last three innings against Rutgers was the most memorable time of my life. I'll never forget that."
Elsewhere around the ballpark, the emotional scene wasn't lost on fans, coaches or teammates.
"It was a special moment to see him celebrate on the mound afterward," Mercer said. "Just to have that euphoria and pure joy in a very sad time. It was gratifying and satisfying ... you say, 'Things were meant to be.' I don't know if I necessarily believe that all of those things were meant to be. But it was rather odd, how that ends up with him on the mound with the last pitch to secure the championship.
"Maybe it was; maybe he was supposed to be there and that was supposed to be the way for him to represent his family the way that he wanted to. I know we were all very proud of him."
Bierman is a week removed from his father's funeral and coming back home with the potential of facing the team he last faced with his father in the stands. Indiana will open tournament play against Illinois State at 2 p.m. Friday. 
And being back home brings a rush of emotions for Bierman. He expects it will be no different when he enters a game during the tournament.
"As soon as I walk out on that mound, I'll always be thinking about him," Bierman said. "I know he'd be cheering me on, and his will be the first voice that I hear. ... He was selfless. He loved being around people and people loved being around him. ... He'd tell me, if he were here, to grow and become the man you want to be. I want to be the future of this program."
A GoFundMe account has been set up to help with family expenses after Doug Bierman's death. For more information, click here.
Copyright 2019 WDRB Media. All Rights Reserved.