LOUISVILLE, Ky. (WDRB) -- Lynn Family Stadium is scheduled to open in the spring of 2020. With Thursday's addition of 12 truckloads of sod, it is starting to look a lot more like a soccer home for Louisville City FC. 
"I drive by every day on purpose," head coach John Hackworth said. "For me, this is when it's real. This is where we're gonna do all our important work."
"When you see the grass coming down, it really feels real," defender Sean Totsch added. "I want to go out and start kicking a ball on it right now."
The grass is a strain of Bermuda called Tahoma-31, which is grown in southwestern Indiana. And the fact that the field is real grass apparently had a bearing on luring Hackworth here in the first place. 
"I played college soccer for two years on the old AstroTurf and I still have scars on the outside of my calves and elbows," Hackworth said. "I was in Costa Rica and I'd been hired here, and Brad (LouCity President Brad Estes) called me and said, 'Hey, we're trying to decide what type of turf; would you consider artificial?' I said, 'No, no I'm not coming if it's artificial. That stadium has to have a natural surface.'"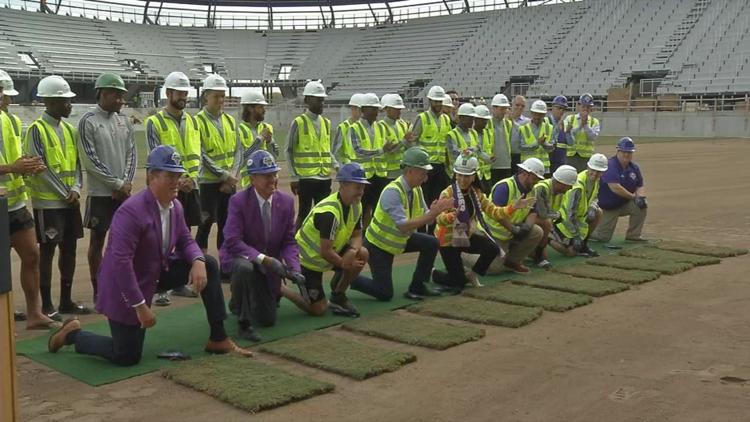 Hackworth's team has been on a nice roll. LouCity is unbeaten in its past eight games, with six wins in that stretch, and has climbed up to sixth in the USL Eastern Conference standings.
The team has another chance to move up when they host Tampa Bay at 7 p.m. Saturday at Louisville Slugger Field. The Rowdies are one of three teams leading the conference with 56 points. Louisville has 50. 
Copyright 2019 WDRB Media. All Rights Reserved.