We have posted a couple blogs already about the behavioral changes from coronavirus having an effect on pollution around the world. Click here to read our post BEFORE & AFTER: NASA Satellite Data Show 30% Drop in Air Pollution Over Northeast U.S. and click here to read Unexpected Environmental Changes from COVID-19. Now people in India are seeing these effects with their own eyes! (Banner image credit: NASA's Johnson Space Center)
This was the view from our rooftop at home in Punjab India. For the first time in almost 30 years could clearly see the Himalayas due to India's lockdown clearing air pollution. Just amazing! 🙏🏽 pic.twitter.com/WmWZYQ68lC

— Manjit K Kang #StayHomeSaveLives (@KangManjit) April 3, 2020
The tweet above shows the Himalayan mountain range in the distance.  The Google Maps satellite image below shows Punjab in relation to the Himalayan mountain range.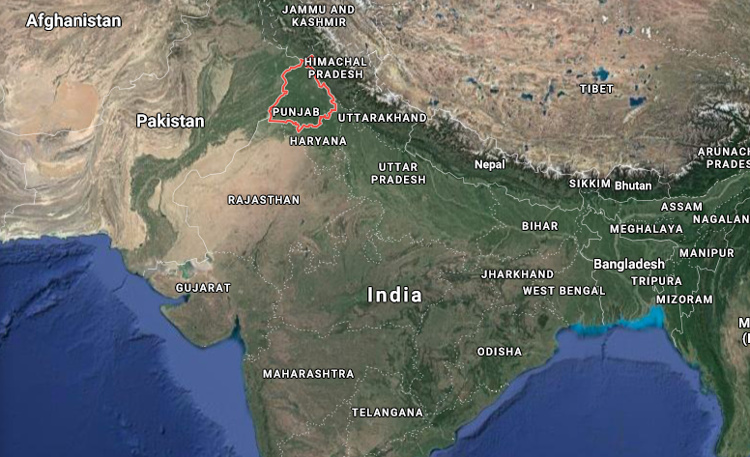 The tweet below has a whole thread of views around the region where people can see the mountain range now that the pollution has cleared. 
What nature really is and how we screwed it up. This is Dhauladhar mountain range of Himachal, visible after 30 yrs, from Jalandhar (Punjab) after pollution drops to its lowest level. This is approx. 200 km away straight. #Lockdown21 #MotherNature #Global healing. pic.twitter.com/cvZqbWd6MR

— Diksha Walia (@Deewalia) April 3, 2020
On March 31st the Government of India released a study showing the changes to pollution based on the actions taken to mitigate coronavirus. The specific amount of decrease in pollution varies by the city and by the pollutant, so click here to see the study if you're interested in those particular numbers. Here are some of the highlights from that study:
air quality improved in at least 85 cities as a result of the lockdown
air quality improvement was more notable away from the coast
according to CNN, "the air quality in Jalandhar, which sits more than 100 miles from the Himalayas, has been measured as 'good' on the country's national index for 16 of the 17 days since the nationwide lockdown was announced. By contrast, the same 17-day period last year failed to register a single day of 'good' air quality -- and in the first 17 days of March this year, only three days saw 'good' air quality."
India's lockdown prevents road and air travel and all unnecessary business, only allowing essential services to continue to operate. The day after enacting the lockdown, they starting seeing pollution levels drop as shown in this study.