The extremely active 2020 Atlantic hurricane season came to a close this week with a record-breaking 30 named storms and 12 landfalling storms in the continental United States. It is important to note, while the hurricane season officially ends on November 30th every year, tropical storms may continue to develop past that day.
The final Monthly Weather Summary for the 2020 Atlantic hurricane season has been issued. The season was extremely busy, with a record 30 named storms, 13 hurricanes, and 6 major hurricanes. A record 12 named storms made landfall in the United States.https://t.co/dEg6cZu2ze pic.twitter.com/EOOd2jAnwC

— National Hurricane Center (@NHC_Atlantic) December 1, 2020
TAKING A LOOK BACK: 
The season got off to an early start on May 14h, more than two weeks before the season officially began and it continued to break records across the board.
There were so many storms, that for the second time ever, the National Hurricane Center used every name in the pre-determined list. After Tropical Storm Wilfred formed on September 18, the Greek alphabet was used for the remainder of the season, extending through the 9th name in the list, Iota. This was only the second time the Greek Alphabet has been used. Watch all of the storms from space in this video below. 
Six storms were major hurricanes -- which is a tie for the second highest number of major hurricanes in a single season. And two major hurricanes also formed in November -- which had never happened before.
This season also had the most continental US landfalls. 12 storms made landfall in the US, which broke the old record of 9 in 1916. The 2020 storms were: Bertha, Cristobal, Fay, Hanna, Isaias, Laura, Marco, Sally, Beta, Delta, Zeta, Eta.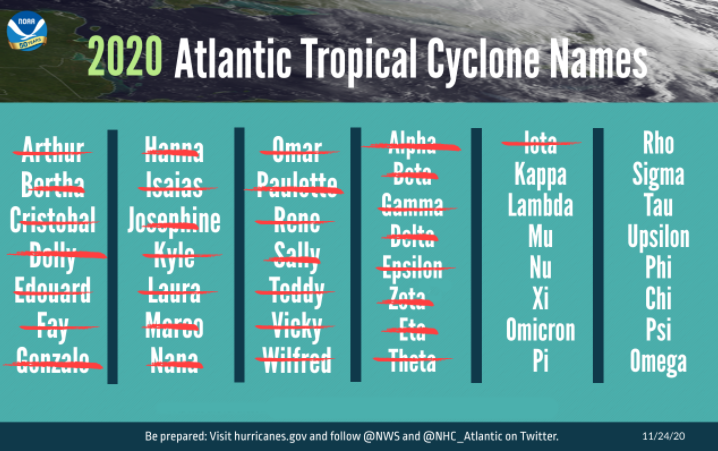 MORE INFORMATION: 
NOAA's seasonal outlooks predicted a high likelihood of an above-normal season with a strong possibility of it being extremely active. In total, the 2020 season produced 30 named storms (top winds of 39 mph or greater), of which 13 became hurricanes (top winds of 74 mph or greater), including six major hurricanes (top winds of 111 mph or greater). This is the most storms on record, surpassing the 28 from 2005, and the second-highest number of hurricanes on record.
This is the fifth consecutive year with an above-normal Atlantic hurricane season, with 18 above-normal seasons out of the past 26. This increased hurricane activity is attributed to the warm phase of the Atlantic Multi-Decadal Oscillation (AMO) — which began in 1995 — and has favored more, stronger, and longer-lasting storms since that time. Such active eras for Atlantic hurricanes have historically lasted about 25 to 40 years. An average season has 12 named storms, six hurricanes, and three major hurricanes.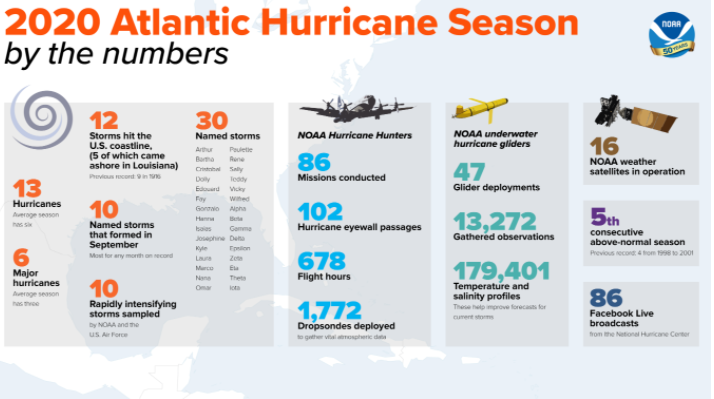 Preparedness for the season ahead
This season may officially end on Nov. 30, but it is still possible for additional storms to develop. Stay vigilant and make sure your family is Weather-Ready. The 2021 hurricane season will officially begin on June 1 and NOAA's Climate Prediction Center will issue its initial seasonal outlook in May.