LOUISVILLE, Ky. (WDRB) -- Waterfront Park officials are seeking to change how land can be used in and near the Ohio River park, a move meant to attract at least one new business right away.
An ordinance introduced last week at Metro Council would permit a range of new activities — from breweries and distilleries to art galleries and aquariums — in a roughly 300-acre zoning district that includes much of the park and some adjoining properties.
The Waterfront Development Corp. sought the amendment to the city's land development code in part because the agency has been "actively working to lease" a building it owns at 1250 River Road, said Deborah Bilitksi, the agency's president and executive director.
"We're just trying to increase or expand the list of permitted uses for the property that's immediately surrounding the park," she said.
Bilitski said those changes could help complete a deal for the River Road building, but she declined to elaborate. She told the Louisville Metro Planning Commission's planning committee this month that "we've got a prospective tenant that we are trying to accommodate."
If approved by the Metro Council, 12 new categories would be permitted in the W-2 Waterfront District, an area bounded by the river to the north; the South Fork of Beargrass Creek to the east; I-71 and I-64 to the south; and the I-65 bridges to the west.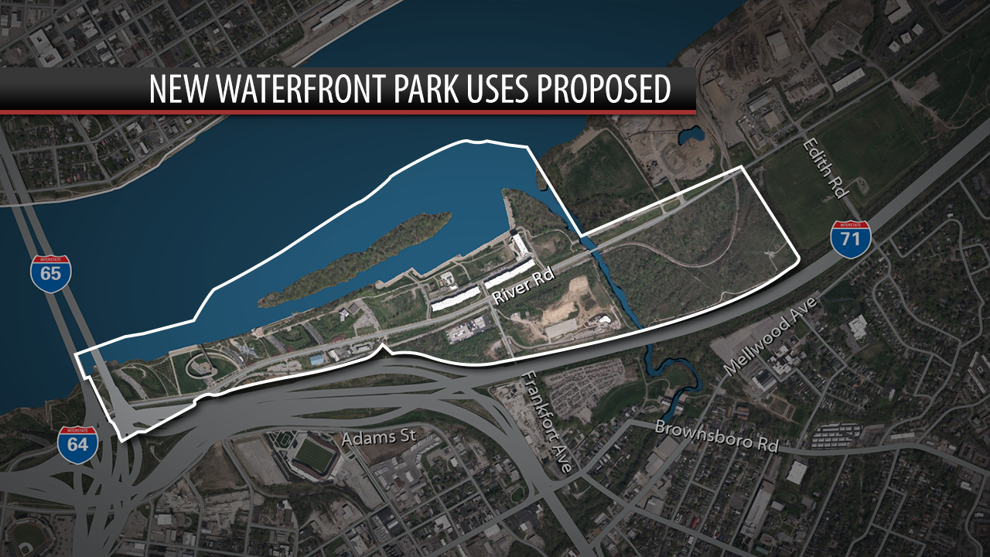 They include antique shops, banquet and event spaces, bakeries, art galleries and artist studios. Also permitted would be bicycle sales businesses, museums, arboretums, "historical buildings and grounds," museums and libraries, among other things.
Breweries and distilleries also would be permitted and could have tasting and tap rooms if production occurs inside in a space of 15,000 square feet or less. That size was chosen because waterfront officials believed it was an "appropriate size/scale adjacent to the park," Bilitiski said in an email.
The River Road building appears to have less than 15,000 square feet, according to a WDRB News analysis of online data hosted by the Louisville/Jefferson County Information Consortium.
The waterfront corporation paid the Riverway Louisville Terminal Co. $2.5 million for the property in 1996, according to online records.
One use would be stricken from the land-use code, with automobile service stations no longer permitted in the area. Other allowed uses would remain, including restaurants like the proposed Pig Beach BBQ slated for the former Doc's Cantina building in the park.
Brooklyn-based Pig Beach announced last November that it planned to open by spring 2022, but that hasn't happened. Marzi Daoust of Pig Beach said in an email that the company is "working through a variety of supply chain-related issues that have caused delays in construction." She did not provide a planned opening date.
The zoning district includes other properties owned by the Waterfront Development Corp., a public agency whose members are appointed by Kentucky's governor, Louisville's mayor and the Metro Council, as well as land owned by Metro government.
It also includes privately owned properties on River Road that now house Zero's Luxe Lounge, Browning Equipment Co. and the River Park Apartments, as well as the Waterfront Botanical Gardens at Frankfort Avenue and River Road.
Waterfront Park development director Ashley Smith told the Louisville Metro Planning Commission earlier this month that no property owners that would be affected have objected to the new proposed uses.
The planning commission has recommended that Metro Council approved the changes. The council's planning and zoning committee is scheduled to take up the ordinance at its meeting Tuesday.  
Copyright 2022 WDRB Media. All Rights Reserved.