LOUISVILLE, Ky. (WDRB) – Every state in the U.S. has seen unemployment claims soar during the coronavirus pandemic, but a closer look at the data shows Kentucky has been especially hard hit.
Big states – New York, California, New Jersey – are generating the lion's share of jobless claims. But when you measure unemployment claims on a pound-for-pound basis – comparing them to each state's employment base -- a different picture emerges.
Relative to the size of its workforce, Kentucky is among the hardest-hit states during the recent surge in pandemic-related jobless claims, according to a pair of independent analyses.
More than 279,000 Kentuckians filed initial unemployment claims in the three weeks ended April 4, dwarfing any previous economic downturn.
Kentucky ranks 6th among states in the share of its pre-outbreak workforce – 14% -- filing for unemployment since March 1, according to an analysis by the Heartland Forward, a Bentonville, Arkansas nonprofit think tank focused on 20 mostly rural states in the center of the country.
Meanwhile, an analysis by the nonprofit Tax Foundation tells a similar story based on slightly different data.
It found that Kentucky has the 8th highest share of new unemployment claims relative to its civilian workforce (12%).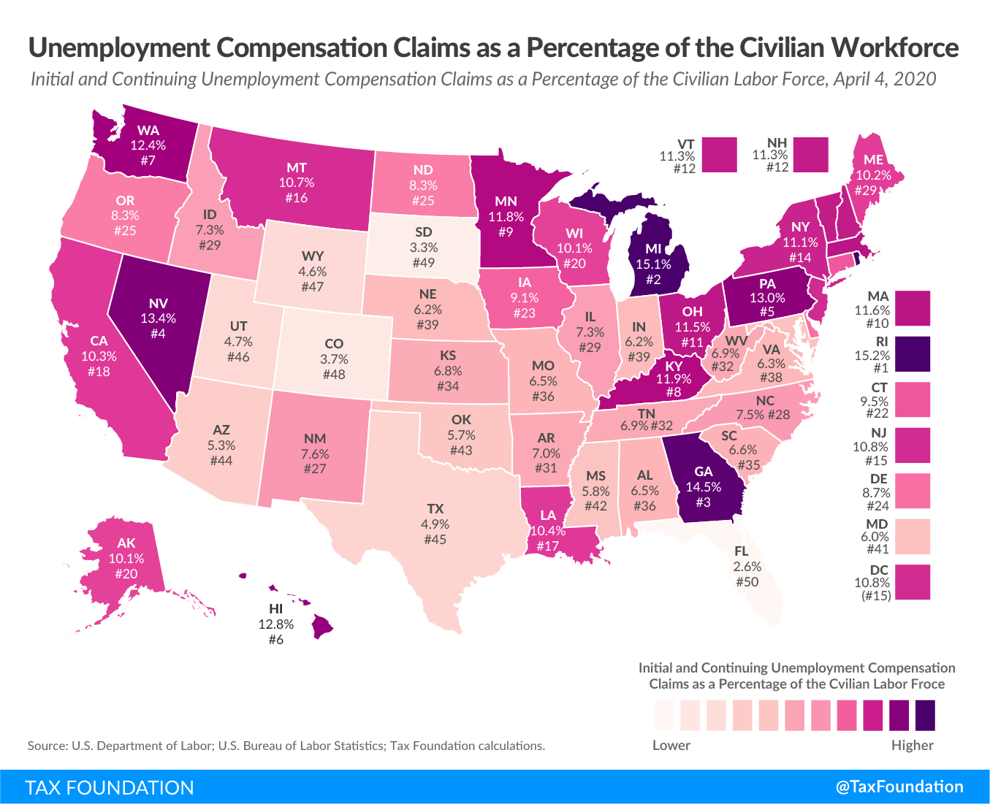 Indiana was in the middle of the pack in both analyses, ranking 23rd in the Heartland Institute's and 39th in the Tax Foundation's.
Indiana had significantly more jobless claims in the last three weeks than Kentucky (about 333,000 to Kentucky's 279,000). But, on a pound-for-pound basis, Kentucky has been hit almost twice as hard, the analyses show.
Dave Shideler, chief research officer for Heartland Forward, told WDRB that the data underscore how states with a higher share of blue-collar workers – who generally cannot work from home – are harder hit by joblessness amid the pandemic.
That is, states whose economies rely on travel and tourism (Hawaii and Nevada) and on manufacturing (Ohio and Pennsylvania).
Kentucky, the nation's third biggest automotive manufacturing state, falls into the second bucket.
For all the attention on the booming Bourbon Trail bringing visitors to distilleries, Kentucky's employment in the "leisure and hospitality" industry is about on par with other states (in fact, a bit below the national average).
But the Bluegrass States punches above its weight in factory jobs. Kentucky's share of manufacturing employment is 52% higher than the nation as a whole.
Ford's two auto plants in Louisville – employing more than 12,000 workers between them – and Toyota's largest worldwide plant in Georgetown, Ky. (8,000 workers) have been idle since mid-March. An untold number of supplier plants have also shut down.
GE Appliances, with about 3,800 factory workers in Louisville, shuttered for the week of March 23 before resuming work with a number of new virus precautions.
"Kentucky's economy is built around manufacturing, and with almost 13% of state employment in manufacturing, and having all of that shut down because of the coronavirus, that is going to have a big hit on your economy," Shideler said.
Another factor that might be at work: Kentucky Gov. Andy Beshear significantly the expanded the pool of workers who are eligible for unemployment insurance, including independent contractors, church daycare workers and the self-employed.
"Relaxing those eligibility requirements certainly opened those benefits to a lot more people," Shideler said.
Indiana, for example, has not made regular unemployment benefits through the state system available to those sorts of workers.
However, "gig economy" workers and other whose jobs are not covered under the traditional unemployment insurance system are still expected to file claims with their states.
That's because it's a necessary step to access the $600 per week "Pandemic Unemployment Assistance" benefit from the federal government, even if no benefit is available through the traditional state system.
The $600 weekly benefit, part of the federal CARES Act pandemic relief package, will soon be paid to all unemployment claimants.