LOUISVILLE, Ky. (WDRB) -- Gov. Andy Beshear reported a "staggering" 3,649 new coronavirus infections on Thursday, a new daily high. Of the new cases, 724 were confirmed in Jefferson County, according to a report from Kentucky Public Health. 
The governor also announced 30 new deaths in which the virus was a contributing factor, the second-most reported in a single day since the pandemic began. Since March, 1,742 Kentuckians have died of COVID-19. 
As of Thursday, 112 of Kentucky's 120 counties were in the red zone, which denotes a "critical" spread of the virus, according to new data from the Department of Public Health. That's an increase of 18 counties in the red zone over the past week. 
The state on Thursday also reached a new high in the rate of positive tests over a seven-day period, at 9.18%.
"It is uncontrolled spread throughout the entire commonwealth," Beshear said. "The whole house is on fire."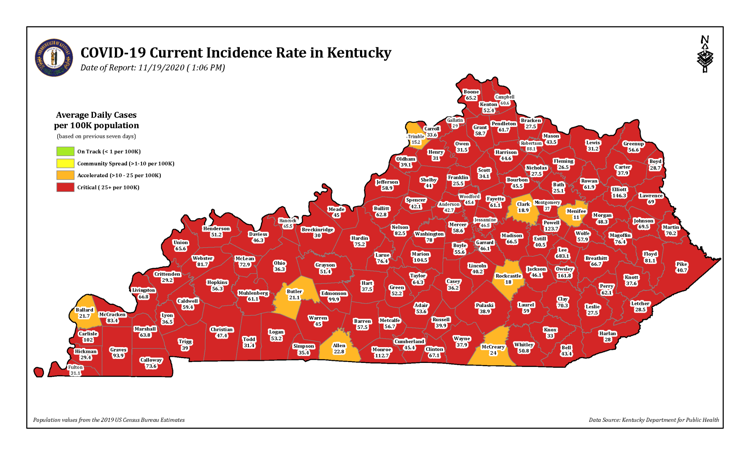 As of Thursday, 1,550 Kentuckians were hospitalized with COVID-19, while 358 patients were being treated in intensive care units and 199 were on ventilators, according to Kentucky Public Health. 
Beshear disclosed no new executive orders on Thursday but recommended churches and places of worship move services online starting Friday through Dec. 13. The governor said this is not a requirement. 
Beshear announced a bevy of new measures on Wednesday, including closing bars and restaurants to indoor service from Nov. 20 through Dec. 13, closing schools to in-person classes statewide and limiting gatherings like weddings and funerals to 25 people per room.
"You got two choices," the governor said Thursday. "You can just do nothing but be upset at me or those that are making these choices or we can do our part and put on the mask, tamp down the numbers and then we can all do these things."
For most people, the coronavirus causes mild or moderate symptoms that clear up within weeks. The vast majority of people recover. Of the 148,390 total infections reported since March, at least 25,437 have recovered, according to Kentucky Public Health. 
But for others, especially older adults and people with existing health problems, the virus can cause severe symptoms and be fatal.
To find a COVID-19 testing location near you, click here.