LOUISVILLE, Ky. (WDRB) -- School districts will be expected to enforce social distancing, ask students to wear masks, check their temperatures, frequently sanitize surfaces and assist in contact tracing, according to Kentucky's "Healthy at School" guidance released Wednesday.
Kevin Brown, interim education commissioner, said the guidance will be a "flagship document" for school districts developing their reopening plans after stopping in-person instruction at the recommendation of Gov. Andy Beshear in hopes of limiting the spread of COVID-19 in the waning months of the 2019-20 school year.
Brown said schools will be required to enforce social distancing in classrooms and hallways. Students will be expected to wear masks if at least 6 feet of space can't be maintained in classrooms and while moving through buildings, and wearing face coverings will be optional for those in kindergarten.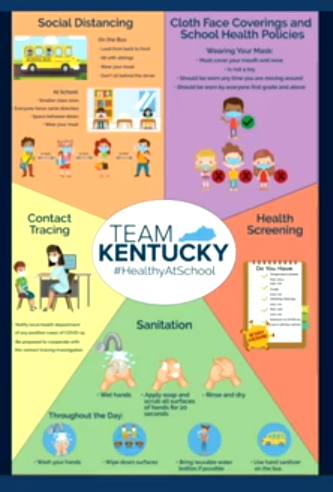 "Districts will be asked to put tape every 6 feet just like you are seeing now in our shops and assemblies," Brown said, adding that assemblies must be limited and follow public health guidance on large gatherings. 
If social distancing can't be maintained in cafeterias, the guidance document recommends allowing students to eat their meals in classrooms.
Students can obtain medical waivers from wearing masks in school, according to the state's guidance document.
Students will also be expected to wear masks on school buses and must have their temperatures checked before boarding buses, either on-site or by a parent. Students will also have their temperatures checked before entering schools, Brown said.
If students have temperatures greater than 100.4 degrees and their parents aren't at bus stops to take them home, they must be isolated to the greatest extent possible and, unless medically waivered, masked on the way to school, according to the guidance document. They and other students who have temperatures greater than 100.4 degrees upon arrival will be sent home, per the state's guidance.
Schools must also sanitize surfaces frequently, encourage students to regularly wash their hands and help local health departments with contact tracing if a COVID-19 outbreak occurs, he said, noting that public health officials will need access to documents like bus manifests and seating charts to determine possible contacts during infections.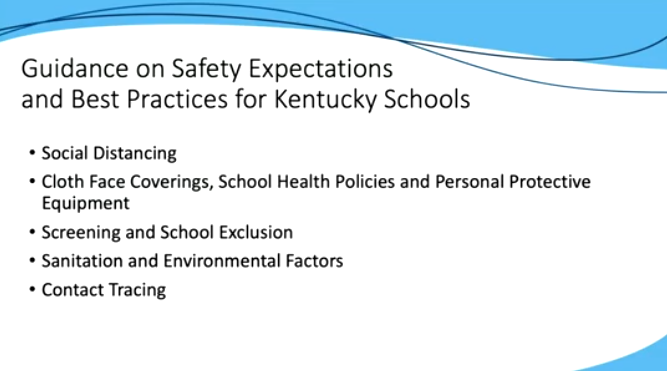 Because bus drivers can't leave students who aren't wearing masks at bus stops, Brown said they should have extra masks on board to distribute. Schools should also have extra supplies on hand.
Some districts have already signaled their intent to provide masks for students. Jefferson County Public Schools, for instance, plans to spend $12.3 million on disposable masks for its students in the 2020-21 school year.
Wearing masks in public has proven divisive throughout the country despite public health guidance from the U.S. Centers for Disease Control and Prevention, which recommends wearing face coverings when social distancing is difficult to maintain to reduce the spread of COVID-19.
While state officials have urged school districts in recent days not to punish students who don't wear masks, they have strongly encouraged district and school leaders to model good behavior on the matter. The guidance document suggests including masks in schools' dress codes.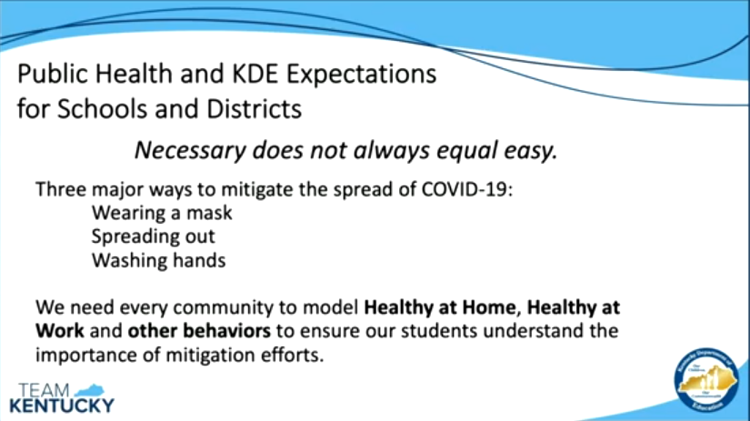 Brown said other generations have made far greater sacrifices than wearing masks during global pandemics.
"Please celebrate the unity and the pride of being Kentuckians and join with me and our districts over the next months to model the behavior that we need to see in our schools with our children and wear a mask," he said.
Lt. Gov. Jacqueline Coleman offered more blunt advice to those who refuse to wear masks in schools.
"Wearing a mask is much more comfortable than wearing a respirator," she said.
School districts have begun formulating preparations to reopen for the 2020-21 school year while grappling with the possibility of COVID-19 resurgences, with many waiting for official guidance from the state before finalizing their back-to-school plans.
Some districts have indicated they will begin the school year digitally, Coleman said.
JCPS plans to resume in-person instruction on Aug. 12, Superintendent Marty Pollio has said. The district expects to have a reopening plan finalized by mid-July.
"Every school district in America is faced with a challenging set of options for what the start of school will look like in the fall," JCPS Communications Director Renee Murphy said in a statement.
"We are appreciative of the guidelines given today and thankful for the continued support of Interim Commissioner Kevin Brown and the Kentucky Department of Education. Our team at Jefferson County Public Schools will review the information released today to come up with innovative ideas to maximize learning in a safe and healthy environment for students and staff."
Bullitt County Public Schools is planning to push back the start of the 2020-21 school year by about two weeks to Aug. 26, pending board approval.
Superintendent Jesse Bacon said in a letter to families Wednesday that the district is evaluating the state's new guidance as BCPS develops its reopening plans, which may include in-person and virtual learning options.
"As I continue to communicate, our students need us to open schools in an in-person format as safely as we can," he wrote.
"There are growing academic, social, and emotional concerns that must be addressed. We have responsibility to try our best to reopen schools in this manner and lift the insurmountable pressure this has placed on parents/guardians and our community."
Oldham County Schools Superintendent Greg Schultz said the district is also "working through the details of the guidance document."
"But we will do our best to meet the expectations of KDE and public health, while providing the best educational experience we can for our students," he said in a statement.
Hardin County Schools Superintendent Teresa Morgan said her district will also refer to the state's reopening guidance as it continues developing reopening plans.
"It will take some additional time to merge our work with that of the Kentucky Department of Education," she said in a statement. "We also want our local health officials to look at those plans and share their advisement before we formalize them."
Gov. Andy Beshear is again waiving the cap on nontraditional instruction days to give districts flexibility on distance learning and will suspend statutory requirements to base funding on average daily attendance so that the Kentucky Board of Education can again give districts the latitude to transition to nontraditional instruction if needed, Coleman said.
She also said Kentucky would request another round of federal stimulus funding for states, in part to help schools reopen for the 2020-21 year. Coleman has called on other states to join that effort, she said.
"Our ability to serve the whole child while protecting their health and safety will determine our country's economic resilience on the other side of this pandemic," she said.
"Now more than ever it is imperitive that we speak with one unified voice on behalf of our students, faculties, staffs, schools and communities by advocating for the funding and flexibility to provide the necessary protections and deliver essential educational services to our youngest citizens."
Kentucky schools received $203.9 million from the Coronavirus Aid, Relief and Economic Security Act. 
JCPS officials informed the Jefferson County Board of Education on Tuesday that the $29.7 million it received from the CARES Act will fall millions short of expected expenses due to the COVID-19 shutdown and public health mandates to reopen schools.
Copyright 2020 WDRB Media. All rights reserved.