LOUISVILLE, Ky., (WDRB) – At first, Louisville Metro Police issued a press release describing a series of violent June 30 protests that culminated in a dangerous situation where police were attacked and a car taking part in a caravan "rammed the armored SWAT vehicle on scene."
LMPD later reversed course, however, and acknowledged that, after watching video of the incidents, it was in fact the SWAT vehicle that purposely hit that car trying to leave the area.
"As police attempted to block that vehicle from leaving the Chase Bank parking lot, it drove over the curb towards the sidewalk in an attempt to get away," police wrote in the subsequent press release. "Fearing for the safety of the pedestrians on the sidewalk, we struck the vehicle in attempt to preserve human life."
But a new lawsuit filed by two drivers claims police were the aggressors and lied repeatedly about the incident, despite still-unreleased video evidence.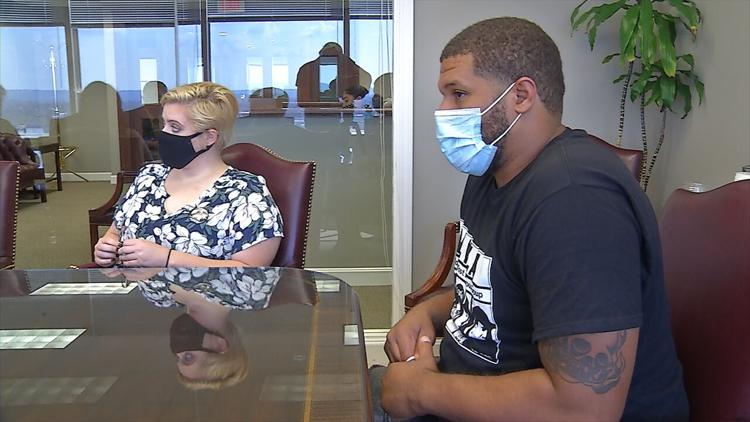 Cortezz Dickerson and MacKenzie Kraps claim they did not know each before that night, according to a lawsuit filed on their behalf in Jefferson Circuit Court last week by attorneys Ashlea Hellmann and Maria Fernandez.
Dickerson and Kraps say they were in separate cars and had participated in a protest caravan that was approaching the downtown intersection of West Jefferson Street and South Fifth Street, near Louisville Metro Hall.
"We came up upon the roadblock that LMPD had created, and we knew we needed to leave," Kraps said in an interview. "We had heard that, you know, people were kind of like, 'Oh, we hear guns.' Or, you know, like, 'It's not safe. Like, we hear that there's stuff going on at the square. Everybody should go home.'"
Both drivers say they turned into a nearby Chase bank parking lot to cut over to West Liberty Street and leave the downtown protest area.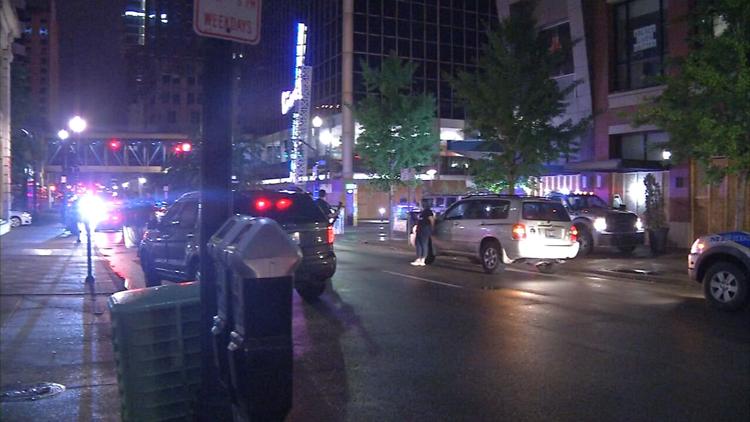 Kraps, according to the suit, said she stopped driving when she saw a SWAT vehicle "sideswipe" a fellow protester she knew driving a four-door sedan. After that, Dickerson, a veteran with mental health issues, drove his black Jeep around the left side of Kraps' vehicle attempting to turn onto Liberty Street from the bank parking lot, the lawsuit claims.
As he attempted to make the turn, "the LMPD SWAT vehicle, which had previously been at a complete stop, suddenly accelerated toward" Dickerson's Jeep and struck it, pushing the vehicle into the sidewalk and then the bank wall, the suit says.
"Honestly, it was like I was back in Iraq — for real — because we used to drive the same vehicles doing combat security," Dickerson told WDRB News.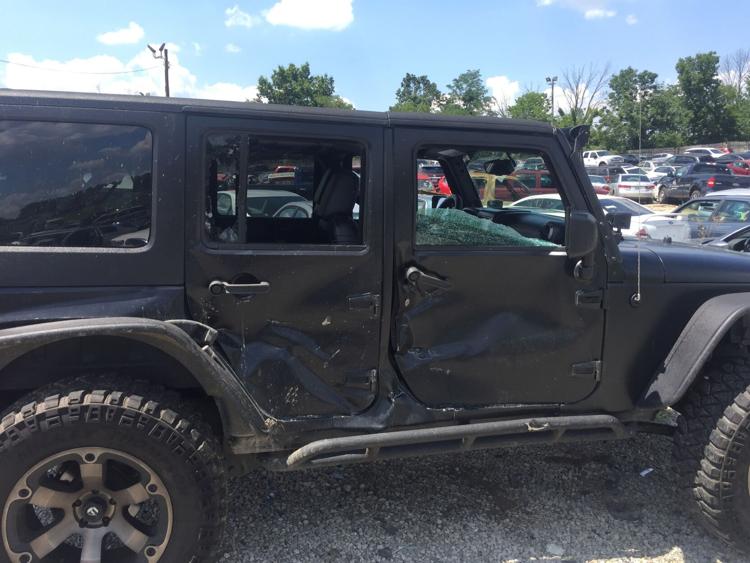 The suit claims police gave no warning and endangered protesters for no reason, as Dickerson's license plate was visible and he could have been tracked down later.
A Facebook live video taken by Kraps immediately after the incident and included in the lawsuit shows her telling her audience, "You guys, we just watched a f****** BearCat hit someone in our caravan."
In the video, she rotates the camera to show the vehicles — the BearCat and the jeep — stopped on a sidewalk near Fourth Street Live as officers appear to arrest Dickerson.
When she leans out and asks for Dickerson's name, an officer tells her to "get in your car and back up," according to the video.
Officers then come over to Kraps as she continues to film.
"You want to play games, get out of the car," an officer appears to say in the video.
As officers begin to take Kraps into custody, one screams, "Get out of the car and get your hands behind your back!"
"What?" Dickerson says, according to the video. In the shuffle, the phone falls into the vehicle and the screen goes black.
"You're assaulting me," an officer tells her. "You're assaulting me," she responds.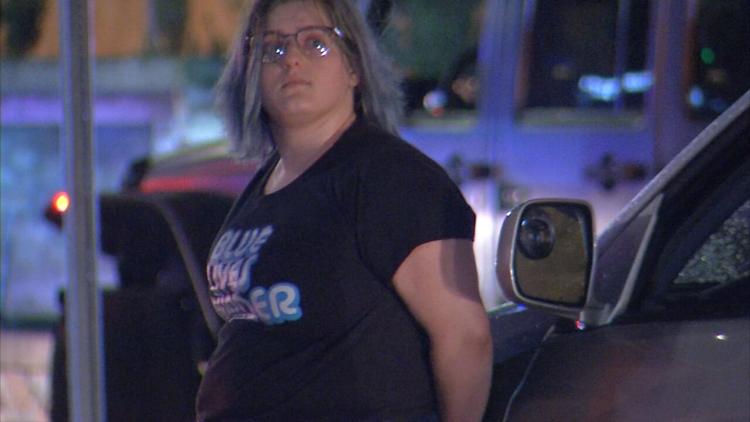 An LMPD report says a detective reported pain in the lower right side of his or her back "from the assault and resisting" of Kraps. The lawsuit, however, claims Kraps was assaulted and that Officer William Bower struck Kraps with his baton and slammed her into her vehicle.
Kraps claims she was handcuffed but later released. Officers towed her vehicle, and she had to walk home.
On July 1, Kraps was charged with felony wanton endangerment, assault of a police officer and resisting arrest, among other charges. She is scheduled to be arraigned on Oct. 15, according to court records. She posted a $1,000 cash bond to be released from Metro Corrections.
Dickerson was arrested and charged with reckless driving, wanton endangerment, criminal mischief and fleeing or evading police. He has pleaded not guilty, and his case is pending. Dickerson has also posted a $1,000 bond. 
The lawsuit claims police changed their version of events after seeing videos of the event but lied even in the revised statement when saying SWAT rammed Dickerson "in (an) attempt to preserve human life."


"Such a statement is a flat out lie as LMPD actions actually pushed Mr. Dickerson's vehicle onto the sidewalk, putting pedestrians in greater harm," according to the suit.
The subsequent LMPD release also claimed that "others fled on foot and were arrested," including a man with a stolen AK-47, after Dickerson's vehicle was struck by the BearCat. Dickerson, however, says he was alone in his Jeep. A police report concerning the man arrested for possessing the stolen gun, Alpintino Johnson, makes no mention of Dickerson and says Johnson was arrested at a garage on South Fifth Street "amongst a group of protesters that fled from police after failing to follow lawful instructions concerning assembly."
An LMPD report about Dickerson's arrest suggests his vehicle "met the description of a vehicle that struck another police unit." According to the lawsuit and reporting done by WDRB News at the time, St. Matthews Police was looking for a black Jeep after an incident earlier in the evening. In an interview, Hellmann suggested that Dickerson's vehicle may have been struck by the BearCat because of the mistaken identity.
"We believe that Mr. Dickerson fit the loose description of a Black man in a black Jeep, even though his black Jeep looks nothing like the Jeep that they were looking for," she said.
Dickerson and Kraps are both victims of malicious prosecution, according to the suit.
While Kraps' Facebook live captured the moments after the collision, no video has been released to the public that shows the collision itself.
LMPD confirmed that video of the collision does exist. However, in response to an Open Record Request filed by Hellmann, LMPD refused to release it.
"Premature release of these records in a public forum will harm or impede an ongoing prosecution," an LMPD paralegal wrote in the e-mail to Hellmann.
The email also said that "this event is also related to a pending investigation with our Public Integrity Unit" in her explanation for denying the request.
Dickerson says he wishes LMPD had released the video the next day, and Kraps agrees.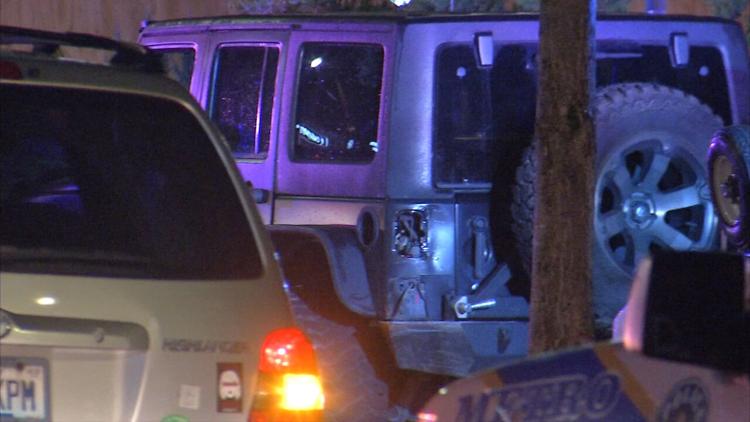 "I know that the second they release the video ... it would completely exonerate both (Dickerson) and I," she said. "And I think it would really, quite frankly, constitute more than just an apology from LMPD."
Both Kraps and Dickerson say they've faced harsh public backlash, even from family members, because of LMPD.
"LMPD put this image out there of Mr. Dickerson and Ms. Kraps that they were just destructive protesters," Hellmann said. "Really, that's the basis for this lawsuit is to not only vindicate these two people for the way they've been villainized in the media but to bring to public attention the way that LMPD has been behaving during these protests." 
The lawsuit is seeking unspecified monetary damages and a jury trial. LMPD says it can't comment on pending litigation.
Copyright 2020 by WDRB Media. All rights reserved.