LOUISVILLE, Ky. (WDRB) – When Kentucky Auditor Mike Harmon said earlier this month that his office discovered 400,000 unopened emails from people seeking help with unemployment insurance, Gov. Andy Beshear offered some advice to people whose pleas may have gone unanswered.
"For those that think your emails are in there, and you haven't been helped, please go to the Labor Cabinet website, sign up for one of the appointments (and) talk to a person there," Beshear said on Feb. 9.
Beshear was referring to the 125 phone appointments Kentucky unemployment specialists conduct daily.
But making an appointment isn't so easy, according to multiple people who have tried for weeks or months to do so. It requires staying up late and acting fast when the chance presents itself.
The phone appointments are the only opportunity for thousands of people needing help with their claims to get one-on-one assistance.
Except for a few one-off instances last year, Beshear's administration still isn't offering in-person unemployment services at state employment offices, "to make every effort to keep everyone safe and healthy" during the COVID-19 pandemic.
Kentucky's online scheduling tool for phone appointments is usually booked up. Check it and you're likely to get the message: "No Availability - Please check back daily for new appointments."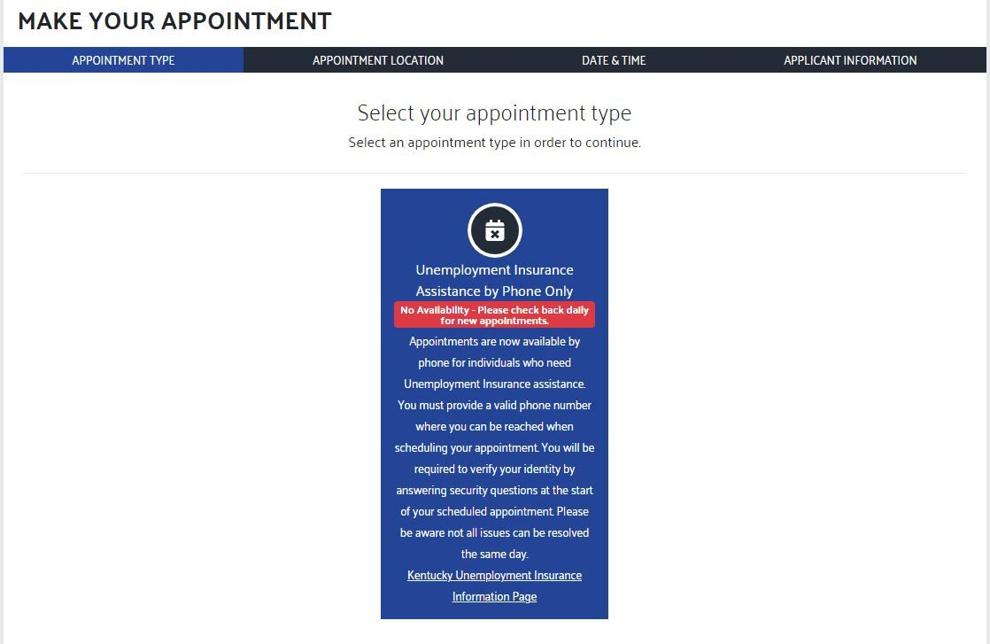 Mary Hedger, a former daycare owner in Southgate, Ky., had reloaded the scheduling page "everyday a couple times a day" starting in January when her claim wasn't paid, she said in an interview.
"It didn't tell you what to do. There were no instructions at all about when it was open, when the portal would be open to do it," she said.
The midnight window
On Tuesday night, Hedger, 65, tried something that a WDRB reporter suggested: She logged into the scheduling tool right at midnight. This, according to information swapped among unemployment claimants, is when new appointments come open each day.
(Beshear's Labor Cabinet, which oversees unemployment insurance, didn't respond to questions sent Monday for this story, such as why the appointments come open at midnight and how many people staff the appointments. NIC Inc., the vendor that provides the scheduling tool to Kentucky, declined to comment.)
As midnight came, Hedger immediately selected an appointment slot, only to find that someone else beat her to filling in information and locking down the appointment.
"I even tried a few minutes before midnight, just in case they were doing like, a minute prior to midnight. And when I went back right at midnight, it opened up, and over half the appointments were already gone," she said.
Still, Hedger managed to lock down the last remaining slot: April 12, 1:45 pm, she said.
At his briefing Tuesday, Beshear acknowledged continued delays processing unemployment claims due to "an unprecedented number of claims, our limited number of experienced UI staff and our antiquated computer system."
He didn't dispute the situation with the phone appointments.
"Phone appointments are available, but we are filling them up, which means we are talking to 125 Kentuckians everyday that need help. Yes, we've got a lot more than 125 each day that need help. But it means person, after person, after person, we are getting through it.
"They do book up fast, and they do book up too fast, but it also means that we are getting 125 people scheduled each day. It just means the next 125 have to wait the next day. I wish we could talk to all of them immediately."
Beshear said his administration is "looking to hire additional folks for our UI call system," but the challenge is training them to be able to navigate the system effectively.
"I know people are frustrated (but) those appointments are available," he said.
'We need communication'
WDRB learned of the midnight scheduling tip from Ashley Perry, a northern Kentucky resident who employs herself in online marketing.
Like Hedger, Perry kept taking the online phone appointment tool's advice: She checked it hourly in January and February after her unemployment claim mysteriously stopped being paid.
"I had checked for, I think, two-straight weeks and it kept saying that there's no phone appointments available," she said.
Then in early February, Perry learned about the midnight appointment openings from one of the many Kentucky unemployment Facebook groups.
"They said, 'Actually, we realized that one day (of appointments) becomes available every night. And so you have about 60 seconds to hurry up and get an appointment before they're all filled. And if you don't get one, you have to do it the next night," she said.
Perry stayed up late one night in early February and managed to snag an appointment for March 22. At about 11:55 pm, she said, she started refreshing the online schedule page repeatedly, hoping to catch the precise moment when new appointments became available.
She lost the first time she picked, she said, to someone who evidently entered his or her phone number and other personal information faster than she did.
Perry said the episode illustrates how Kentucky has left unemployment claimants in the dark to hunt for workarounds and insider tips in the absence of official information.  
"It would stop so much of all the emailing and calling and things like that if we just knew what was going on, and we don't, and we have no way -- we have no one we can even talk to find out," she said. "…The thing I would just like to tell the governor is that we need communication, and constant communication, about what's going on. And it needs to be tailored to us."