LOUISVILLE, Ky. (WDRB) – Jefferson County Public Schools is spending $1.3 million and counting to rebuild Ballard High School's multisport stadium, and a newly formed alumni association is doing its part to help.
Construction crews with WPC Company razed the stadium's structurally unsound home bleachers on Wednesday, and an excavato was still clearing the rubble a day later.
Structural problems in the home seating area prevented Ballard from hosting any football games last season, but that's not the only sport that's been affected. Lacrosse and track teams haven't been able to use the facility either, and Ballard's marching band wasn't able to host its annual Bruin Invitational competition last fall.
"If you've ever been here, they park cars all over this place" because of how many bands typically participate in the competition, said Steve Gowers, a 1972 Ballard graduate and president of the school's recently formed alumni association. He said the event doubles as a significant fundraiser for Ballard's band program.
But those headaches are expected to be short-lived. JCPS is spending $155,000 to demolish Ballard's home seating and move electrical services to a newly constructed building in the stadium, with both projects expected to be complete by Feb. 20, according to spokeswoman Toni Konz-Tatman.
The district has another contract worth $1.2 million lined up with Toadvine Enterprises to rebuild the stadium's bleachers, Konz-Tatman said. JCPS is waiting until demolition is complete to determine a construction timeline, she said.
Rebuilding Ballard's track is currently in the design phase, so it's unclear how much that piece of the reconstruction project will cost, she said.
Gowers and other alumni are also doing their part to help finance stadium renovations. He and Tony Waits, a fellow 1972 graduate and secretary of Ballard's alumni association, met with representatives of Land Design and Development on Thursday to discuss building a new entrance for the stadium.
One idea, Gowers and Waits said, is to sell personalized bricks for the entryway as a fundraiser.
"We've got 20,000 alumni, so hopefully I can get a couple thousand to step up and contribute for a brick paver with their name on it," Waits said.
Another idea is to hold a silent or live auction to bring in cash, Gowers said.
A new stadium entrance isn't the only item the alumni association is exploring as the facility gets a facelift.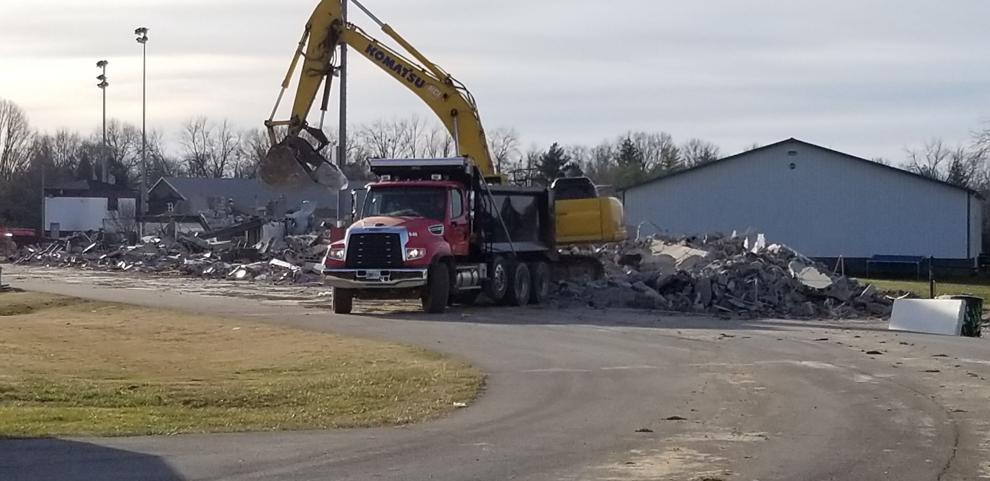 Gowers said the alumni association wants all programs that use the field to notice a difference when the stadium reopens, which he hopes is in time for the start of the 2020-21 school year.
"We want this to be the best facility," Gowers said. "… That's really our goal. We haven't sat down and said, 'We want to do this; we want to do that.' We just want to help."
The stadium project will be the first major lift for Ballard's alumni association, which formed around the time that the school's home bleachers were declared structurally unsound.
The group now has a nine-member board and various committees in place as it launches this endeavor.
"We get an opportunity to make this a better place for the kids," Gowers said. He and Waits were on the first football team to play in the stadium when it opened in 1970.
While the stadium renovation is a substantial project, Gowers said the alumni association will be focused on more than just athletics. It wants to do its part to help improve all aspects of the student experience at Ballard, he said.
"We want every one of these kids to have the opportunity to experience what we experienced here, even though it's a little different in 2020 than it was in 1972," Gowers said.
Copyright 2020 by WDRB Media. All rights reserved.