LOUISVILLE, Ky. (WDRB) – RiverLink toll charges will rise July 1 at an unprecedented clip, according to a press release announcing the annual adjustment.
The Kentucky-Indiana Tolling Body, which sets toll policy, is required by its own rules to raise rates by either 2.5% or the annual rate of inflation — whichever is higher.
Since tolls began on three Louisville-area bridges in late 2016, the jump has been 2.5%. But the inflation rate has been 8.3% over the last year, setting up the highest increase yet.
That means the lowest toll rate, for a car with a prepaid RiverLink transponder, will climb from $2.21 to $2.40 per crossing. It will cost $4.80 for a car without a RiverLink account to cross the Ohio River.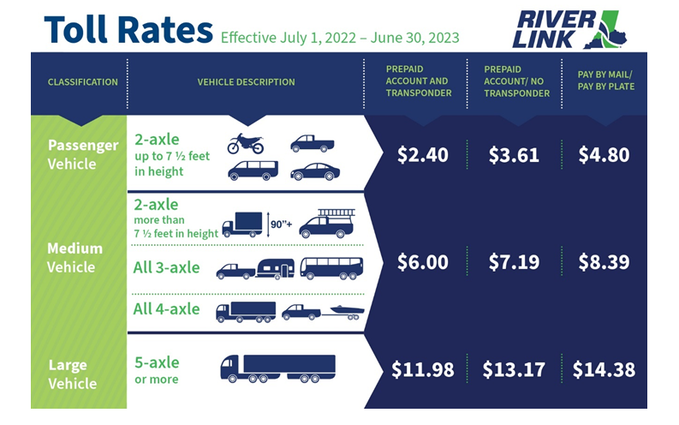 A Kentucky board approved a resolution last week urging the Tolling Body to approve a 2.5% increase in tolls for the year ahead. Two members of that board — Kentucky Transportation Secretary Jim Gray and Geri Grigsby, deputy secretary of the Kentucky Finance and Administration Cabinet — also serve on the six-member Tolling Body.
It's unclear if Monday's announcement signals a defeat for the Kentucky proposal, although there are no scheduled meetings of the Tolling Body before July.
The new toll rates were disclosed in a press release sent out by C2 Strategic Communications, which was hired by Kentucky and Indiana state governments. RiverLink rules say new toll rates should be ready to be made public "on or about June 1."
WDRB News asked Gray's office several questions, including whether the bistate Tolling Body plans to take up the Kentucky resolution. Gray's spokeswoman responded with a quote from Gov. Andy Beshear that touted the governor's initiatives targeting vehicle property tax rates and the state's upcoming gas tax increase, as well as mentioning the potential for much higher RiverLink tolls.
"In May, I asked Indiana to join us to hold the rate increase to the lowest level possible, and last week Secretary Gray helped pass a resolution urging the Tolling Body to hold down the rate increase," Beshear said. "We want to bring needed financial relief to travelers on both sides of the river. I believe we can, and we should."
WDRB pointed out that Beshear is not a Tolling Body member and asked Gray's spokeswoman, Naitore Djigbenou, if Gray believes the Tolling Body (of which he is a member) will take up the proposal from the Kentucky Public Transportation Infrastructure Authority (of which he is a member).
Djibenou said in a statement Monday evening that Gray "asked that Indiana join him in calling a meeting. Tolling the three Ohio River Bridges is a bi-state project and a bi-state response is necessary to enact any changes to the tolling policy. Although new rates have been advertised, the Tolling Body can meet should both states call for a meeting."
In Indiana, Mike Smith, commissioner of the state's Department of Transportation, and Dan Huge, the Indiana Finance Authority's public finance director, are members of the Tolling Body. Spokespeople for Smith and Huge have not yet said if Indiana's members of the toll policy board are considering Kentucky's idea.
Scott Manning, a Transportation Department spokesman, said in a statement last week that Indiana "recognizes the economic challenges Ohio River Bridges users face resulting from inflationary pressures. In recent weeks, the Commissioner has been brought into discussions with other tolling body members about possible changes to the business rules while meeting the states' long-term financial obligations for construction, operations, and maintenance of the bridges."
"At the same time, Indiana is committed to maintaining a holistic and equitable approach to tolling for Ohio River Bridges users as well as users of the Indiana Toll Road in Northern Indiana," Manning continued. "Those considerations will inform Indiana's decisions on potential paths forward."
The operator of the Indiana Toll Road in northern Indiana has announced a toll increase of more than 9%, according to the Indiana Motor Truck Association.
A similar hike on the RiverLink bridges, with diesel prices at $6 per gallon in Indiana, would be an additional blow to trucking companies, said Gary Langston, the association's president.
One-way tolls for semi trucks would range from $11.98 to $14.38 starting in July.
"It just seems to me that it's a very inopportune time," Langston said.
"It's so frustrating that, regardless of what the economic situation looks like, people just keep piling on more expense," he said. "It's just hard to manage."
Copyright 2022 WDRB Media. All Rights Reserved.