CLARKSVILLE, Ind. (WDRB) -- On its final approach to the Ohio River, Silver Creek meandered past stands of eastern cottonwood, sycamore and maple trees. A chorus of spring peepers sounded through a mid-morning fog.
"This is what Louisville and southern Indiana looked like before development — these wet woods," said Scott Martin, executive director of the River Heritage Conservancy, standing on a bridge above the creek earlier this month. "These are the last remnants."
The conservancy has tabbed this area as the first project in the ambitious, $130 million Origin Park that would transform a stretch of southern Indiana riverfront into a public space more than six times larger than Louisville's Waterfront Park. Later this year, it plans to open a 4.5-mile stretch of Silver Creek to paddlers who can launch and take out canoes and kayaks at designated spots.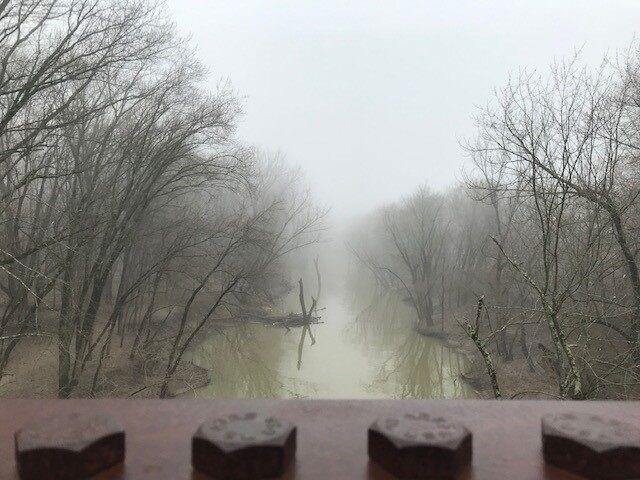 The nonprofit group also aims to define broader goals this year, including fundraising targets and the scope of the park's first phase. In all, park officials say they control roughly 320 of the 600 acres laid out in a master plan finalized last year.
The creek trail is just one of the proposed park elements in a plan that shows sprawling fields, bike and walking paths, an event center and trails cutting through lowlands along the river.
"The Silver Creek 'blueway,' to us, is the perfect way to introduce this park to the community," Martin said. "We are about connecting people back to the river and back to the water. There's no better way to do that than get folks canoeing and kayaking and paddle boarding on these local streams."
Before that happens, work is expected to finish this summer to remove a small, low-head dam that could be a hazard for paddlers. Parking spaces and a ramp would be added upstream to the put-in spot at Blackiston Mill Road and downstream near the Ohio River, where an access road would be built to the take-out site.
For now, paddling Silver Creek would resemble floating Floyds Fork in eastern Jefferson County, Kentucky, at the Parklands of Floyds Fork. Martin said Silver Creek won't be navigable year-round but will likely be deep enough for paddling up to 130 days each year.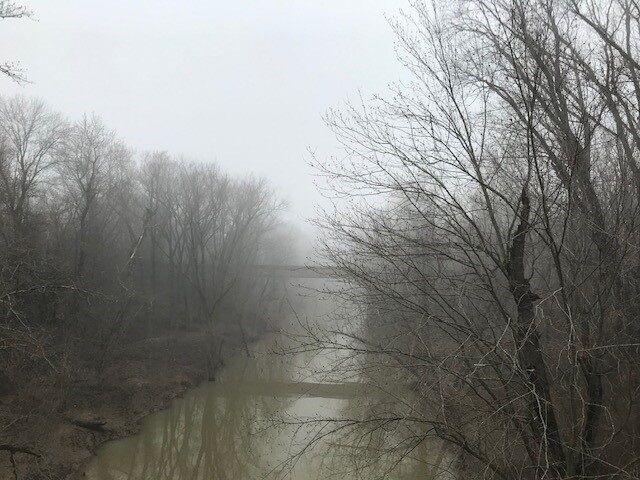 People would have to bring their own boats and arrange shuttles along the way.
The creek trail ends at land the conservancy recently purchased, Martin said, the site of early Native American settlements and the path known as the Buffalo Trace, where bison crossed the Ohio Valley. It also might have been where slaves on the Underground Railroad entered Indiana from Kentucky.
Opening up the creek will create new opportunities for bird-watching and other activities, said David Wicks, the board chair of River City Paddle Sports, which promotes paddling in the Louisville area.
"Not only does this new Origin Park 'blueway' on Silver Creek allow you to investigate the shorelines of Indiana, but it allows you to investigate one of the most migratory wildlife refuges in the United States," he said.
After several years of quietly buying land, the conservancy unveiled its vision for the park in early-2019. The master plan doesn't include a timeline for completing the entire project, which has challenges familiar to similar redevelopment efforts, such as Waterfront Park in Louisville.
The conservancy is counting on some day controlling or purchasing land from private owners who aren't obliged to sell. And the master plan seeks to incorporate land in New Albany, but that city is moving forward on its own, separate proposal.
Martin said his group is developing agreements with Clarksville leaders allowing improvements on town-owned land. At the same time, the city also is weighing changes to its land-use plan and zoning around the park.
"What we're trying to do is, over time as property develops or redevelops, it does so in a way that is something other than industrial," said Jacob Arbital, planning director for the Town of Clarksville.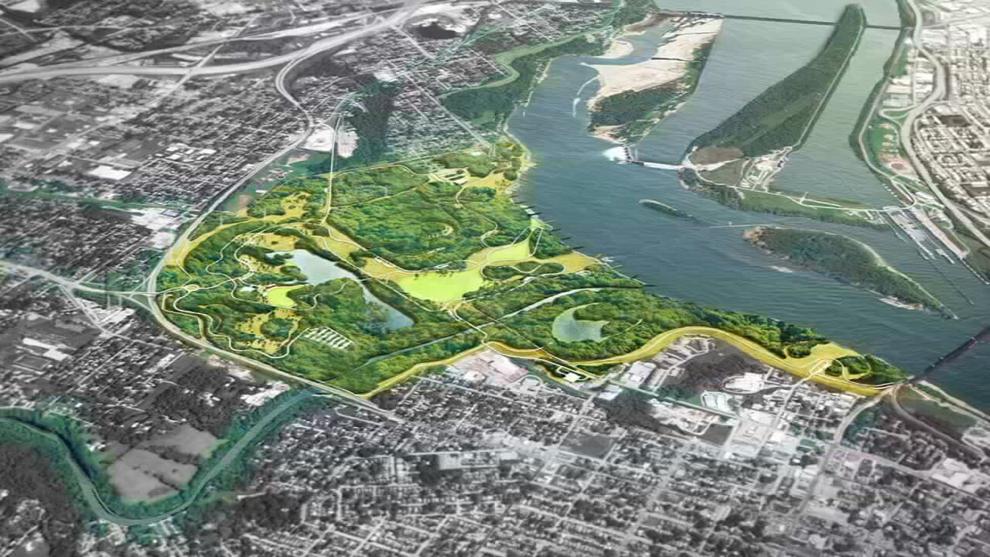 That would create an opportunity for a variety of uses, such as office space, hotels, restaurants and other residential development, he said.
"And we're trying to make sure that those uses are complementary to what could be the future Origin Park."
To the west, park planners hope to expand into Floyd County and eventually design and develop a section called the "Loop Island Wetlands" and another parcel closer to the K&I railroad bridge.
New Albany has completed a master plan for a 63-acre park proposed along the Ohio River and completed maintenance and other work on the Loop Island area, where future work includes clearing trails and improving access and parking, according to city council minutes from January. Those projects were identified in the city's 2016 parks plan.
New Albany Mayor Jeff Gahan said in a statement that his city supports the Origin Park plan as long as it protects the Loop Island wetlands and surrounding areas, "compliments the New Albany Shoreline Development Plans, and respects New Albany's riverfront land, which is exclusively owned by the residents of New Albany."
He did not directly answer a question about whether the city wants to be part of Origin Park, which he described as a "Clark County based initiative."
Council member Josh "JT" Turner said during the January meeting that the River Heritage Conservancy plan eases the burden on local governments such as Clarksville and Jeffersonville. The New Albany work is estimated to cost $10 million to $20 million.
In an interview, he said it's "unfortunate" that New Albany isn't planning to join Origin Park.
"We have an opportunity in the region — Clarksville, New Albany, and even (Jeffersonville) — to have this Olmstedian park here in southern Indiana, and it's just a shame that the mayor's not going to be a part of it," he said.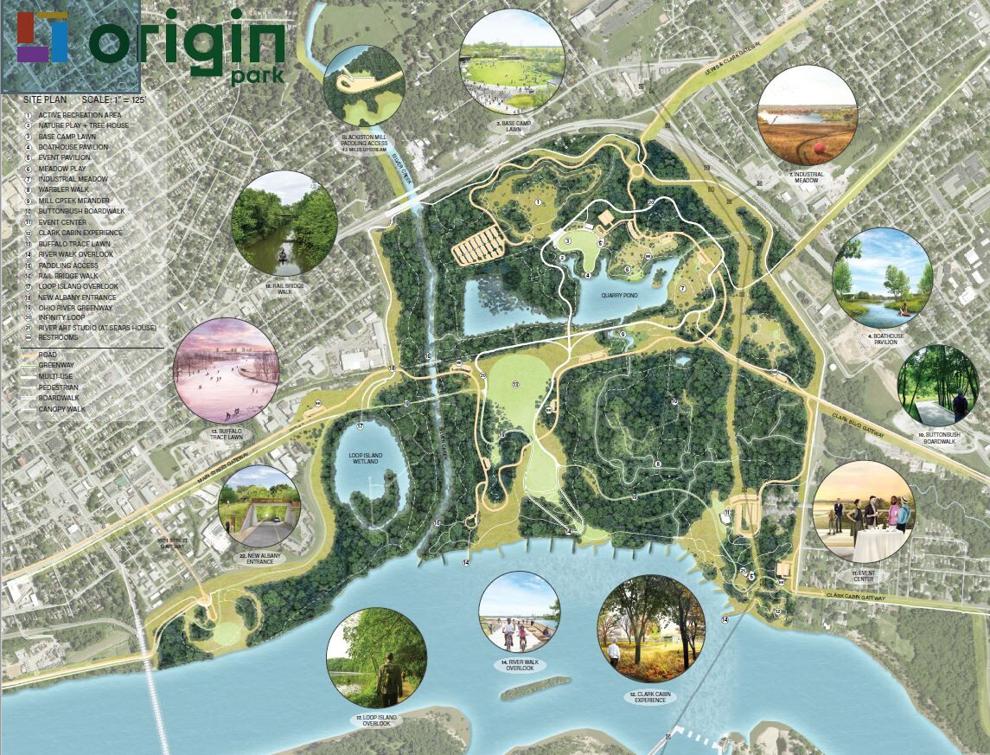 For now, Martin said park planners are focused the immediate next steps: opening the blueway and starting fundraising in earnest. The conservancy has raised and committed about $10 million of the tentative $130 million goal.
"The heroic phase is probably over — the big idea that everyone gets excited about," Martin said. "And now you're at the point of making these things happen, which is grinding it out."
Copyright 2021 WDRB Media. All Rights Reserved.