LOUISVILLE, Ky. (WDRB) – In February, a group of powerful state and local leaders gathered at the Kentucky Center for African American Heritage to champion a plan aimed at boosting Louisville's western neighborhoods.
A newly created entity, the West End Opportunity Partnership, would guide economic development projects in sections of the city where investment has languished for generations. Among other sources of money, it would invest future tax revenue generated in the area itself.
The effort had bipartisan support. Among those in attendance were Kentucky Senate President Robert Stivers, a Republican from Manchester, and Democratic Sen. Gerald Neal of Louisville, who both joined as co-sponsors of a bill filed that same day.
A month later, in the final hours of the General Assembly, Kentucky legislators voted to create a tax increment financing district for those neighborhoods, taking the first step toward giving the partnership control over spending city and state tax dollars from a roughly 12.5 square-mile area.
But since then the initiative has met with resistance from some residents and community groups. Two board members of the partnership abruptly resigned. The board still has yet to name representatives from nine neighborhoods that are guaranteed voting seats, although on Friday it announced applications will start Monday.
Meanwhile, the Historically Black Neighborhood Assembly is calling for Metro government and Metro Council to reject the tax increment financing, or TIF, proposal, citing concerns about gentrification pressures that could force out residents. It argues that there wasn't enough community input before state lawmakers acted.
WHAT IS THE WEST END OPPORTUNITY PARTNERSHIP? 
The assembly's petition opposing the plan has more than 300 signatures, including Shameka Parrish-Wright, a candidate for Louisville mayor, and Metro Council member Jecorey Arthur, who represents part of the proposed tax district. The assembly says Charles Booker, a U.S. Senate candidate and former state representative, also is against it.
Some are skeptical about the role developers played in crafting the legislation and how they could ultimately benefit. Other concerns are with a governing board that is mostly made up of members tied to institutions.
"To me, it's flawed from the inception," said Ameerah Granger, who is helping lead the opposition to the TIF. "It's not about the people. It has nothing to do with the current residents there."
She said she is especially concerned that there has been no formal estimate on how much revenue the TIF district could generate during its 20-year life. The project's impact on local revenues is "indeterminable," according to an analysis by the state Legislative Research Commission.
If the TIF project is approved to start in 2023, officials would determine how much local property and occupational license taxes, and state sales, property and income taxes, exist within the area. Once tax collections hit that amount, 80 percent of the annual increase above it would go to the West End Opportunity Partnership. The remaining 20 percent would go to government coffers.
"When the people pitching that idea cannot present you with concrete numbers, then I'm already skeptical," she said. "What are we doing? Numbers do not have flowy adjectives associated with them. They are what they are. And so when you describe, 'Oh, it's beautiful. Oh, it's going to be wonderful, awesome'-- Well, why is that awesome? And tell me that numerically."
Neal said it's impossible to predict just how much revenue might be created until more work is done to calculate existing property values in the area, for example. But whatever a TIF produces, he said, would be in addition to an initial $30 million in pledges from state, city and private sources required by the legislation.
He and other supporters hope the plan will boost a predominantly African American area with low rates of homeownership and thousands of vacant and abandoned properties – and where nearly 40 percent of the residents live below the federal poverty line.
They stress that the board is still getting established and that it's required by law to be trained in areas that include economic development, gentrification, equity and community engagement.
"Once they're constituted as a board they've got some work to do to really get their foot in before they take any action," state Rep. Pamela Stevenson of Louisville told an online forum in November. She and Neal have held regular Zoom meetings on the project.
Stevenson said she believes the board will seek community input. The bill, which she advocated for, calls for the partnership to guide investment in projects that have the support of residents and businesses in the area.
"These are seasoned people," she said. "They know they need a roadmap before they start spending money—and I trust they will do that."
Renter protections a chief concern
Those organizing against the TIF say some of their chief concerns are how bringing new development to the area might raise property values, resulting in higher taxes and rents.
The legislation creates a tax credit for people who owned their homes as of this January, letting them get a rebate on taxes paid above the 2021 amount until the TIF ends or they sell their property.
"I own my own home, but in 20 years when the supposed tax reimbursement credits expire, I'll be 60 years old headed into retirement and my income is going to drop drastically," said Mariel Gardner, who lives in Park Duvalle and runs an urban farm in Parkland. "So I may not even be able to afford to live here."
Gardner also is working to stop the TIF, which ultimately would need Metro Council approval. Council President David James, who now serves as interim chair of the West End Opportunity Partnership's board and represents part of the proposed taxing district, said last week that he doesn't believe there is any will among the council to reject it.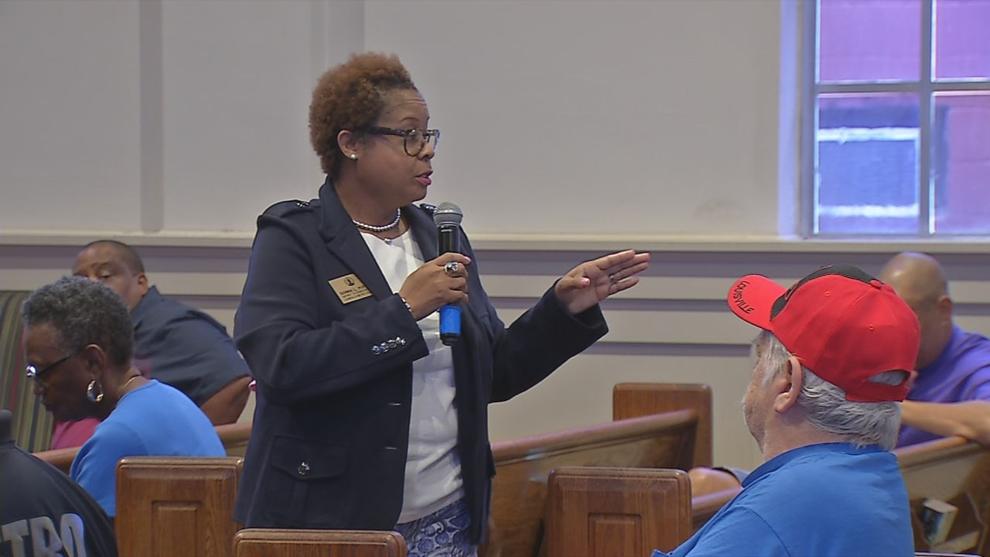 Council member Donna Purvis, whose council district also takes in neighborhoods slated for the TIF plan, said she has heard from constituents worried about a hidden agenda or motive for the proposal. She said that's typical for large changes like this one.
"I can't say I will support all of the details of it," she said. "Anything that I would be looking to support, I would make sure that this is something that would definitely benefit the people here in the West End."
But she said she does want more clarity on how the property tax credit established by law would work.
"The taxes are supposed to be frozen. But, you know, there's talk that you'll have to pay up front and apply for a rebate," Purvis said. "Everyone doesn't have that type of money up front. So that is something that I'm hoping that can change so that people won't be priced out of their properties."
For Deonte Hollowell, an assistant professor of history and African American studies at Spalding University who recently bought a house in Algonquin, the bill's cutoff date for freezing property tax rates for existing owners as of January 1, 2021 also is problematic: He purchased his house after that date.
"My goal with the house I'm living in now is to own it, and then rent it out eventually and maybe move somewhere else in the West End and just continue to do that," he said. "But if my property taxes increase to an amount that I can't afford, and I'm an owner, and I'm renting out to someone, what am I going to do? I'm going to increase the rate of my rent. So that's going to make some renter unable to live here."
There were no protections in the TIF legislation for renters, who make up more than 60 percent of households in the proposed investment area, according to Metro government data published in 2019.
Neal said in an interview last week that concerns over rent increases would exist even if the TIF and the West End partnership were not in place because of real estate speculators and other economic forces. But he acknowledged that some of those concerns are valid.
"We already see there's an issue out there that needs to be addressed," he said. "And that's one of the things Rep. Stevenson and myself will be involved in, and we'll be raising those issues up."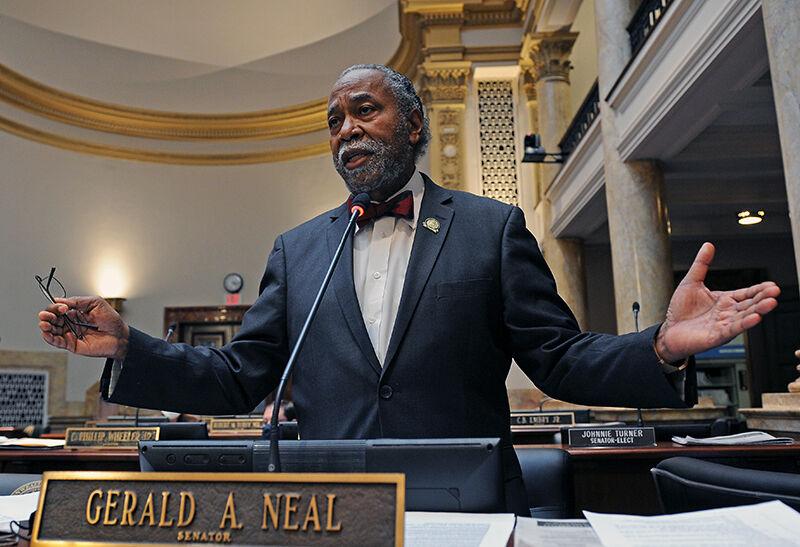 Chickasaw resident Donovan Taylor said he believes the TIF plan is a promising tool to bring new development to western Louisville. He's hopeful that the West End partnership would mirror efforts in places like Portland, Ore., to set aside significant funds for affordable housing.
"Gentrification is here and it is happening," said Taylor, who works with the Coalition of West Louisville Neighborhood Associations and is a past board member of OneWest, a nonprofit economic development organization that has an automatic seat on the West End partnership board. "But we can take some steps and through support of the TIF to help our renters to maintain and stay in the area."
The lack of protections for renters is one reason why Metro Council member Arthur, who lives in Russell, said he will not support the TIF. He also said residents weren't involved prior to the legislation being filed and he questions how the proposal actually came to be.    
Neal: Bill was 'intentionally' written
The bill authorizing the TIF says that "African-American leaders and other Louisville community leaders and philanthropists have recently united to envision a public-private partnership to make investments promoting economic growth and the long-term wellbeing of the community…."
Those pushing to stop the TIF question that narrative. The Historically Black Neighborhood Assembly points to a 2015 forum in which developers Gill Holland and Steve Poe discussed a possible TIF district for western Louisville. That, it argues, is the first mention of a TIF plan for the area.
Poe is a member of the board of directors at OneWest, whose president and CEO, Evon Smith, joined Neal, Stivers and state Sen. Morgan McGarvey of Louisville in testifying about the TIF before legislators in March.
Arthur cited a Business First story on that 2015 forum, noting that "people who are deeply economically invested in OneWest as an institution were talking about making the West End a TIF."
In an interview, Poe said his work on the bill stemmed from his connection with OneWest, which was created through Leadership Louisville's 2014 Bingham Fellows class. Poe was one of the 2014 fellows.
He said the TIF proposal sought to mirror the one established to help the Louisville Arena Authority pay off debt on the KFC Yum! Center.
"Let's do the same thing we did with the Yum! Center and let's create a TIF zone that flows to a non-political board -- this is not controlled by politicians -- and let them come up with a master plan to invest those funds over the next 20 years for great change with community input," Poe said.
Craig Greenberg, an attorney and Democrat running for Louisville mayor, acknowledged that he also was involved in the legislation at the request of lawmakers because of his past expertise with TIF projects.
He said he's aware of claims made online that he stands to personally benefit from the TIF proposal.
"I don't own any property in the West End. And I think given my role in running for mayor, it would be inappropriate if I did," Greenberg said. "So any assertions that I've been involved in this for personal gain are 100 percent false."
Neal said the TIF legislation was "intentionally" written so that developers would not have control over deciding how to spend tax revenues in western Louisville. Instead, he said, that rests with institutions, including the Urban League, NAACP and Simmons College of Kentucky, and the representatives of the nine neighborhoods.
"They make the decision of what they think they should do," he said. "Does that sound developer-driven? Absolutely not."
Even so, some still question how the legislation was passed. The initial Senate bill filed in late February was added to an unrelated House bill on the final day of the General Assembly and moved quickly through both chambers, receiving final passage shortly before midnight.
The Bluegrass Institute for Public Policy Solutions, a free market think tank, pushed for legislators to hold off on passing the bill this year and instead discuss it between sessions when issues can be debated more broadly, visiting fellow Andrew McNeill said.
He said lawmakers ought to revisit the bill when they convene in January "so that we can finally have a process that allows for this type of input and input from other stakeholders."
"It's a significant amount of money that will be managed by a board that has limited accountability to local taxpayers, state taxpayers, and it should be a real reason for caution and concern moving forward," he said.
COMING WEDNESDAY: A deeper look at the 'enormous' TIF district being proposed for the West End
Correction: A previous version of this story misstated the size of the proposed TIF district. It would be about 12.5 square miles.
Copyright 2021 WDRB Media. All rights reserved.