LOUISVILLE, Ky. (WDRB) – Early last week, an employee at GE Appliances' sprawling Louisville manufacturing complex was sent home after raising concerns about possible exposure to the novel coronavirus.
While factory work didn't stop, the company sent in contract workers wearing chemically protective overalls to sanitize places the worker might have touched. They placed caution tape around bins and a bathroom door.
GE Appliances spokeswoman Julie Wood said the Appliance Park worker had merely had contact with someone who had been asked to self-quarantine because of possible exposure to the virus, and the professional cleaning was a precaution.
Still, pictures of the caution-taped areas and the cleaning crew circulated on Facebook, fueling worries among many of the park's roughly 3,800 hourly workers that the COVID-19 virus had landed on the factory floor, despite the company's insistence of no confirmed cases.
The incident illustrated the anxiety of line workers at Louisville's biggest manufacturers, GE Appliances and Ford Motor Co., which are allowed to keep operating under a sweeping order issued by Gov. Andy Beshear last week that shuttered many businesses, such as restaurants, bars and concert halls.
PODCAST:
Factories are exempt, although they must follow federal guidelines on avoiding clusters of people and frequent cleaning and disinfecting.
But workers who spoke with WDRB News say their workplaces are not sufficiently cleaned and they still are required to be in close quarters with dozens or hundreds of co-workers for hours – often touching the same products, parts and tools.
Ford and GE Appliances – which collectively employ more than 15,000 Louisville-area workers -- announced last week that they're halting production until March 30, in part to perform a more thorough cleaning of their facilities. Like at GE Appliances, there have been no confirmed coronavirus cases at either of Ford's Louisville plants. The automaker did confirm a case last week at a Michigan factory.
Each company seemed to relent last week after initially planning not to stop their lines amid the virus outbreak. Ford resisted the call of one high-ranking union official in Louisville for a shutdown before ultimately joining the other Detroit automakers in a deal with the UAW to temporarily stop work.
Before the work stoppage was announced, the company was rushing to improve cleanliness at its two Louisville plants, including installing dozens of hand sanitizing dispensers last week.
GE Appliances, which makes washing machines, refrigerators and dishwashers, said Wednesday that it would scale back – but not shut down – to "focus on critical products our country needs."
The idea of reducing work as a precaution – but still operating some manufacturing lines – left some workers scratching their heads.
"If it isn't safe for 80% of us, it isn't safe for the other 20% of us," GE Appliances line worker James Scoggins wrote in an email to WDRB.
A day later, the company said it would, in fact, stop all production at Appliance Park in Louisville until March 30, the same date Ford plans to resume its operations.
Even after the break, some workers aren't confident that the factories will be any safer from transmission of the virus when work starts up again.
"Even if they do clean that park head to toe, when we come back in we're bringing it back in with us," said Kenny Bratcher, who works in a building where dishwashers are made at Appliance Park, a campus that encompasses five factories in all. "Even if it's all clean – we come back in, we start touching stuff; It's all dirty again."
WDRB spoke to two dozen Ford and GE Appliances workers, most of whom insisted on anonymity for fear of retaliation, about how the companies are handling the coronavirus pandemic. Common concerns included a general lack of cleanliness in the plants and how line work makes the "social distancing" that government officials recommend practically impossible to achieve.
A Ford spokeswoman did not respond to written questions for this story.
GE Appliances spokeswoman Julie Wood said in a written statement that employee safety is "a top priority" and that the Louisville-based company is preparing for "a strong production startup on March 30."
"Our business leadership team meets multiple times daily to address this crisis and determine the best actions to protect the health of all of us while we continue servicing, installing, shipping and manufacturing appliances," the statement said, in part. "Our team is both addressing the immediate needs of the business and planning for the future."
As for the cleanliness of Appliance Park facilities, Wood said:
"We have worked to analyze our needs and have developed specific plans for enhanced cleaning and sanitizing, which has been implemented. We are cleaning high-touch areas multiple times per day across all of our operations. We have established contracts with third-party organizations for deep cleaning services, which we have used proactively to address areas of specific concern. Our team has worked extensively to source the supplies needed to ensure continuous cleaning and appropriate resources for employees."
'Shoulder to shoulder' on the line
Beshear last week ordered many sorts of public-facing businesses – restaurants, bars, hair salons, child-care centers – to limit their operation or close altogether to keep the virus from spreading through human-to-human contact.
As for manufacturers and other businesses allowed to stay open, Beshear's executive order says they should maintain the six-foot social distancing between workers "to the extent practicable."
"If you are an employer that is not doing that, you have got to do it," Beshear said during a press conference Thursday. "You have got to create that social distancing… Don't put people in harm's way."
Yet, workers at Ford, GE Appliances and other factories say their jobs routinely require being in much closer contact with co-workers.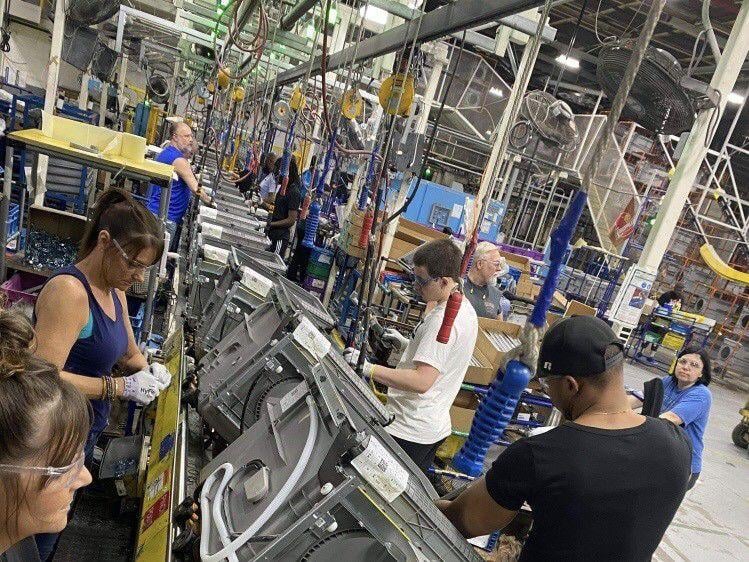 "Nearly every job in the building is within 6 feet of two or three other workers (to the left, to the right, and often across)," said Scoggins, the GE Appliances worker. "Some jobs are nearly shoulder to shoulder. Every single one of us touches the same units 1,600 times a day. I know that it isn't feasible to fix this issue. It is what it is, and it is a reality of the way assembly lines work."
GE Appliances' response for this story didn't specifically address whether it was possible to reconfigure work so that employees are spaced farther apart.
Ford workers expressed similar concerns.
"These doors and the rest of the units travel from one end of the plant to the other. And each one is touched, rubbed up against, breathed on etc.," Kevin Fullen, 25-year veteran of Ford's Kentucky Truck Plant, wrote in a Facebook message to WDRB. "Therefore everyone that works on them -- gloves or no gloves -- is exposed to it."
Experts say the virus spreads by person-to-person contact through droplets from an infected person's sneeze or cough – thus, the reason for the recommended social distancing.
But it can also spread by "contact with infected surfaces or objects," according to Harvard Medical School's Coronavirus Resource Center. "For example, a person can get COVID-19 by touching a surface or object that has the virus on it and then touching their own mouth, nose, or possibly their eyes."
To be sure, manufacturing isn't one of industries listed by the Occupational Health & Safety Administration as especially risky for workers to contract the virus. It's workers in industries like healthcare, airline travel and border protection who have "elevated risk" because of potential exposure to infected people, according to the agency.
How much social distancing is possible in a factory setting, where dozens or hundreds of workers combine efforts to assemble a product?
Announcing the temporary shutdown last week, the UAW and Ford said they would together on "finding ways to maximize social distancing among plant workers – both during work hours and at shift change, when large numbers of people typically gather at entry and exit points and maximizing cleaning times between shift changes."
The statement didn't elaborate on how those objectives would be met.
At Kentucky Truck Plant, where workers churn out Super Duty pickups, the plan after the work stoppage is to run two shifts, whereas the plant had run three shifts before the work stoppage, according to a memo from Allen Hughes, the top UAW Local 862 official at the plant.
Bernard Swiecki, assistant director of the business group at the Michigan-based Center for Automotive Research, said automakers might be able to make "procedural or operational" changes to prevent spread of the virus. For example, supplying protective equipment for workers to wear or taking more frequent breaks to allow for cleaning.
But, "I can't imagine you can do very much with the line itself or the plant itself. I think you have to focus on how the employees do their job as opposed to trying to modify the facility or the equipment."
Bratcher, the GE Appliances worker, said he would stomach many more weeks without pay from the factory if that's what necessary to keep the virus out, although "there are people who get paid a whole lot more money than me to figure that stuff out."
"If the only answer is a shutdown for a month or two months – however long until this thing is done. If that's going to be the safest answer – if that's what the governor, if that's what the president, if that's what all these people are telling us we need to do, they (GE Appliances) are not above them," Bratcher said. "They need to listen to them and treat us as human beings that they care about."