NEW ALBANY, Ind. (WDRB) – The Sherman Minton Bridge rises behind the Floyd County Brewing Co., where owner Brian Hampton sells beer and food in a medieval setting inspired by Monty Python and Old World public houses.
Hampton, who grew up in Louisville, said he chose New Albany for his venture four years ago because of the southern Indiana city's redevelopment boom, economic incentives, affordable cost of doing business and proximity to Kentucky via the Sherman Minton Bridge.
In fact, he said, the restaurant and brewpub is increasingly gaining new customers from across the Ohio River – the sometimes psychological barrier between the two states.
"We have worked so hard since we opened to try to break that stigma down and draw people to come from Louisville," Hampton said. "We're finally getting some traction to that. But all it takes is just one reason to say, 'No. I'll just stay where I'm at.'"
In the coming months, Indiana transportation officials will make a key decision that will affect Hampton and other New Albany business owners, civic leaders and residents: How to manage traffic when the 57-year-old Sherman Minton Bridge undergoes a massive rehabilitation in 2021.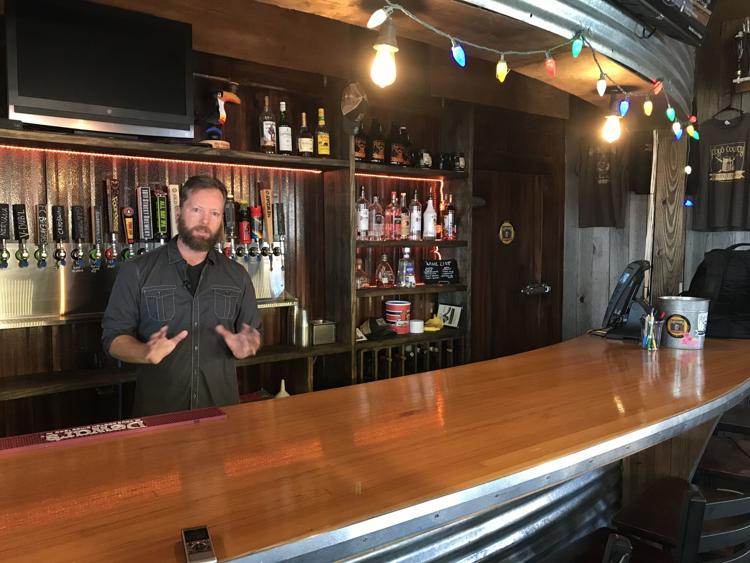 Planners of the Indiana-led "Sherman Minton Renewal" are reviewing six options that include having one-lane traffic on both the bridge's upper and lower decks, keeping one deck open or closing the span entirely for up to two years. Project spokeswoman Andrea Brady said it's likely that some combination of the approaches will be used.
Once expected by this fall or early winter, the construction plan for the $92 million project now will be unveiled during two public meetings in early spring, Brady said. Current plans call for Indiana to award a contract next fall and construction to start in early 2021. 
Louisville and southern Indiana residents weighed in at meetings last summer. Community groups also gave input. People also can comment on the project website.
Each of the options has tradeoffs. For example, closing just one lane on both bridge decks would get the work done in 21 to 37 months but provide more access than keeping just a single lane open in both directions. But that approach would be faster – between 18 and 28 months. With a total closure, the work could be finished in as few as 15 months.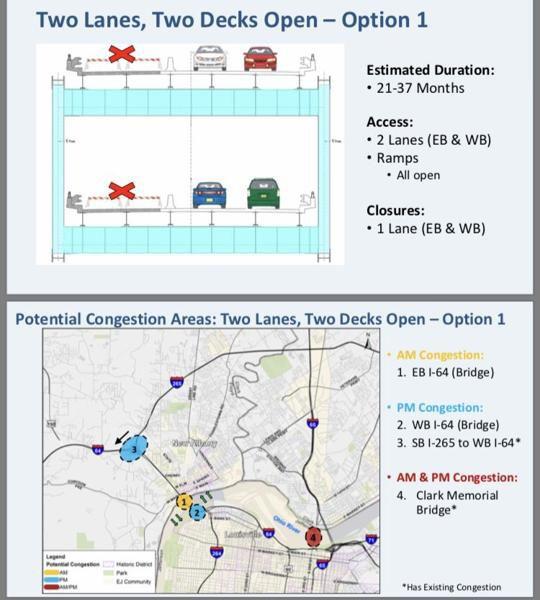 "The feedback, essentially, is that full closure is the least preferred option and that maintaining some daily access to the extent possible is the most preferred option," Brady said.
That may be putting it lightly. The New Albany City Council voted over the summer to oppose a full shutdown, a stance also taken by the One Southern Indiana chamber of commerce and the influential Horseshoe Foundation, which is associated with the Horseshoe Southern Indiana casino in Harrison County, Indiana. 
Indiana is overseeing the project and handling the bidding process, while Kentucky is helping to cover costs. In September, foundation leaders urged Indiana Department of Transportation Commissioner Joe McGuinness to choose a proposal that keeps the bridge open at all times during the rehabilitation work. 
"The effect on the business community with a full closure would be devastating," Jerry Finn, the foundation's executive director, and New Albany Mayor Jeff Gahan, the board president, wrote in a letter provided to WDRB News. "It would also be a hardship for residents of southern Indiana and Louisville."
Louisville Mayor Greg Fischer also has urged project officials to avoid a full closure. In an October letter to McGuinness, he called the bridge a "lifeline" to residents of western Louisville and said a complete shutdown is "not acceptable to the residents and businesses in Louisville."
Fischer echoed those points in an op-ed last week. He acknowledged that some short-term closures – on nights and weekends, for example – may be necessary.
"But the overall impact, and human and economic costs of a full bridge closure for 15-23 months, is too great a burden to bear," he wrote.
Eight years ago, when the Sherman Minton bridge abruptly closed for emergency repairs, the casino saw business drop by 15%. That translated into a $15 million decline in tax payments to Indiana state government.
This time around, a 15% hit to the casino would cost the state and other organizations $13 million, the casino foundation's letter says.
"The ability of our foundation to continue the level of community development and philanthropy would be significantly harmed with a full closure of the bridge," Finn and Gahan wrote.
In some regards, Finn said New Albany is a different place since the Sherman Minton shutdown in 2011. Before that closure, he said in an interview, Hoosiers generally tended to view Louisville as a destination for dining out or entertainment.
The five months without the bridge – dubbed "Shermageddon" – drastically altered traffic patterns and made the Interstate 65 John F. Kennedy Bridge the only interstate crossing in the region. The shutdown accelerated pressure on Indiana and Kentucky to start the Ohio River Bridges Project and add new spans.
When the Sherman Minton closed, "folks discovered what we had here in New Albany," Finn said. But he doubts another closure would have the same impact.
"We've become more of a Metro community rather than just a southern Indiana community. It's not just about folks from Indiana getting to Louisville," he said. "It's now both ways. It also has been some, but I think more so now."
'A game changer'
The Sherman Minton is the oldest interstate bridge in the Louisville metro area. It opened in 1962, one year before the Kennedy Bridge.
Yet it carries the most traffic – an estimated 90,000 vehicles per day, or about 26,000 more than the Kennedy and Lincoln toll bridges along I-65 in the RiverLink toll network. The Sherman Minton, which remains free to use, picked up traffic after RiverLink started assessing tolls in late 2016.
The upcoming project is meant to add 30 years of life to the span. It would replace the Sherman Minton's roadways and repair drains while adding lights and paint.
And the work would extend farther on both sides of the Ohio River.
In Kentucky, new surfaces would be added to roads leading to the bridge. In Indiana, workers would add asphalt to I-64 ramps in New Albany and resurface the lanes just west of the bridge. Other elevated sections, including the intersection of I-265 and I-64, would also get reinforced roadways.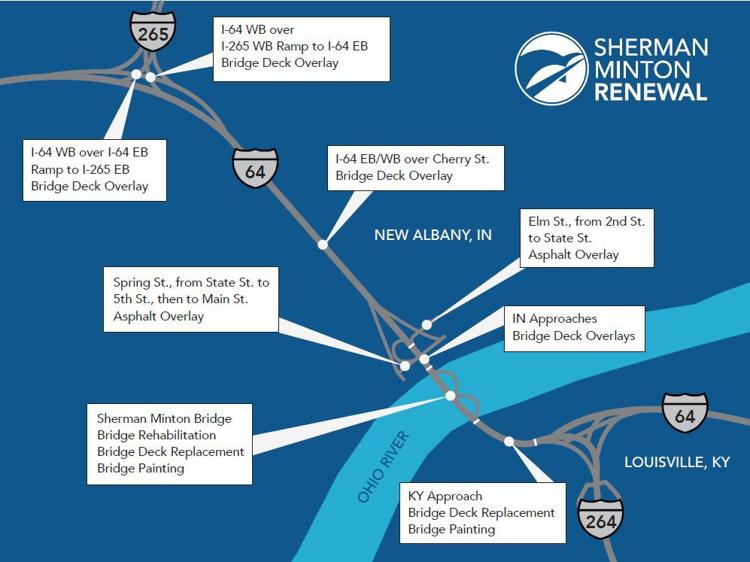 For now, businesses and institutions like Indiana University Southeast wait for a traffic plan. About 30% of IUS' students, faculty and staff travel from Louisville, said Nancy Jo Trafton, a university spokeswoman.
She said school officials have made their preference known: Keep at least one lane open during the construction.
The university also is planning for changes to the region's traffic flow when the Sherman Minton work starts, exploring new times for some classes and adding more online offerings.
"There's a lot of different things we're weighing right now," Trafton said.
No matter the approach, "this is going to be a game changer in terms of moving traffic in southern Indiana for a couple of years," said state Sen. Ron Grooms, R-Jeffersonville. He said it's "imperative" that at least one lane on the Sherman Minton stay open at all times.
Grooms introduced a bill earlier this year that sought to give some Hoosiers rebates on RiverLink toll charges if the Sherman Minton was closed completely for at least six months. The measure, which failed to get a committee hearing, would have let residents of Floyd and Harrison counties recoup half of the toll amounts they spend while using RiverLink during any I-64 bridge shutdown.
Grooms said he hasn't yet decided whether to file a version of the bill during the Indiana General Assembly that starts next month.
But Gahan, the New Albany mayor, said state lawmakers need to consider waiving tolls during construction for some drivers who might otherwise take the Sherman Minton – even if there's not a total shutdown.
Such legislation would provide an incentive to get the work done faster, he said in an interview.
"It should end up on the legislators' plate," said Gahan, a Democrat. "They need to take a look at this."
Since the 2011 shutdown, Gahan said New Albany has seen about $150 million of private investment and roughly $15 million in public spending on development. Regardless of the traffic plan that emerges by next spring, he said the construction will have an economic impact on New Albany and the broader region.
"We have a lot of momentum," Gahan said. "I'm concerned that it's going to not just hurt the momentum of New Albany, but all of southern Indiana."
Reach reporter Marcus Green at 502-585-0825, mgreen@wdrb.com, on Twitter or on Facebook. Copyright 2019 WDRB Media. All rights reserved.