LOUISVILLE, Ky. (WDRB) – Transportation officials are seeking input this week on six ways to handle traffic when the Sherman Minton Bridge undergoes a major renovation – including closing the span entirely for up to two years.
Those approaches are the main focus of public meetings scheduled for Louisville and New Albany, Ind., this week. The first open house is in Louisville Tuesday night.
"Ultimately what we want to learn from people is whether they are interested in a shorter construction period with more impacts on their daily travel, or a longer construction period with fewer daily impacts on their travel," said Andrea Brady, a project spokeswoman.
She said it's likely that a combination of traffic measures will be used. For now, project leaders are weighing a range of options that also include leaving two lanes and both decks of the Sherman Minton open; closing one deck in the morning and one at night; and having one-lane traffic on both decks.
The feedback will be incorporated into a final plan sent to the Federal Highway Administration by "early winter," Brady said. A contract would be awarded in 2020.
Besides the meetings this week, Brady said, there will be a public hearing later this fall or early winter where people also can comment.
A full closure would leave the Louisville and Southern Indiana area with no toll-free interstate crossings. Brady said the Indiana-led project team hasn't yet determined whether the "temporary impacts will be adverse or disproportionate."
The six-member Kentucky-Indiana tolling body, which oversees toll policy decisions for the RiverLink system, would ultimately choose whether to offer toll discounts or take any similar measures, she said.
The bridge, which carries Interstate 64 between New Albany and Louisville, would undergo a $92 million rehabilitation in 2021. Plans call for replacing both roadways of the span and doing resurfacing work in Southern Indiana.
Preliminary estimates show that a full closure would result in a construction schedule of 15 to 23 months, while alternating traffic on a single bridge deck could last as long as 38 months to complete the work.
The meetings are:
5:30 p.m. – 7:30 p.m., Tuesday, July 23; Chestnut Street Family YMCA; 930 W. Chestnut St., Louisville
5:30 p.m. – 7:30 p.m., Thursday, July 25; The Calumet Club; 1614 East Spring Street, New Albany
Which of these six traffic options do you think is best to accommodate traffic during construction planned to start in 2021?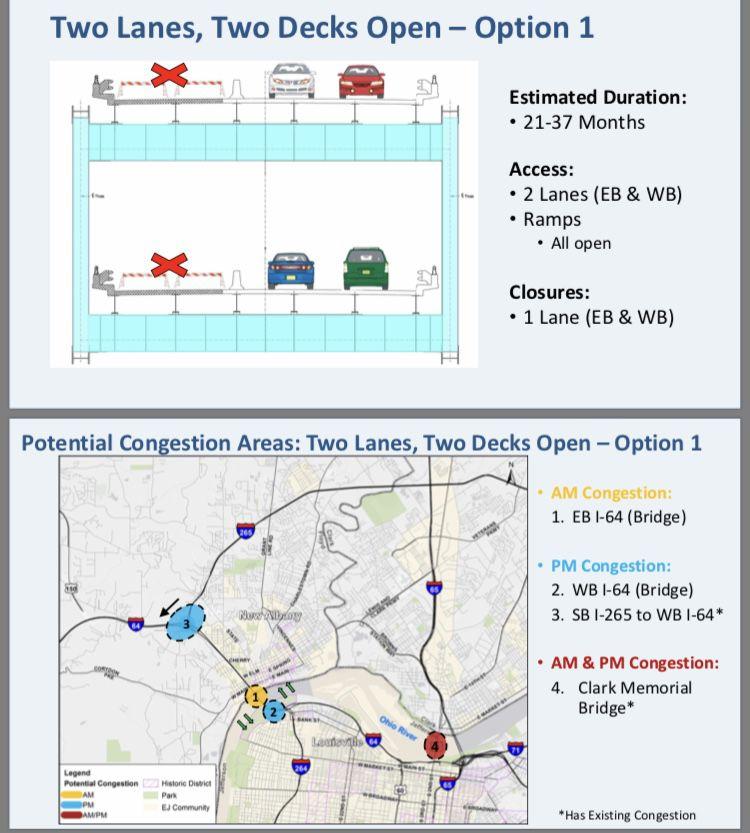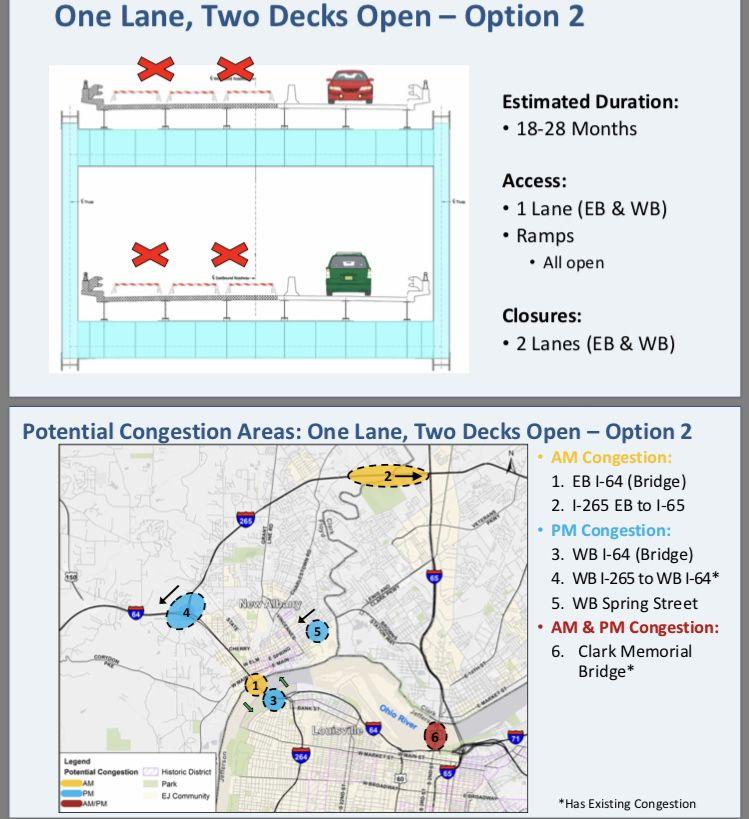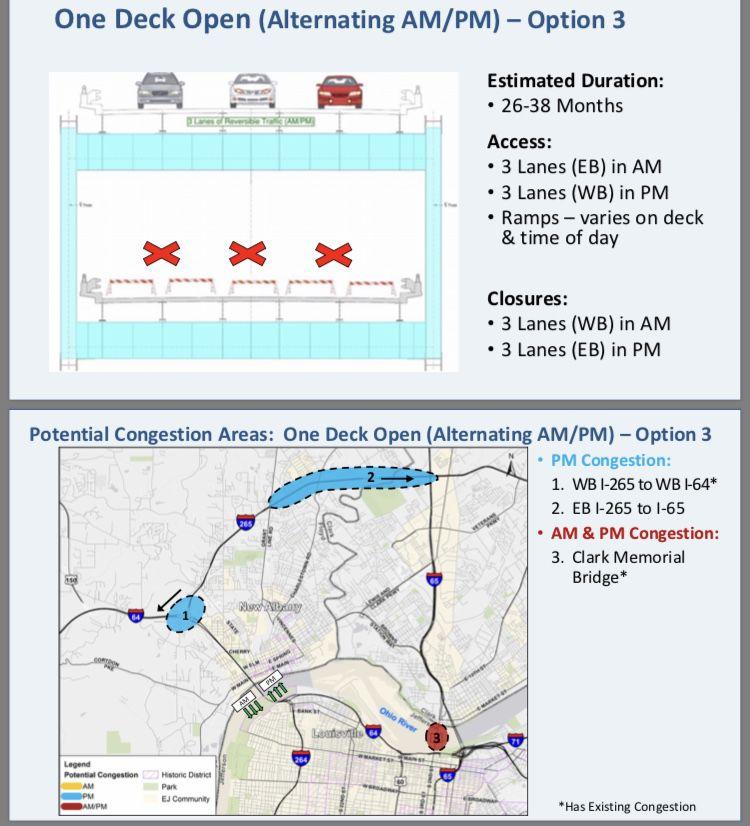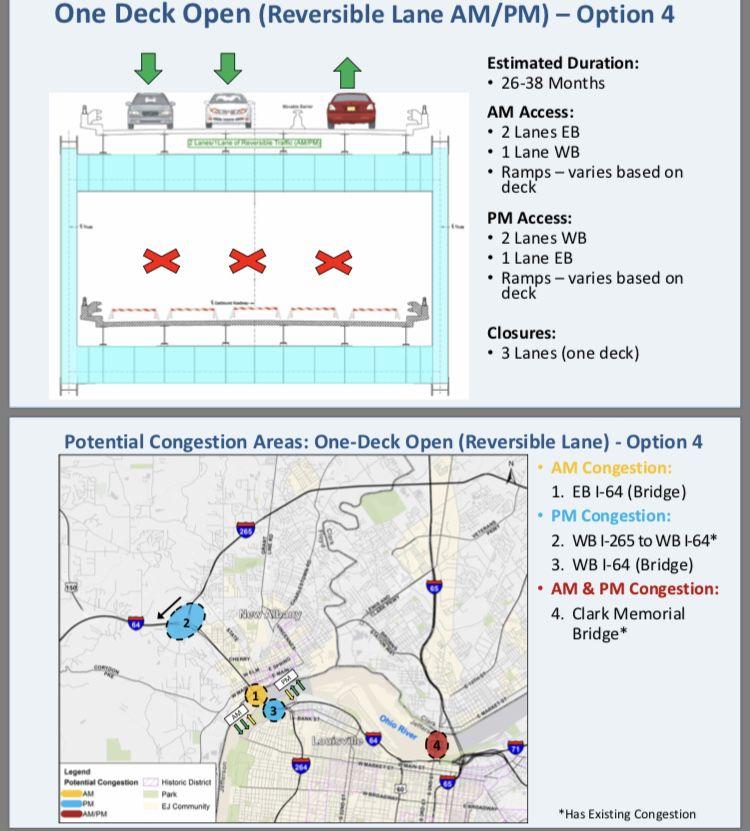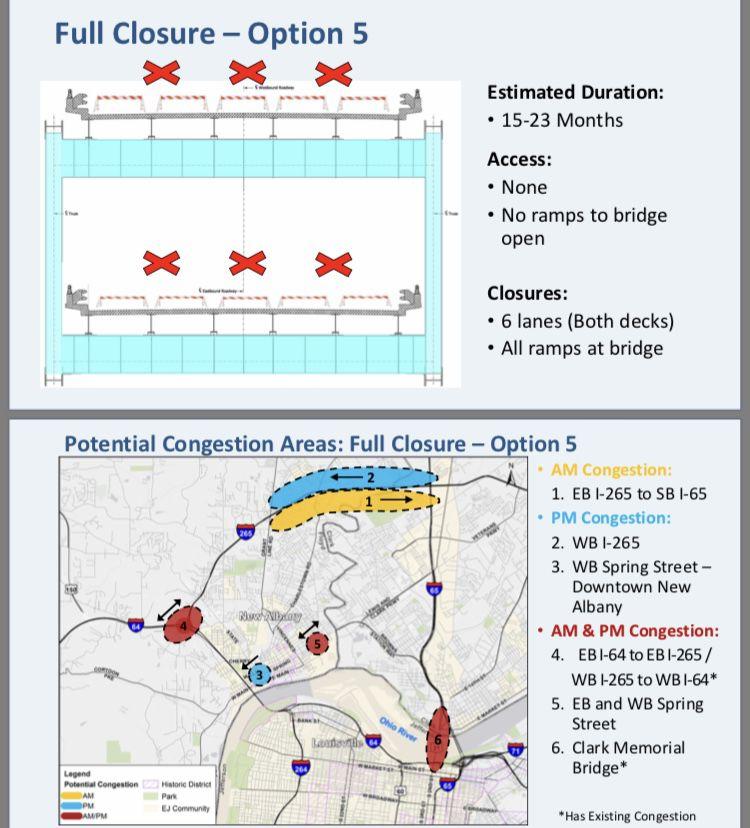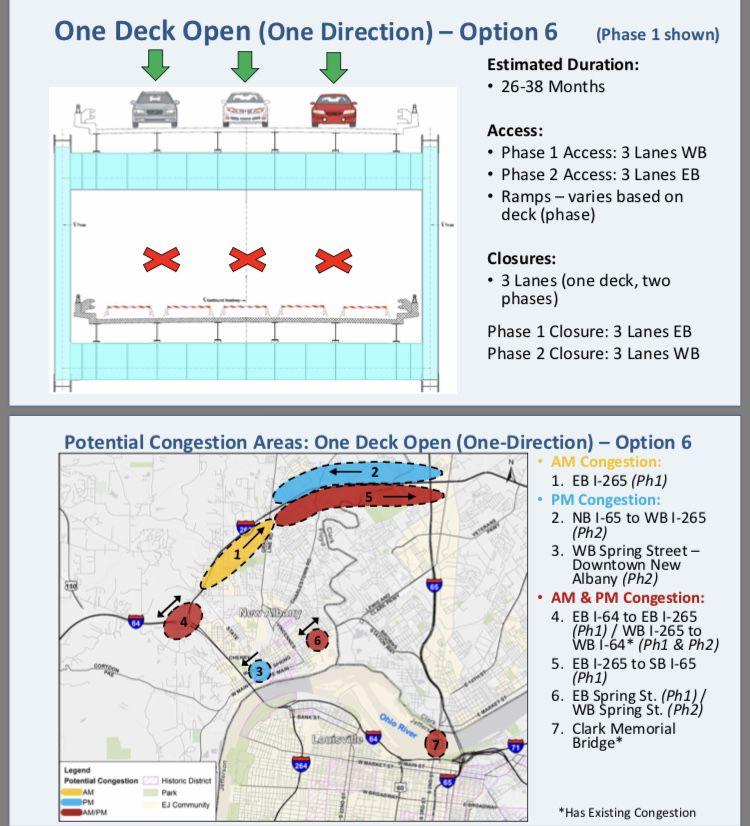 Reach reporter Marcus Green at 502-585-0825, mgreen@wdrb.com, on Twitter or on Facebook. Copyright 2019 WDRB Media. All rights reserved.