LOUISVILLE, Ky. (WDRB) – Suspensions in Jefferson County Public Schools dropped by nearly 16 percent in the opening months of the school year, while disciplinary actions in elementary schools have been cut in half, data shows.
The declines come as school officials have introduced alternative methods that seek to diffuse behavioral issues before students are sent home – part of a broader effort that includes hiring specialists and pushing for more money for mental health counselors.
Those methods include "restorative practices," which Semple Elementary began using in the 2017-18 school year and led to suspensions plummeting by 75 percent during the first semester of the current school year.
Semple Principal Danielle Randle credits her team's embrace of restorative practices as a key factor in the school's early success in reducing student suspensions. Teachers and staff have "worked really hard to establish genuine relationships with kids and families," she said.
"Our kids come with so many barriers that keep them from learning, but we work really hard to make sure our kids know that we are here for them," Randle said. "We also try every day to start with a fresh start, with a forgiving heart, extending grace just like we would want as adults, trying not to take things personal."
Semple soon will be among 10 new JCPS schools to formally adopt restorative practices.
Elementary schools have experienced the sharpest decline in suspensions, which are down 50.4 percent according to data presented to the school board. Suspensions at middle and high schools throughout JCPS have dropped by 10.7 percent and 8.1 percent, respectively.
Randle hopes that Semple's efforts to curb student suspensions will lead to better academic performance in year-end testing.
That's something Linda Duncan, a retired JCPS teacher and administrator who serves on the Jefferson County Board of Education, says will be an important indicator that the district's efforts to improve student behavior are paying off.
"The whole thing is about trying to improve student achievement, so if we can see signs that that is happening as a result of having kids be more engaged in school and being more involved in their learning, then I think that will be a good signal for us," Duncan said.
District officials have reason to believe that will likely be the case. JCPS Superintendent Marty Pollio says 1,000 more students are performing at grade-level in reading and math over a 12-week period based on regular Measure of Academic Performance, or MAP, assessments this school year.
"A thousand more students," Pollio stressed. "Those positive indicators are the most important. The positive culture and climate supports that."
District- and school-level changes
Eleven JCPS schools introduced restorative practices last year, and district data show that all but three saw declines in suspension numbers.
Some of those who originally adopted restorative justice techniques – part of a three-year, $2 million contract with the International Institute for Restorative Practices – have seen suspensions drop significantly.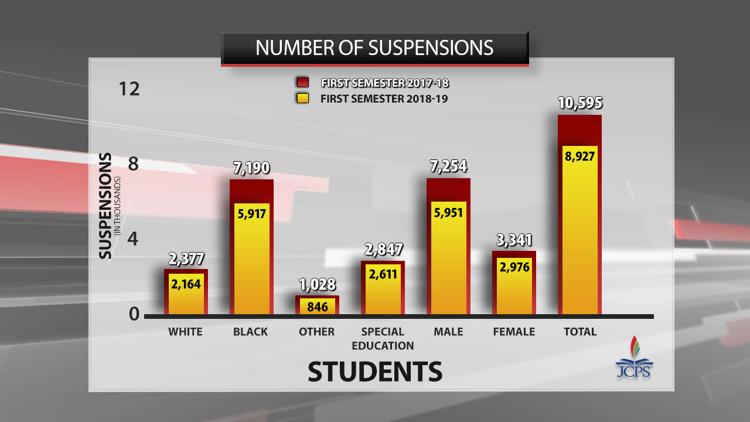 Shacklette Elementary's suspensions declined from 27 at the start of the 2017-18 school year to 13 at the beginning of the current year, a 51.9 percent decline. At Engelhard Elementary, 29 students were sent home for disciplinary reasons during the opening semester last year. That number totaled less than 10 in the same period this year.
Minor Daniels Academy, an alternative school, suspended 112 fewer students at the start of this year than last year, a 49.8 percent drop.
Of those original restorative justice schools that suspended more students in the first semester this year than last year, two saw significant jumps.
At Waggener High School, 73 more students were suspended in the opening semester of this school year compared to last year, a 38.8 percent increase. The Phoenix School of Discovery suspended 41 students in the first semester of the 2017-18 school year, but that number climbed to 62 this year, a 51.2 percent difference.
Still, several schools throughout JCPS have cut their suspensions by sizable numbers. Roosevelt-Perry Elementary saw suspensions drop by 67.3 percent in the opening months of this school year compared to the same period last year. At Newburg Middle, suspensions declined by 46.3 percent. Suspensions at Fern Creek and Eastern high schools dropped by 40.8 percent and 39 percent, respectively.
Even without restorative practices formally in place at every school, Pollio said some form of the concept should be practiced at every JCPS school.
That includes understanding what supports students need, building positive relationships between kids and staff, rewarding good behavior, and, importantly, "when a mistake is made, making sure we teach the child what that mistake was and making sure that we bring them back and let them know that we care about them," he said.
"All schools should have a degree of restorative practices going on with discipline," Pollio said.
The district has implemented a number of changes in its efforts to correct student misbehavior and improve school climates throughout JCPS, with more on the way.
JCPS has hired five staff members who specialize in "trauma-informed" care to train staff at all grade levels, six behavior resource employees, six multi-tiered resource support staff, four board-certified behavioral analysts, and two behavior support psychologists, with the district in the process of hiring four more, according to JCPS Communications Director Renee Murphy.
What's more, Pollio is pushing the school board to budget for about 60 more mental health counselors, at the cost of about $3 million extra, so that every district school can have access to such aid.
At Semple, Randle says her staff has taken restorative practices to heart even before it formally joins the ranks of those JCPS schools that utilize the approach.
Since last school year, students have been required to take a class on compassion that teaches kids productive ways to relieve stress, such as through deep breathing, and how to be kind to others. Teachers can send students who misbehave to that class or to an "opportunity area" in their classroom at any time instead of suspending them to try to "get themselves back together," Randle said.
Educators themselves can take advantage of the space and its calming practices, she said.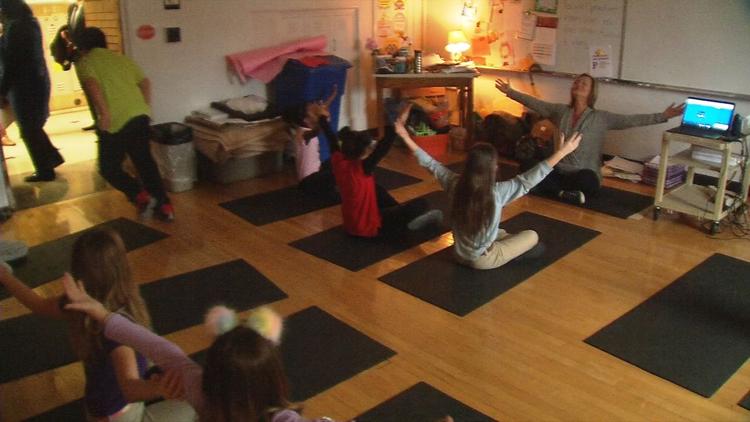 Randle also stressed the importance of the trauma-informed care Semple staff have received since adopting the restorative justice approach.
Many of Semple's students come from impoverished homes. Last year, 91.1 percent of students there received free lunches and 2.9 percent paid at reduced rates, according to state data.
Essentially, staff members at Semple had to change their mindsets in terms of discipline, Randle said. Rather than simply reacting to a student's misbehavior, teachers are encouraged to find out whether underlying issues, such as family strife or hunger, are causing students to lash out, she said. Students are also taught to "advocate for themselves" through dialogue, she added.
"They come and they're upset, so you're tense," Randle said. "It takes a minute for them to trust you, and that's why building those relationships is so important. Because when they do come and they do want to talk, they have to know that they can trust you.
"So taking the time, having the time, having the team, having the manpower to be able to talk to kids one-on-one or in a group setting makes a world of difference.
The district has stressed the importance of trauma-informed care, particularly for elementary schools, as it looks to improve student behaviors and school climates, according to Murphy.
Disparities and questions
Reducing disproportionality in suspensions is a key goal in the district's racial equity plan, and while the percentage of black students who have been sent home for disciplinary reasons has dropped, data show a wide gap remains.
Thirty-six percent of JCPS students are black, but made up 66.3 percent of all suspensions in the first semester of the 2018-19 school year. That's down 1.6 percentage points from the first semester of the previous school year, and the overall number of black students who have been suspended dropped 17.7 percent between those periods.
At the same time, suspensions for white students declined by 9 percent throughout the district and made up 24.2 percent of suspensions during the first semester of 2018-19.
JCPS officials and the school board have included cutting the disproportionality in minority student suspensions by 10 percent by 2020, from 77 percent to 67 percent. Black students and those identified as "other" made up 75.8 percent of suspensions at district schools in the first semester this year, down from 77.6 percent in last year's opening months, JCPS data show.
The Alliance to Reclaim Our Schools has said the district's racial equity goals aren't ambitious enough and urged the school board to aim higher in its measure of progress.
Chris Harmer, the group's chairman, called the early numbers "a good first step" but said more could be done to significantly cut suspensions, namely "looking very seriously at elementary school suspensions and why those students need to be suspended from school at all."
He praised the district's implementation of restorative practice and "trauma-informed" care, and he hopes JCPS will expand their use if they continue to yield positive results. Harmer is anxious to see the district begin training staff in how to recognize implicit bias, or subconscious prejudices that affect how people treat others.
Such training is part of the district's racial equity plan passed by the school board Jan. 8, and Harmer says that can help reduce the number of minority students who are suspended.
"That needs to get rolled out quickly," Harmer said. "We're recommending 100 percent of the student-facing staff get that before the end of 2020."
Duncan said reducing the disproportionality of suspensions between minority and white students is the district's "big challenge" and requires support not only at school, but also at home.
"How we approach that has to be something that we engage the parents on," she said. "We need their support desperately. We need their participation and understanding in helping reinforce behaviors that aren't going to interfere with anybody's learning."
One concern raised by both Duncan and Harmer is suspensions have dropped so far this school year because school administrators simply aren't suspending kids when they should.
"I'm always cautious about numbers because I know that sometimes if you want a principal to reduce suspensions, they know how to reduce suspensions, but the big question is are the offenses also being reduced," Duncan said. "That's what I would hope."
But JCPS officials says overall behavior-related referrals are down 5 percent so far this year and that district staff are embracing changes in disciplinary approaches.
"We are looking for positive culture and climate," Pollio said. "That is the overarching thing we're working on, not to just say we want a reduction in suspensions. We want a positive culture and climate in our schools."
From her perspective, Randle says she's noticed a concerted effort from her staff to correct misbehavior and keep kids in the classroom.
"We know that they cannot learn when they are not at school, so no one has the motive of sending kids home," Randle said. "We want what's best for them, and especially the kids that come from tough situations, we know that the best place for them during the day is school.
"I think everybody's just really working hard to make things better, and it takes all of us."
Reach reporter Kevin Wheatley at 502-585-0838 and kwheatley@wdrb.com. Follow him on Twitter @KevinWheatleyKY.
Copyright 2018 WDRB News. All rights reserved.