LOUISVILLE, Ky. (WDRB) – The University of Louisville is formally looking for a hospital company, investment firm or other "partner" to join with it in a potential purchase of Jewish Hospital and eight other Louisville healthcare operations that KentuckyOne Health has been trying to offload.
U of L issued a "request for proposal" on Tuesday – the first step in finding a firm willing to bring tens of millions of dollars to buy the KentuckyOne facilities and to upgrade them.
"In our ideal world we would look for somebody who can bring the financial resources needed but who would also have the operational expertise," Bendapudi told reporters on Tuesday.
While details are subject to negotiation, the idea is that U of L and the partner would form a joint venture to buy and operate the KentuckyOne facilities, with the university sharing in any profits and losses.
Besides Jewish Hospital, the facilities are the Frazier Rehabilitation Institute, Sts. Mary & Elizabeth Hospital in south Louisville, Jewish Hospital Shelbyville, and four outpatient centers.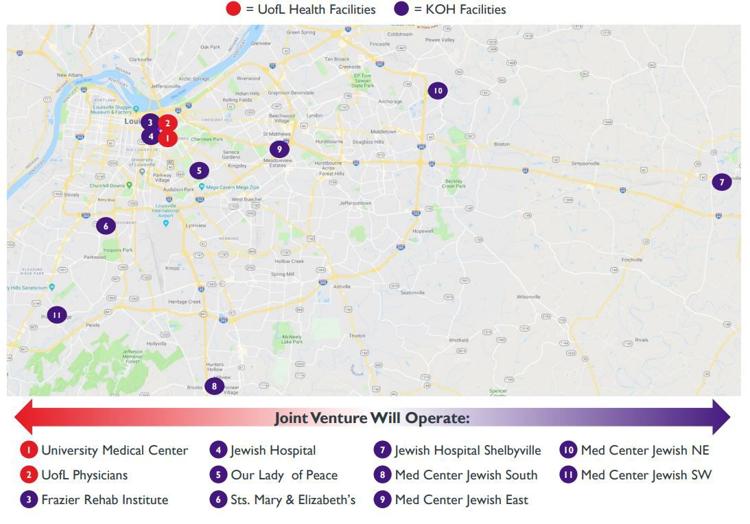 There is no guarantee that U of L finds a partner or ultimately reaches a deal with KentuckyOne Health and its parent company, formerly called Catholic Health Initiatives (now CommonSpirit Health), Bendapudi said.
The university for months has been looking to save Jewish Hospital and the adjacent Frazier Rehabilitation Institute, where a number of U of L medical programs are based, from closing.
On Tuesday, Bendapudi said the partnership could also be a way to catapult U of L's medical programs.
"This could be an opportunity with really leveraging a comprehensive healthcare system to raise the profile of our medical center, to improve our research – more sites, more residencies, more fellows – and our teaching and research mission," she said. "… It's a big issue for Louisville and we think there is enough promise that it warrants this look."
KentuckyOne Health has been trying to sell Jewish, Frazier and other Louisville facilities – including Sts. Mary and Elizabeth Hospital in south Louisville, Jewish Hospital Shelbyville and four outpatient medical centers around town – since May 2017.
KentuckyOne lost $57 million operating that group of facilities in the year ending June 30, 2018, according to financial reports from KentuckyOne's parent company. The losses have continued to pile up in the current fiscal year.
More than a year ago, KentuckyOne identified New York private equity firm BlueMountain Capital Management as the likely buyer of its Louisville assets, but protracted negotiations with BlueMountain Capital have failed to result a deal.
While Bendapudi said she doesn't know about the status of BlueMountain Capital's interest, she said U of L felt obligated to step up.
"For us the idea was, is there a solution for healthcare in this community? And if a deal had already been done with BlueMountain, we would not be sitting at the table. We didn't see anything materialize, so we want to do our part in looking for a solution," she said.
U of L first indicated interest in December when it sent a "non-binding" letter of intent to CHI. Bendapudi said that allowed U of L to begin discussions with KentuckyOne, and the formal solicitation of a partner is the next step in the process.
U of L has already had preliminary talks with at least one potential partner, Nashville-based for-profit hospital operator Ardent Health Solutions, as WDRB reported in January.
Bendapudi said doesn't know how much money it would take to buy the KentuckyOne assets or how much the facilities need in upgrades. But that funding would be provided by the partner, she said.
"The idea is that we are not going to be the ones to shell out the capital at this point," she said.
What does U of L offer to a partner? The cadre of U of L doctors who perform transplants and other complex services at Jewish, Bendapudi said.
"Academic medical centers, that's what we bring to the table," she said.
She added that University Hospital and the James Graham Brown Cancer Center, which are currently run by an affiliate of the university, could be managed by the joint venture U of L would form with the partner, subject to negotiations.
But those facilities would continue to be owned by U of L, she said.
If the U of L assets -- University Hospital, the Brown Cancer Center and U of L Physicians, the university doctor practice plan -- are combined with the KentuckyOne facilities, the system would have nearly $1.5 billion in annual revenue.