LOUISVILLE, Ky. (WDRB) -- One of the biggest redevelopment projects in the NuLu area in recent years appears to be moving forward.
Nick Campisano's real estate investment firm Zyyo filed plans this week for NuLu Crossing, a mixed-use building that will span the 2.5-acre block at 700 E. Main St., the former home of the Service Tanks property.
The $78 million project was announced in 2021, and the block between South Clay and South Shelby streets has been cleared of its old buildings, but construction has yet to begin.
Zyyo is seeking a waiver from Louisville's land development code to construct an eight-story building that will include apartments, office and commercial space, according to plans filed this week. At 101 feet, the building would be twice the current height limit in the area, though the application notes it would be across the street from the seven-story Main & Clay apartments.
The renderings included in the filings differ significantly from the renderings Campisano's firm released when the project was announced in September 2021.
Jord Green, Zyyo's vice president of investor relations, declined to comment, saying more information will be released soon.
"I'm not able to share anything further at the moment due to confidentiality concerns," he told WDRB News in an email.
NuLu Crossing will have 284 residential units, according to plans filed with Metro government, up from 125 apartments disclosed when the project was announced in 2021.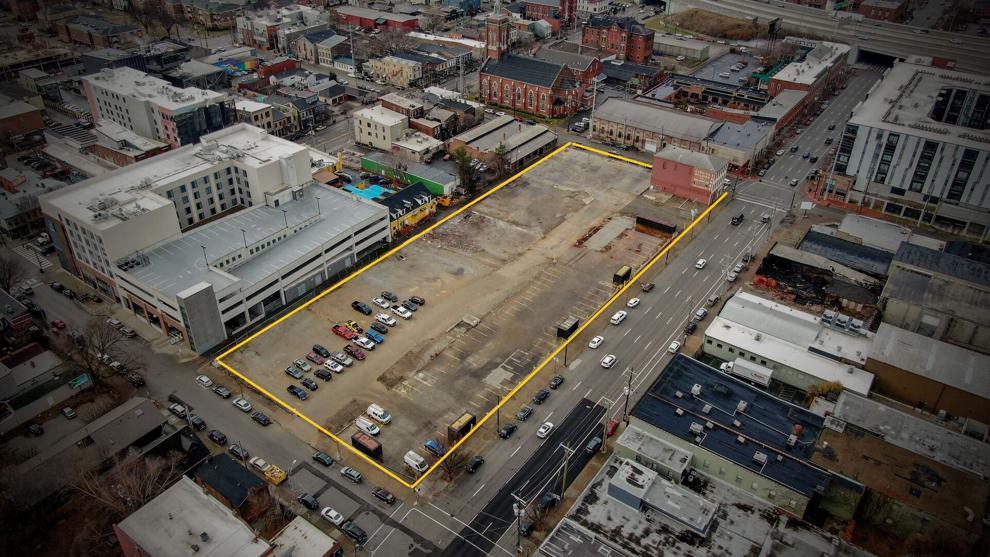 It will also include a grocery store as part of 85,500 square feet of commercial space. A parking garage will take up three stories, including a level below ground and the first two above-ground floors. The residential area will include an outdoor pool and patio on the third floor.
The proposed height of the building is necessary to incorporate the onsite parking, according to the plans.
Campisano, an investor involved in other projects downtown and in the NuLu area, told WDRB News in 2021 that he wanted to create a marquee development on East Main Street.
"We want to build something that will last for 200 to 300 years," Campisano said at the time.
NuLu Crossing would be the latest in a string of developments along the East Market Street corridor, including the AC by Marriott hotel directly behind the Main Street block, the Bunkhouse NuLu Hotel at 728 E. Market St. and Campisano's separate plan to redevelop the former Joe Ley Antiques building at 615 E. Market St.