LOUISVILLE, Ky. (WDRB) -- Three Louisville business owners have sued Gov. Andy Beshear's administration over pandemic restrictions that they claim are "unfair" and unconstitutional.
The lawsuit was filed Friday on behalf of the owners of The Back Door, Dundee Tavern and B.J. Novelty, an amusement vending supplier. It is seeking class-action certification so other businesses around the commonwealth can join. 
"We're tired," said John Dant, owner of The Back Door." We're trying to make ends meet." 
Filed by attorneys Thomas McAdam and J. Andrew White, the suit claims some of Beshear's executive orders in response to the pandemic are "arbitrary, capricious and inherently unfair" to some businesses. It also argues that some executive orders and the use of state law to issue the orders violate the Kentucky Constitution.
The owners acknowledge that the administration was trying to protect citizens but said it went too far.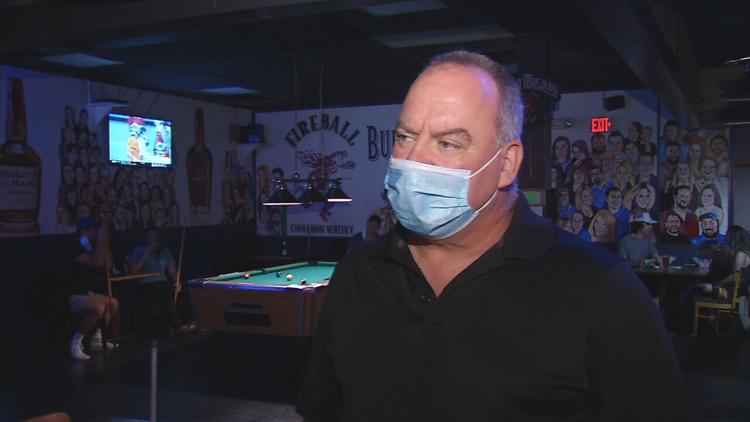 "As is often true in times of crisis, (the business owners) respectfully submit that in an effort to uphold its sworn duties the Commonwealth has stepped over a line the Constitution does not permit," the suit reads.
The suit claims that the Beshear administration has been inconsistent in its designation of "life sustaining" and "non-life sustaining" businesses. It also argues the administration's designations are "not based on science" and have resulted in "the disparate treatment of similar activities and/or similarly situated activities that are common throughout the community."
The business owners conceded that the governor is granted certain powers during a declared state of emergency but argue that the powers, nonetheless, remain limited.
"There is no indication that the General Assembly intended an emergency to be the Governor making such a declaration statewide, for months on end, in an open-ended fashion," the lawsuit reads. 
Ten days after Kentucky reported its first case of COVID-19, Beshear ordered the state's bars and restaurants to close in-person services. Restaurants were allowed to reopen at 33% indoor capacity on May 22, and Beshear expanded capacity to 50% in late June alongside allowing bars to reopen. 
Amid a spike in new cases during the month of July, however, Beshear ordered bars to close for two week and restaurants to scale back capacity to 25%. In August, Beshear allowed the establishments to reopen at 50% capacity but implemented a 10 p.m. last-call curfew. 
Both The Back Door and Dundee Tavern claim in the lawsuit that restraining restaurants to 33% indoor capacity and requiring 6 feet of space between customers at tables for social distancing are "arbitrary and capricious, and make it difficult, if not impossible, for the business to turn a profit." 
According to the lawsuit, the establishments' owners say they might be willing to take certain steps such as "enforcing spacing requirements between persons and ensuring 6-foot distancing for any scenario in which someone is facing someone else," using partitions to separate customers and capping indoor capacity at 50%. 
Both bar owners say they have no problems with conducting daily temperature checks for employees and that they continue to do so. Keeping up with constant mandate changes, however, is significantly hurting their pocket books, they said, and making it hard to keep the doors open.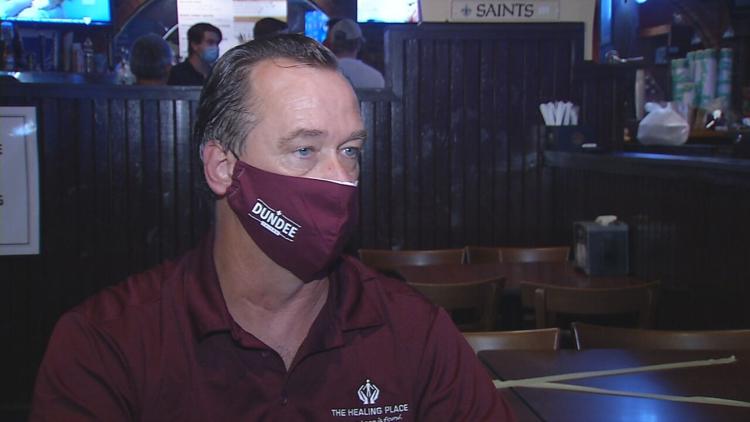 "We've been targeted since Day 1 with this," said Alan Hincks, owner of Dundee Tavern. "We really do believe that, too. Now it's just getting worse and worse and worse.
"... When you go from 33% (capacity), to 50%, to 25%, back to 50% — and now we are restricted to stop serving alcohol at 10:01 (p.m.) — it is just beyond what we can really do," Hincks added. 
For Dant, Beshear's 10 p.m. last-call curfew was the last straw. Under normal circumstances, The Back Door is open from 4 p.m. to 4 a.m. and from 1 p.m. to 4 a.m. on Saturdays and Sundays. 
"If (Beshear) doesn't make a change from 10 o'clock, it's definitely going to make a difference on whether I'm still in business by the end of the year," Dant said. 
"... I have yet to see any scientific evidence that points out that bars are contagious after 10 p.m. or anytime for that matter," he added. 
Because "much" of B.J. Novelty's operations are "providing entertainment in bars and restaurants," the lawsuit claims the business faces "an undue burden" and "a severe and demonstrable effect" from the governor's restrictions on bars and restaurants. 
If the court finds Beshear's orders constitutional, the business owners are seeking "just compensation" from the state, which they say is required by law when the governor seizes property or hinders business.
Dr. Steven Stack, Kentucky's public health commissioner, and Eric Friedlander, the secretary of the Cabinet for Health and Family Services, are also named as defendants in the lawsuit. 
In response to the lawsuit, Beshear spokeswoman Crystal Staley issued the following statement: "The White House recommends that bars in Jefferson County remain closed and restaurants capacity be limited to 25%. Understanding these are small businesses, Gov. Beshear has tried to be more flexible and provide some relief — setting a curfew that is being used in a number of states and encouraging outdoor dining expansion. Battling a virus that has killed over 170,000 Americans is not easy and requires tough choices."
The case has been assigned to Jefferson Circuit Court Judge Mary Shaw. 
Copyright 2020 WDRB Media. All Rights Reserved.