LOUISVILLE, Ky. (WDRB) – When Google Fiber brought its superfast internet service to the Belknap neighborhood in the Upper Highlands area last year, Patrick Carrico said it felt "like winning the lottery."
The IT worker and former cable customer said Google's service, delivered entirely over fiber-optic lines, is like going from "horse-and-buggy" technology to a spaceship heading to the moon.
Carrico, his wife and three kids now get their TV over the internet, which comes in reliably and clear over his $50-per-month Google Fiber connection.
"It's not even a 21st century network; it's 22nd century," he said. 
Not everyone has been so lucky, however.
When Google Fiber started service in Louisville nearly a year ago, Mayor Greg Fischer lauded the company for including parts of two lower-income neighborhoods, Portland and Newburg, in its service territory. Google was helping to close Louisville's "digital divide," Fischer said at the time.
But, 16 months after starting construction here, Google Fiber has mostly brought its service to the high-income Highlands areas of the city, according to a WDRB News analysis of Louisville Metro right-of-way permits and U.S. Census data.
Google Fiber's service area includes about 5,044 households in neighborhoods like Strathmoor Manor, Belknap and Deer Park in the Upper Highlands; 3,728 in Newburg and 2,006 in Portland, according to WDRB's review of permits obtained by the company.
MAP: Google Fiber's permits in Louisville (Mobile users click here). 
Citing competitive concerns, Google Fiber has consistently declined to comment on which areas it plans to wire and when. That leaves publicly available permits as the best-available information as to the company's activity.
Google Fiber's overall footprint remains small, with permitted areas including only about 11,000 of the 310,000 households in Jefferson County, WDRB found.
And even that figure likely overstates Google Fiber's presence, as permits show only where the company has been approved to work, not where it has actually performed construction.
The situation is particularly murky in Newburg, where Google Fiber says it's providing service, but it won't say exactly where and has paused signing up new customers. WDRB could find only one street where a neighbor said Google Fiber had been.
Grace Simrall, Louisville Metro's chief of civic innovation and technology, said no one should expect Google Fiber to cover the whole city overnight.
"When you are building a brand new network from the ground up, it's going to take a little while to get going," she said.
Simrall added that Google Fiber's presence in Portland and Newburg is to be cheered.
"The fact that they have any footprint whatsoever in those neighborhoods is a great start to addressing the digital divide," she said.
Google Fiber declined an interview for this story, but submitted written answers to some of WDRB's questions.
"We currently have customers in Upper Highlands, Portland and Newburg and are adding new customers in Louisville every day," the company said. "We want to make sure all of our customers have a great Fiber experience from the moment of install, and we're focusing on this in all areas of the city."
To be sure, instead of bringing service to new areas, in recent months Google Fiber has its hands full just fixing problems in areas that it already has wired.
Louisville was the first city in which the company primarily deployed its network by cutting shallow trenches in the street – a technique dubbed "micro-trenching."
The trenching helped make Google Fiber available in Louisville only about five months after starting construction, faster than any of its other markets.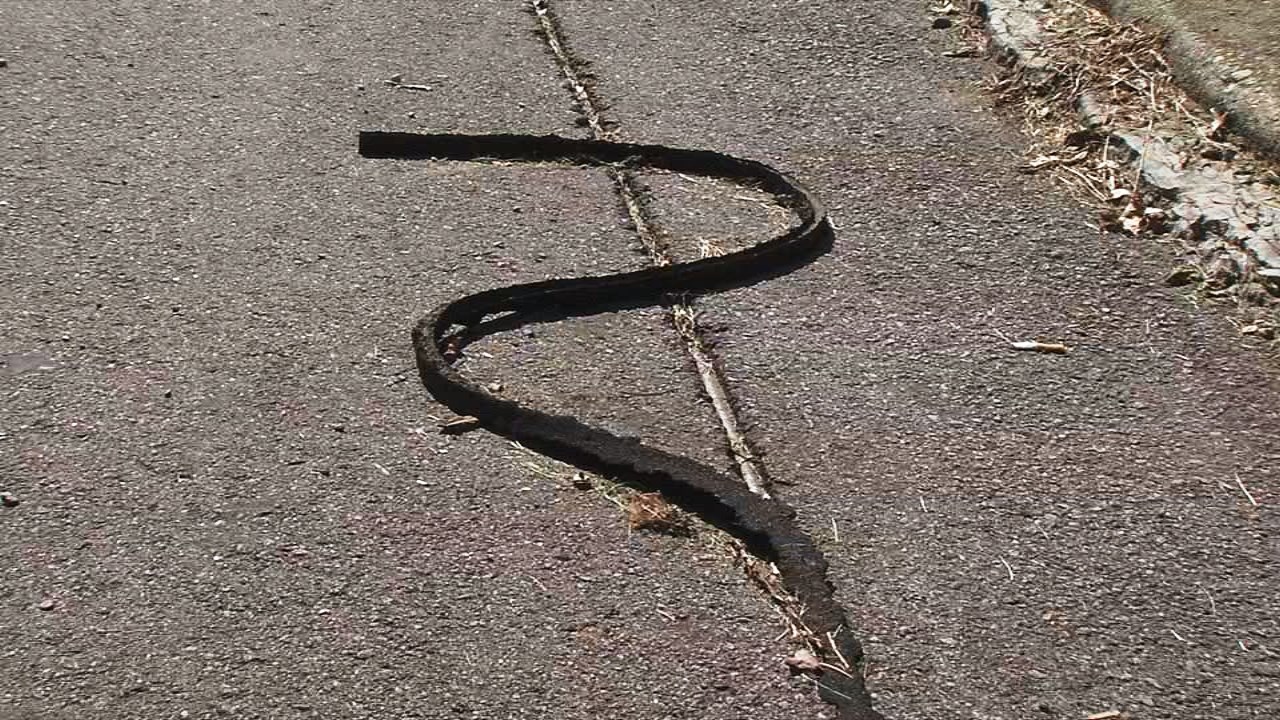 But in Belknap and Deer Park, the sealant Google Fiber's contractors used to fill the trenches has popped free, leaving exposed conduit and shards of black, rubber-like material splayed in streets. That's frustrated some residents.
"It feels like you are using us for a science-fair experiment," Greg Winn, an architect who lives on Boulevard Napolean, told Google Fiber representatives during a Belknap Neighborhood Association meeting on Wednesday. "…Our streets look awful."
Google Fiber is now going back over the trenches with asphalt – essentially, filling a miles-long, narrow pothole.
Google Fiber has "raised the stakes" for Louisville
Getting Google Fiber in Louisville was a coup for the city – the result of at least four years of cajoling by officials in Mayor Greg Fischer's administration.
In addition to prodding AT&T and the cable company, now called Spectrum, to improve their speeds and prices, city officials wanted the tech community validation that comes with being a Google Fiber city, believing it would help attract and retain young entrepreneurs.  
Metro Council even passed a utility pole ordinance meant to ease Google Fiber's path, and the county then spent $382,328 on outside lawyers to fend off lawsuits by AT&T and the cable company now called Spectrum, according to the Jefferson County Attorney's Office. (While Google Fiber hasn't actually used any utility poles in Louisville, the city's policy on pole access is now a nationwide policy endorsed by the Federal Communications Commission).
Google Fiber finally began work in Louisville in May of last year and turned on service for the first time in October. Louisville is one of only a dozen cities with the service.
The Silicon Valley-based giant, which makes its money through Internet search advertising, only became an internet service provider in 2012, when Kansas City won a competition to be Google Fiber's first city.
In Louisville, the fresh competition has resulted in "incumbent" providers improving their offerings, Simrall said.
"Frequently, they've raised the stakes by having to increase speeds, so I think those are all positive changes," she said.
In fact, AT&T brought fiber-optic connections to Louisville homes well before Google Fiber, and AT&T's product – AT&T Fiber – covers many times the territory of Google Fiber. 
AT&T Fiber is now available to 125,000 residences and small businesses in the metro area, including southern Indiana, the company said last week.
That includes 28 neighborhoods, from Shawnee in west Louisville, to southern Indiana to Oldham County.
AT&T's fiber product is similarly priced to Google's. A full 1 Gigabit-per-second connection – basically, industrial-strength Internet – costs $70 per month with Google Fiber and $90 per month with AT&T (or $80 if bundled with TV or phone services, which Google Fiber does not sell in Louisville).
Both Google Fiber and AT&T Fiber offer a lower-tier, 100 Mbps connection for $50 a month.  Meanwhile, Spectrum is pushing more bandwidth through its coaxial cables and now offers download speeds starting at up to 200 Mbps.
Growing mainly in Highlands 
When Google Fiber launched a year ago, its biggest footprint was in Portland -- bringing service to an bounded by 22nd Street, Market Street, 30th Street and Bank Street.
But since the initial construction, permits show Google Fiber hasn't expanded in Portland, one of the city's most impoverished neighborhoods.
That's in contrast to the Upper Highlands areas off Bardstown Road, where Google Fiber had a small presence when service started last year, having been permitted for an area near Strathmoor Manor containing only 200 houses.
Since then, its presence in those neighborhoods has mushroomed to cover nearly all of the area bounded by Bardstown Road, Eastern Parkway, Newburg Road and the Watterson Expressway.
In Newburg, Google Fiber has pulled permits to cover a large area between Shepherdsville Road and Preston Highway, but the extent of the company's actual construction there is unclear.
Unlike in Portland and the Upper Highlands, Google Fiber hasn't trenched streets in Newburg, leaving no visible trail. It instead buried lines in the grassy areas of the right of way.
Canvassing the area, WDRB could find only one street where a resident said Google Fiber had been installed. WDRB also checked several addresses in the Newburg area on Google Fiber's website, finding none where service was currently available.
Google Fiber said it's offering service in Newburg, but declined to say where exactly the network has been installed there.
Google Fiber has stopped signing up new customers in Newburg "while we address some technical issues specific to our deployment approach in Louisville to ensure that all our customers have the same great experience," the company said in its written responses.
The company didn't answer questions about the extent of its presence in the three areas and how many customers it has signed up in each area, citing competitive concerns.
But Google Fiber emphasized its philanthropic efforts in Louisville, such as providing free connections and funding technology centers at the Neighborhood House and Love City nonprofit community centers in Portland, and building a home in Portland through Habitat for Humanity of Metro Louisville.
"We recognize that digital inclusion is an equity issue," said the Google Fiber statement, which was issued by a contracted public relations representative in Nashville. "We continue to invest in and partner with organizations in Louisville who are working to get more people the digital literacy skills and devices that can lead to furthering education, finding better jobs and accessing critical resources."
Winn, the architect in Belknap, was so fed up with the condition of the streets in his area that, at the neighborhood meeting on Wednesday, he asked Google Fiber officials in attendance, "What can we do to get you to stop until you figure out what you're doing?"
Jesse Quirion, a Nashville-based engineer who leads network operations for Google Fiber, acknowledged that the faulty trench sealant has been "quite a problem" and apologized.
He said the company is working to refill all the trenches as quickly as possible.
"We are treating this like one, long asphalt patch," he said, adding that cables will be buried for good beneath fresh asphalt wherever city contractors repave roads.
Others are more forgiving of Google Fiber's construction issues.
Carrico, the IT worker, told his Belknap neighbors at the meeting that Google "could probably have elected to skip Louisville," which would have set the city "decades" behind.
"Please don't stop," Carrico implored Google Fiber officials. "It's a fantastic product and service, and I don't think we are all fully clued in to all the moving parts that went into making Louisville one of the few cities in the country that was selected to install Google Fiber."
Robert Edwards, a software engineer who lives in Bon Air -- just across the Watterson Expressway from Google Fiber's territory -- said he wants the service but has no way of knowing when, or if, Google Fiber will come to his neighborhood.
"Knowing people 'just down the street' in the Highlands have it is even more frustrating," Edwards said.
Reach reporter Chris Otts at 502-585-0822, cotts@wdrb.com, on Twitter or on Facebook. Copyright 2018 WDRB News. All rights reserved.