LOUISVILLE, Ky. (WDRB) -- Neighbors in the Russell neighborhood and Louisvillians as a whole have come together over the past 24 hours for vigils after a shooting at a school bus stop Wednesday morning killed a 16-year-old Eastern High School student. 
Police said three Jefferson County Public Schools students were shot while waiting to load the bus to go to Eastern. One of those students, identified by family as 16-year-old Tyree Smith, was killed.
"It was really hard to process at first, because I woke up to 5 or 6, gunshots at 6:30 in the morning, and when I looked out the window, I just seen a bunch of school kids running down the street screaming, Help!'" said Robyn Milan, who lives nearby the bus stop.
Louisville Metro Police said the shooting was a drive-by around 6:20 a.m. Wednesday near the intersection of Dr. WJ Hodge and Chestnut streets. A group of neighbors gathered early Thursday morning at the scene with candles for another vigil. By Thursday afternoon, some people came by to place flowers at the bus stop.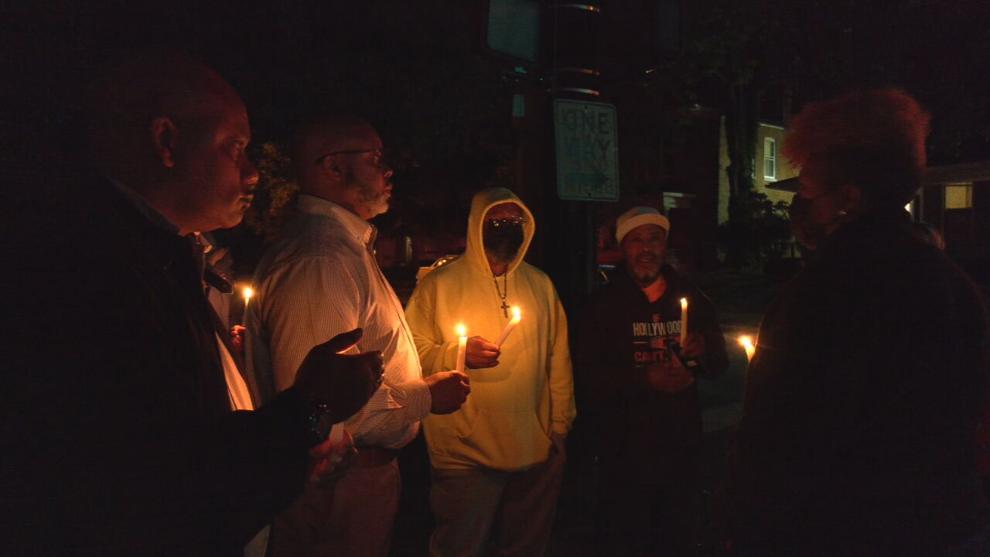 Martha Diebold, who owns several of the homes in the area through Socially Innovative Properties and rents them out, said she was not in the neighborhood Wednesday morning, but her security cameras were on, and the video they captured has been shared with police. 
"We also listened to it, and it was very disturbing that someone was shooting eight gunshots into a crowd of kids at 6:15 in the morning," Diebold said. 
Diebold said a grief counselor was in the neighborhood Thursday to talk with children. She said she believes the rainy weather Wednesday may have saved lives.
"Two of the teenagers went on the porch because it was raining, thank goodness," she said. "And I think that might have saved them. One was injured and ran and got on the porch of one of the tenants."
Diebold called Kurt Construction to install more security cameras Thursday. The company paused its other jobs for the days to make this one its top priority. 
"As a business-owner in the community, I employ people from this very neighborhood. I do work in this neighborhood. I used to work in this neighborhood all the time," said Jeff Kurt, president of Kurt Construction. "It's just important to me that every neighborhood is safe, and instead of just hoping and praying that something will happen, I thought we could take a day and assist them with that."
"Everyone that lives here wants to just live in a safe, healthy home, and they should have that right," Diebold added. "They should not feel that they cannot let their kids out of the house to be protected. I want the violence to stop."
Related Stories:
Copyright 2021 WDRB Media. All Rights Reserved.