BARDSTOWN, Ky. (WDRB) -- Workers arrived at St. Joseph Cemetery in Bardstown on Friday to a surprise: a two-story tall Confederate monument covered in orange paint.
It's a similar to what happened to two statues in Louisville: the John B. Castleman statue in the Highlands and the George Dennison Prentice statue in front of the Louisville Free Public Library.
Castleman served in the Confederate army and Prentice was linked to the Bloody Sunday riot. The Bardstown monument is specifically a Confederate monument. The other two are not.
"It's a piece of history," Bardstown resident Don Ramsier said as he walked around the monument. "It's what makes Nelson County and Bardstown. History makes everybody, really. It's just amazing what people think and what they will do to prove a point."
The cemetery is owned by the city, which had no comment on the vandalism. However, police said they are reviewing security camera footage.
"This is the first time any Civil War monument has been vandalized in the city of Bardstown or Nelson County that I am aware of," Bardstown Police Sgt. Michael Medley said.
In the shadow of the monument are 67 Confederate soldier graves, many of which are unknown and many of which are splattered with paint.
To Ramsier, any cemetery is a sacred place, especially St. Joseph.
"I come up here every Sunday to visit my wife," Ramsier said. "It's the only place I can talk to her."
It's a place of beauty, tranquility and reflection, a place where he said politics don't belong.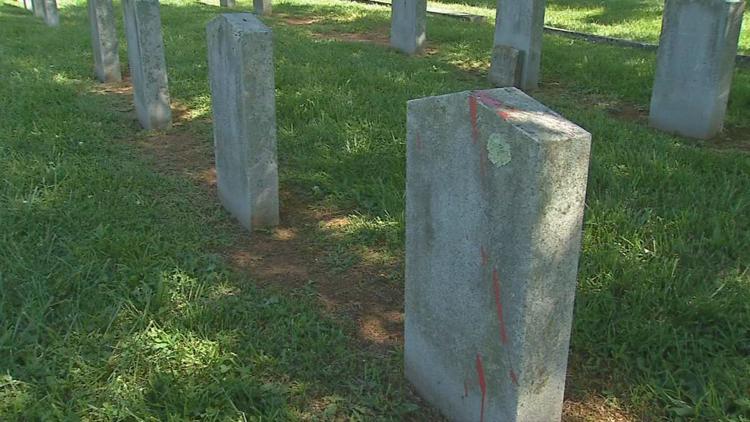 "It's someone that's got an agenda, a political agenda," Ramsier said as he looked out over the graves. "They want to destroy history. Defacing is defacing. I don't care what it is."
Anyone with information on this crime is urged to call the Bardstown Police station at (502) 348-3163.
Copyright 2019 WDRB Media. All Rights Reserved.