LOUISVILLE, Ky. (WDRB) -- Construction crews have been working on the new Louisville City FC stadium in Butchertown for more than 160 days.
The stadium is part of a $65 million project scheduled to be open for the start of the team's 2020 season.
"I don't really see a scenario where we won't be ready," Messer Construction Project Manager Jason Larkin said. "We've been on track since day one for the spring season of 2020."
Right now, crews are setting the steel beams for the roof of the building. That should be done by the beginning of July.
"It's really transforming our skyline," Louisville City FC President Brad Estes said. "We're super excited about it.
Crews are also working on building the luxury suites.
"If you have eight friends, you could get in the mini suite," Larkin said. "If you have 20 friends, you can buy a party suite."
The grass for the field is growing right now in Patoka, Ind., and crews will start building it out in August.
"We have a little bit of time to get all this rock off the field, get the proper soil in for the grass to settle in and get the proper drainage out of it," Larkin said.
Goals are being met off the field, too. More than 75% of the workers are from the Metro area, which was a priority for crews all along.
As for the rest of the stadium district, officials wouldn't say the names of potential hotels, bars and restaurants.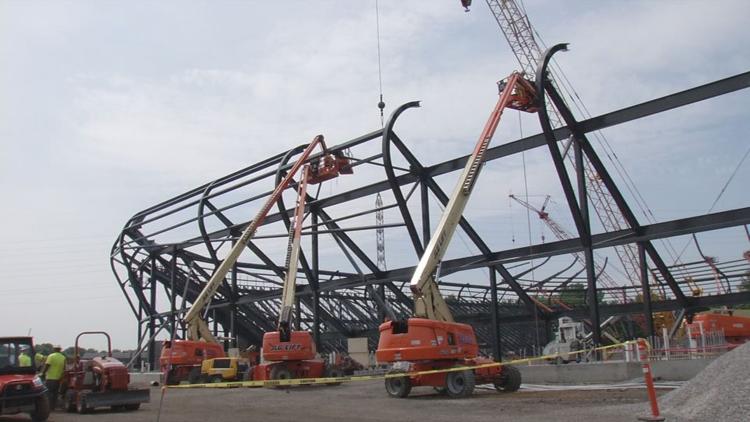 "We're working with many different potential tenants and potential partners," Estes said. "We don't have anything we can announce right now, but the activity is very high right now all over the site."
"We've got a championship team in a championship city, and we think this is a championship project the way it's progressed," Messer Construction Regional Vice President John Megibben said.
There's a waiting list right now for 2020 season tickets.
Current season ticket holders have priority, and they'll be available to everyone else this winter.
Copyright 2019 WDRB Media. All Rights Reserved.