LOUISVILLE, Ky. (WDRB) -- When it comes to major American sporting venues, Churchill Downs is poised to get out of the starting gate first when it reopens for live racing Saturday with full-fields, empty stands and high hopes.
The track began admitting horses to its stable area on Monday morning. Since then, 950 horses have shipped in. Following strict safety protocols it established in consultation with medical officials and other tracks around the nation, Churchill has tested nearly 1,000 trainers, jockeys and racetrack personnel.
"There are a great many protocols right now on the backside," trainer Tom Amoss said. "Face masks at all times. Protocols to get into the racetrack are extraordinary, and very efficient. Temperatures taken. Results of COVID tests. Arm bands every day to make sure we've been registered to come into the racetrack. Extremely efficient at the stable gate. I think it's an offshoot of the meet we had at Oaklawn Park, a lot of protocols in place, and Churchill's taken it a step further."
Only licensed trainers, stable workers and trainers are allowed in the barn area. Saturday's Opening Day will be conducted with the same personnel – and without fans, owners and no media.
But the return of racing figures to be a boon for the track. As the only game in town, its races are being picked up by Fox Sports on its national cable channels, and it has drawn a dazzling array of national trainers, jockeys and horses for what otherwise would be an understated opening.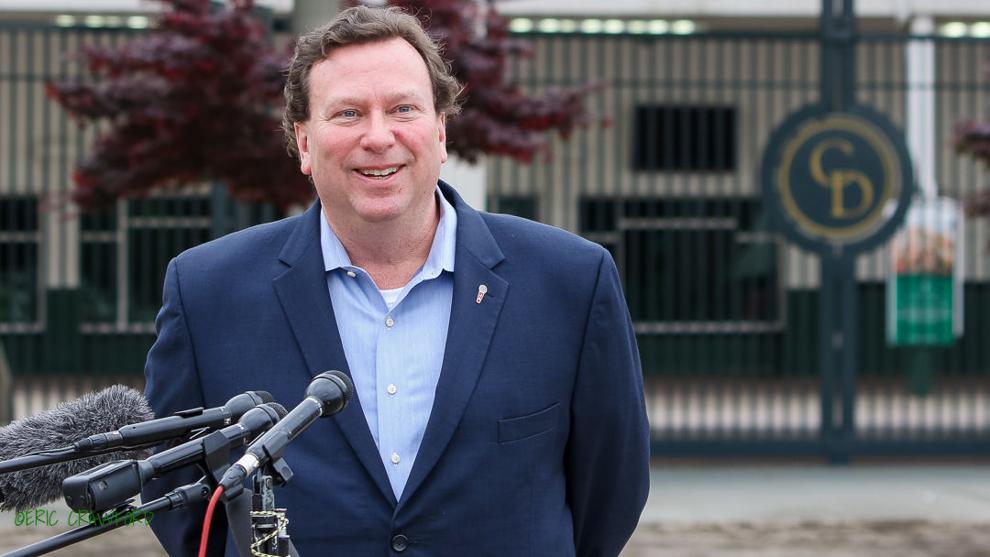 Saturday's 11-race card has an average of 11 entries per race, and all but one of Sunday's 11 races is overbooked – 103 trainers have entered horses and 49 jockeys are scheduled to ride.
"We understand a lot of people are suffering through this pandemic, and we wanted to make sure if we reopened, as other businesses do, that we do it in the best possible light," Churchill Downs president Kevin Flanery said. ". . . It's been a roller-coaster of emotions for everyone. Not just here but for the entire community and nation. We feel a big sense of responsibility for people who make their money in this industry. We wanted to do things right and be responsible. And we wanted to give people hope. That's really what it is all about. So I'm excited we're here and excited to start racing."
Churchill had to put together its purse structure without money from its Churchill Downs gaming operation, which has been shut down by COVID-19 restrictions. And on-track revenue will be a while coming. But if betting handles at other tracks that have remained open through the shutdowns is any indication, bettors will be active though Churchill's TwinSpires.com online platform.
"Not a lot is going on. I think folks are starved for content," Flanery said. "I think this is an opportunity for those who love the game to be involved, and maybe to introduce some new fans to this great sport, and the beauty and competition of it."
Jockey Gabriel Saez described the emotions of many this week when he said, "I never realized how much I missed Churchill. The track feels great and I'm so happy to be back home. It's going to be a good meet. It'll be competitive but I'm ready to go."
Competitive might be an understatement. Amoss said wins will be harder to come by with more horses – and more talent – in the fields.
"There are a lot of really good trainers here," he said. "From the standpoint of handicapping, they're going to be great. Big fields, a lot of opportunities to take advantage of nice odds. From a trainer's point of view, you're not going to win as often as you used to. Mathematically, running in 12-horse fields, you're not going to win as often as you would in 7-8-horse fields. It's great for the handicappers and betting and handle. But from a trainer's perspective, it's going to be a lot harder to win races."
And, of course, it is different without fans. Amoss, who will double as an analyst for Fox Sports for much of the meet, says the absence of fans could lead to horses running truer to form, without that distraction. But he also says it's strange. His Serengeti Empress, last year's Kentucky Oaks winner, won the Azari Stakes at Oaklawn with no fans in the stands, and though Amoss said he was happy, it was a different feeling.
"Oaklawn is a track that draws big crowds," Amoss said. "Smart racing people just like here at Churchill Downs, and to have no one there to witness it, I'm not going to call it a disappointment because it was a great win, but certainly took away from her performance."
Brad Cox is no stranger to big wins. He'll saddle an Oaks winner, Monomoy Girl, in a comeback attempt in Saturday's fourth race. But he said racing without fans took some getting used to.
"My first experience was at Fair Grounds on Louisiana Derby day, and it was a great experience because we won the Louisiana Derby, but it was odd, to say the least," Cox said. "It was an eerie feeling to win a big race and nobody be around. It's definitely not good for the game."
But it's how the game will have to live for a while. And everyone involved is grateful for that opportunity.
"It's so unusual," Flanery said. "But it's that first step. We're excited to be on FoxSports1 this weekend, and it's going to be incredible racing. … This is that first step to say we're going to be OK now."
Copyright 2020 WDRB Media. All Rights Reserved.