LOUISVILLE, Ky. (WDRB) -- A Louisville Metro Police officer shot and killed an unarmed man during a traffic stop nearly two years ago, and none of the officers on scene were wearing body cameras.
The public hasn't been able to see what happened during the fatal shooting of D'Juantez Mitchell. Until now. A neighbor's home security video, obtained by WDRB News, shows a clear picture of everything leading up to, during and after LMPD Officer Bryan Arnold shot and killed Mitchell on May 15, 2019.
The incident happened while Robbery Unit detectives were conducting surveillance on a white Kia tied to a string of violent robberies, LMPD said during a news conference the day after Mitchell's death. Mitchell, who was driving the vehicle, was shot multiple times as detectives were making what the department called an "investigative stop" near the intersection of Watterson Trail and Ruckreigel Parkway in Jeffersontown.
LMPD Public Integrity Unit Lt. Aaron Crowell said at the time that Mitchell was "very recently" identified as a suspect in these robberies. Crowell told reporters at the news conference that Arnold fired his weapons because Mitchell's actions put officers in danger.
"As these officers surrounded Mitchell's vehicle and attempted to take him into custody, Mitchell accelerated, striking Officer Bryan Arnold and endangering three other officers on foot, before ramming a Jeffersontown patrol vehicle," Crowell said.
Attorneys Hal Friedman and Greg Simms, however, argue Arnold either shot first or it happened instantaneously.
"What's tragic is that we have kind of a rush to judgement again by the police the day after the shooting, when evidence that's unfolding now clearly seems to be at odds with the official report," said Friedman, who along with Simms represents Mitchell's estate. Mitchell's family filed a wrongful death lawsuit against LMPD in 2020.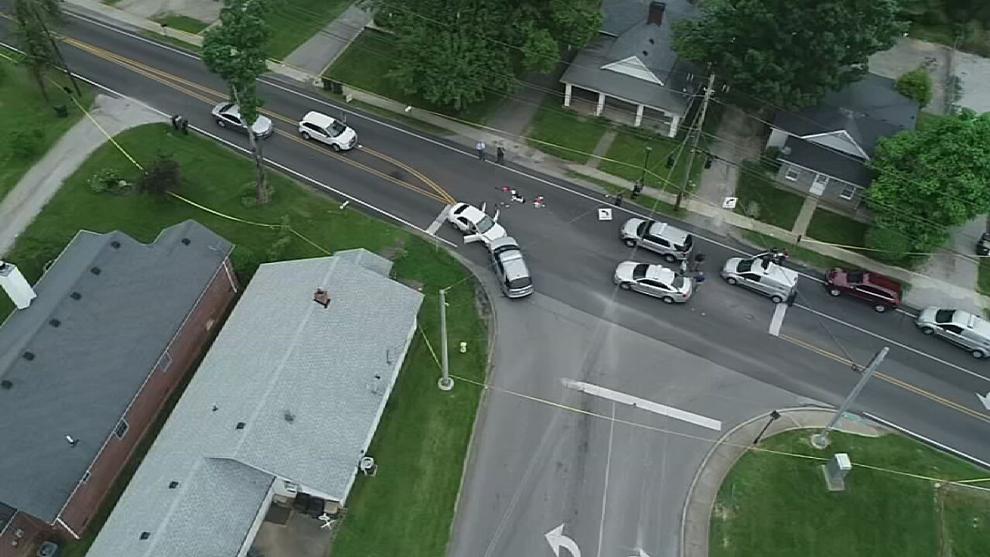 The original security video has no audio, and the entire incident happens in less than 30 seconds. Watching the video in real time still begs the question: What happened first? Were shots fired first? Or did Mitchell start driving first?
"Whether it's the shot happened at the same time," Simms said, "or he shoots and then the vehicle accelerates. Either way, that's not an OK use of force. Deadly force at that time is completely unwarranted. If Bryan Arnold thought the vehicle was going to move because he was going to attempt to flee, that is not a proper use of force."
If Arnold started shooting as Mitchell was driving off, as LMPD suggested, Simms said all of the gunshot wounds would be in Mitchell's side or back. Mitchell's autopsy lists six gunshot wounds to his head, neck, torso and upper extremities. One of the gunshot wounds went through the front left side of his face in a downward direction.
The officers on scene were interviewed as part of the Public Integrity Unit case. This is what Arnold told investigators a week after the shooting: "I could see his right leg shift from the brake pedal to the accelerator. And I could hear the engine start to rev. And at that very moment I knew I was in eminent danger of being pinned against my vehicle. ... He started to accelerate. At that time the vehicle actually pushed me back and my first — first shot went a little higher, uh, through the front windshield."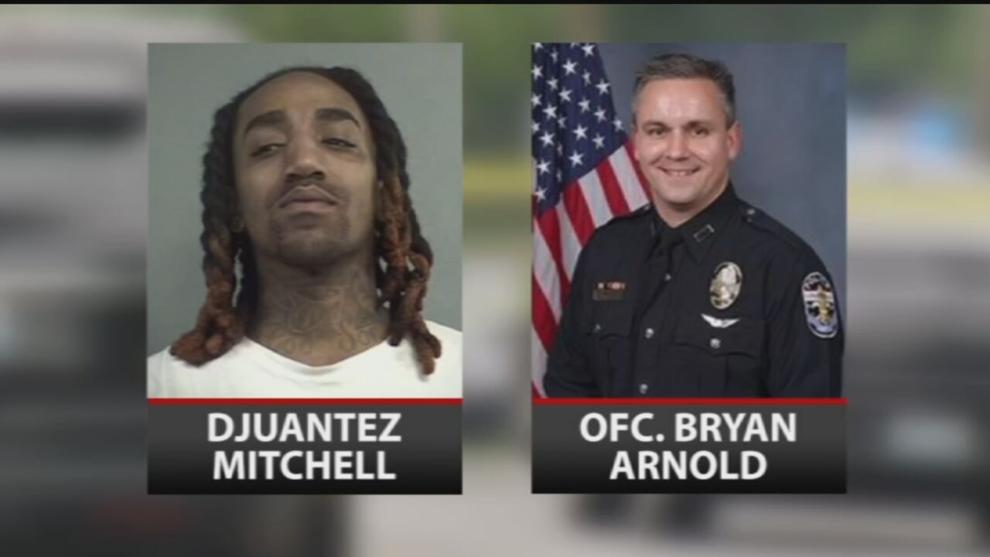 The officer on the passenger side of Mitchell's vehicle, Detective Daniel Mason, was interviewed by PIU just hours after the shooting.
"I hear the shot, and he accelerates. I don't know which one happened first," Mason told investigators. "It might have been at the same ti-." Mason didn't finish his sentence before moving on to say the car accelerated then hit the Jeffersontown Police cruiser.
Arnold said he fired once through the windshield, twice at the side of the car and twice as the car drove off. Arnold told PIU investigators that once Mitchell was pulled from his car, Arnold reached inside the still-running vehicle and turned the ignition off.
Simms said there is a critical witness that LMPD never spoke to after the shooting. Mitchell had AirPods in his ears, according to the attorney, and was on the phone with a man during the entire event.
"Prior to getting the autopsy, (the witness) informed me that during that phone call, he could hear yelling and people screaming," Simms said. "He believed it could be police and told him to put up his hands. And then he heard a shot and heard Juan Mitchell say some version of 'I've been shot in the face.' Then the vehicle accelerates and then (he) hears more gun shots." 
Both Arnold and Mason acknowledge in their PIU interviews that they could see Mitchell had something in his ears.
"Even Officer Mason said he looked confused," Simms said. "I don't know; maybe he was confused because men in plain clothes jumped out of cars in the middle of the street and pointed guns at his face."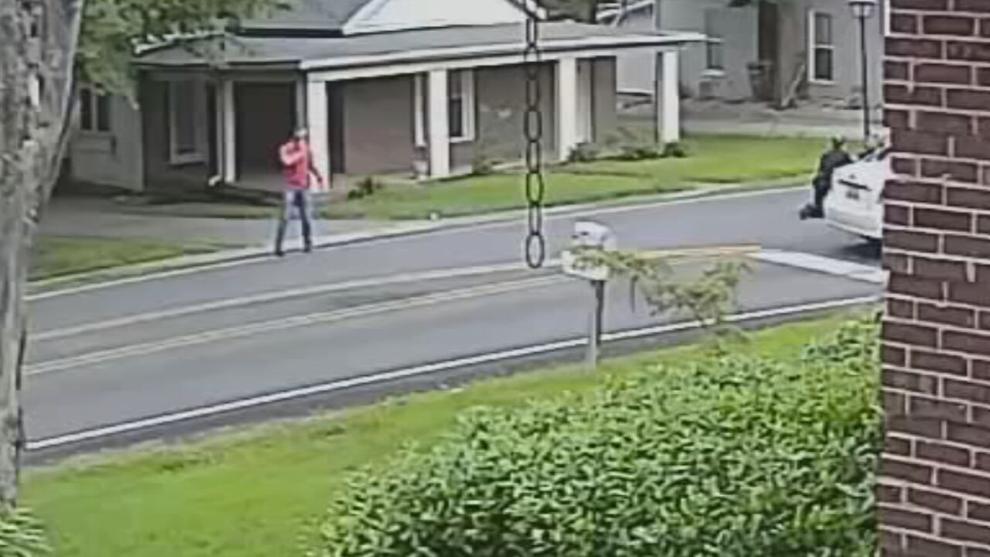 Both officers said they identified themselves as police and were yelling at Mitchell to put up his hands. The officers also told investigators they turned their vehicle lights on once they stopped.
Arnold, a pilot in LMPD's Air Unit, was the only one to fire his weapon. He was assisting the Robbery Unit that day, because the department's helicopter was down for routine maintenance. Arnold told investigators that he was comfortable assisting in the investigation because he used to be in the Robbery Unit before becoming a pilot.
Arnold said in his PIU interview that Mitchell moved his right arm in the moments before he fired his weapon and that he wondered if Mitchell was reaching for a gun. 
"He looked at me and made eye contact. He then looked back down again," Arnold told investigators. "In my experience as a policeman, when the suspect acts like that — whether it's a fight or anything else — he was workin' his courage up."
Other officers also thought Mitchell had a gun, according to PIU documents. However, there were no weapons found on Mitchell or in the vehicle.
Additionally, LMPD said it had an active warrant on Mitchell at the time of the fatal shooting. Both attorneys and court records, however, say there were no active warrants for Mitchell in connection to the robberies in question.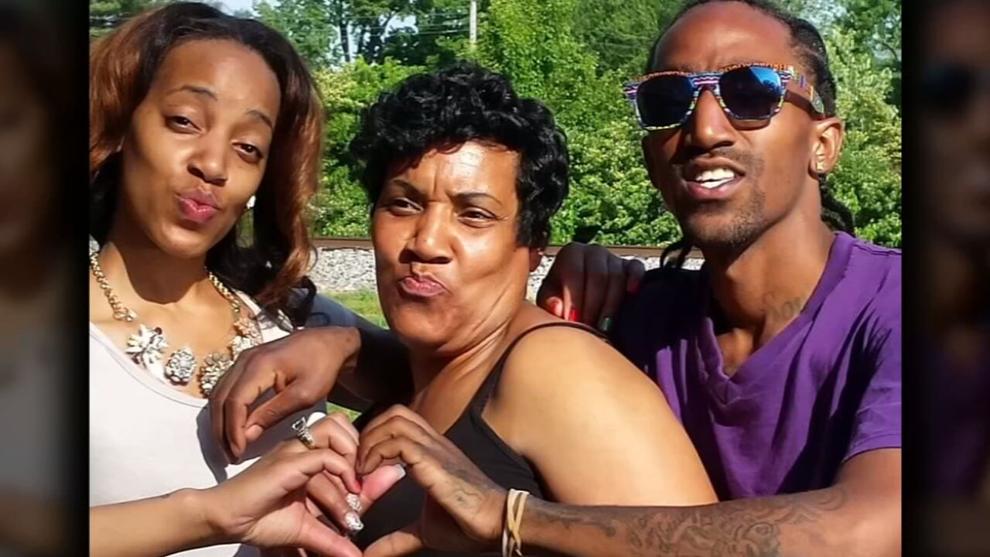 Arnold was put on administrative leave after the shooting, which is standard procedure. With the PSU and PIU investigations completed, Arnold is back to full duty.
"They closed the book, and that's the end of the discussion," Friedman said. "I think Mr. Mitchell and his family deserve to have that book opened longer than what was done here." 
WDRB News requested an interview with LMPD regarding the security video, but the department has not replied to that request. Typically, LMPD does not comment on cases involving pending litigation.
Related Stories:
Copyright 2021 WDRB Media. All Rights Reserved.