LOUISVILLE, Ky. (WDRB) -- A man who admits he was drunk when he caused a deadly crash on I-264 is headed to prison.
Jacob Clayton was sentenced to seven years behind bars after pleading guilty to manslaughter in April.
Clayton was driving on the Watterson Expressway near Taylor Boulevard on Oct. 20, 2018, when a car in front of him hit its brakes and he swerved into the emergency lane to avoid a crash. Clayton's car hit a stalled vehicle on the side of the road, killing 35-year-old LaDavid DeLorch.
Clayton failed a field sobriety test and his blood alcohol had a level of .13. In court Thursday he apologized to DeLorch's family.
"I wish more than anything that I could go back and undo it all. And I want to offer my most sincere condolences to the family of Mr. Delorch," Clayton said.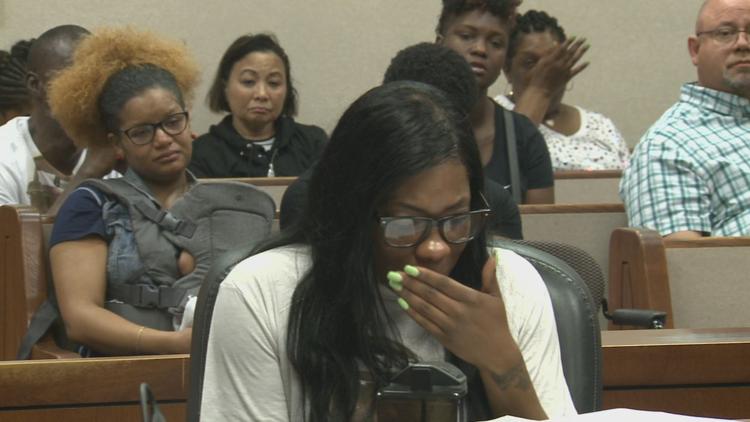 Wearing t-shirts in memory of DeLorch, his family stood united through the heartache. 
"The only reason I say I forgive him is because I got God in me," said Shawna Breeding, DeLorch's cousin. "I forgive him, but I will never forget, ever."
Family members of DeLorch were in the courtroom during the sentencing and wiped tears from their eyes as his sister, Ebony DeLorch, spoke.
"We can never get back what you took from us -- all because of your selfishness -- careless and reckless decisions. You should know better by now," she said.
Breeding says losing DeLorch has affected their whole family.
"I can't sleep. I couldn't eat. I got to take counseling. It's bad," she said.
She was one of the first to arrive after hearing DeLorch was in a crash.
"When I went up to the car and not see my cousin, it hurt me. He was in there and was gone. It hurt my soul," she said.
DeLorch had talked to his sister when he ran out gas, telling her not to come and get him because it was dark and too dangerous.
Ebony got a call later, that her brother was dead.
"All I could think about, 'Is this real? Did he suffer? Or did he save me from ending up right beside him?'" she said. "I prayed, 'God have mercy on him.'"
"You take somebody precious away from his son, all because you want to drink and drive?" Breeding said. "And I think, 'That's not right.'"
Clayton told the victim's family that he has sobered up and has now committed his life to speaking about the dangers of drinking and driving.
"He gets phone calls, visits," Breeding said. "LaDavid don't, so it's going to hurt us for dear life. It's a bad thing to say, but I think 7 years is not good enough.
"Yeah we get to go and see him at the gravesite somewhere where nobody will want to go."
Some other family members say they're not ready to forgive Clayton just yet.
Related stories:
Copyright 2019 WDRB Media. All Rights Reserved.