LOUISVILLE, Ky. (WDRB) -- EMS officials say a patient tried to climb out of the back of an ambulance Monday just before a violent crash sent seven people to the hospital. 
The crash took place at about 2:30 p.m. in the eastbound lanes of I-264 near Bells Lane on a route from a dentist office in the Shawnee neighborhood to Norton Audubon hospital.
EMT Kristopher Haeberlin pulled over to help his colleague, EMT Christopher Barrett, calm the patient. Just as they'd secured her back on the stretcher, police say a Cardinal Concrete pumping truck smashed into their ambulance.
The force was so powerful, it sheered the rig in half. Two cars and an 18-wheeler also collided with the wreckage. The crash sent a total of seven people to the hospital.
"I felt sick to my stomach. It was horrifying," Louisville Emergency Technician Allison Brown said. "It's surprising they're both still alive, just looking at the images and what happened to the truck."
Brown graduated from the same training class as the two injured EMTs. She described them as "very hard working men" who are "very passionate" about their jobs. Louisville EMS colleagues are taking turns at University Hospital visiting with Haeberlin and Barrett to show them support. 
"We're just upset," Brown said. "We're all sad. That could have been any one of us. We never want any of this to happen with anyone we work with, and I think for a lot of us in the academy, it kind of hits home. We haven't been doing this very long, and it could have been anyone of us on the street who pulled over."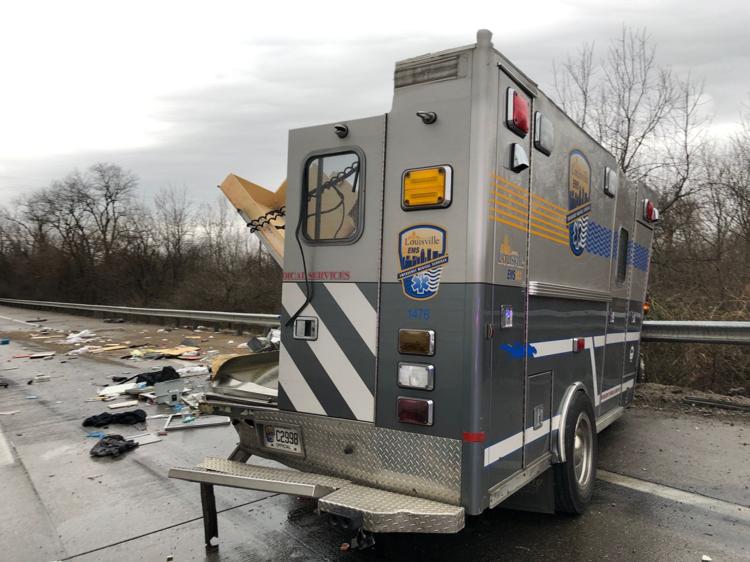 Kentucky State Police records show the commonwealth averaged 1,150 crashes involving emergency vehicles from 2013 to 2017. A contributing cause in more than 100 of those wrecks each year was failure to yield, meaning it took place after a driver didn't get out of the way of a first responder.
"It's very frustrating for us," said Trooper Scotty Sharp of Kentucky State Police. "A lot of it is distracted driving, people texting not paying attention, looking at their phone when they should put that device down and pay attention to where they're going." 
Kentucky law requires that drivers move over to make way for other stranded drivers on the side of the road and move over if possible for all emergency vehicles. 
"KSP will ticket people, motorists, that did't move over that had the opportunity to," Sharp said.
Brown hopes Monday's crash serves as a wake-up call and reminds drivers to give emergency crews a break.  
"Be aware that police, fire and EMS are out on the roads sometimes," Brown said. "They do have to stop and pull over, and they are there working."
At this time, no charges have been filed in connection with the crash. Louisville Metro Police said its investigation is ongoing.
Both EMTs suffered head injuries, but leaders said there's a chance Haeberlin could be released from the hospital Tuesday.
Copyright 2019 WDRB Media. All Rights Reserved.