LOUISVILLE, Ky. (WDRB) -- Federal investigators are looking into complaints that a Louisville Metro Police officer used a drone with a camera to get uncomfortably close to a high-rise apartment.
An LMPD spokesperson said the drone flight wasn't part of any police investigation, and there is no reason to investigate the officer who was identified as Sgt. Derrick Leachman. The spokesperson said the officer was off-duty, using his own private drone. The department does not have any drones or a drone policy. Officers are allowed to use department vehicles when not on the clock.
Bruce Lainhart said he saw Leachman fly a drone outside his window last Friday before loading it into a marked police cruiser. Lainhart snapped pictures, which his roommate then posted on Twitter.
"The fact that I'm several floors up, we all assume we all have a reasonable expectation of privacy," said Lainhart, a military veteran who says his first reaction was police must be investigating something in his building. "It was close enough that I could have thrown a baseball at it and hit it easily.
"I wasn't presented a warrant for a police officer to look into my home. I'm assuming nobody else was presented a warrant to look into their homes."
But the FAA is investigating the incident. According to FAA maps, the area is a no-fly zone for drones. As far as privacy, the FAA said it has no jurisdiction. But Amber Duke with the ACLU of Kentucky has concerns.
"Folks have a legitimate concern when they see someone drive up in a police cruiser and appear to be doing surveillance activities near their homes," Duke said.
Thompson Haire, who works in the 800 building, said he saw the officer flying the drone too.
"It was really high up and just hovering there, and I asked him how far up that was, and he said about 350-something feet," Haire said.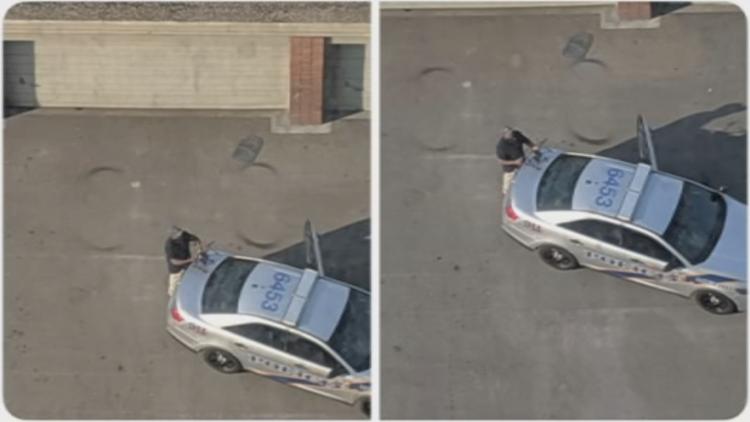 But when he asked about the no-fly zone, he said the officer wouldn't answer him.
"I guess it speaks to the bigger question: If he's off duty, is he still a police officer?" Haire asked. "And of course he is. He still has to uphold the law. But does that mean he has special privileges?
Lainhart said he is now seeking legal council and hopes to find out what was captured by the drone.
Apartment management released the following statement:
"The safety, security and privacy of our residents is our top priority at 800 City Club Apartments. We are disturbed that a drone has been flown around our building by an off duty police officer without expressed permission of our ownership and our residents.  We see this as a clear violation of privacy. This incident has been elevated to the highest level within our organization."
A FAA spokesperson said she wouldn't speculate on any possible punishment.
An LMPD spokesperson said the department has not received any complaints about the situation from either the building management or individuals in the building. If anyone wants to file a complaint related to this activity and provide additional information to LMPD, that can be done by calling 574-7144.
Copyright 2019 WDRB Media. All Rights Reserved.