LOUISVILLE, Ky. (WDRB) -- January marks the fifth month since Andrea Knabel went missing. Since August 2019 police, private investigators and volunteers (including a K-9 search team) have looked for the Louisville mother. 
Erin Knable, Andrea's sister, is three years older, but Jan. 7 has always been a special day for both of them. They share a birthday, and this year is the first time it has rolled around since Andrea went missing. 
"When it first started, I was hoping we'd find her shortly after I reported her missing," Erin Knabel said. "And with the time that's passed, I'm just scared we won't find her at all.
"It's always been fun, so it's really weird not having her here."
The girls' father, Michael Knabel, said the holidays were particularly difficult without Andrea. 
"The process of grieving over a missing person is best described, in my opinion, as waves coming at you just like ocean waves. And every now and then, you get a big one. The small ones happen all the time. The big ones happen whenever a body is found or seen or something like that pops up around the region."
Recently, police confirmed human remains were discovered in Iroquois Park. Michael Knabel said he he doesn't believe those are related to Andrea in any way, and he's keeping his hopes up that she's still alive somewhere.
"There's some ideas that she could be out of town," he said. "There's some ideas that she could be seeking help staying with friends."
But he also said there's a dark side to having a missing daughter, something he doesn't like to think about.
"There are significant remains out of the state that are being looked at also, presently, I mean right now, with DNA testing and things like that," Michael Knabel said.. "We've placed calls to at least a half a dozen coroners around the region, including this region and out of state too."
But until they have answers, the family said they'll never give up their efforts to bring Andrea home. Michael and Erin recently posted hundreds of flyers with Andrea's face along Bardstown Road, hoping to spark public interest in the case.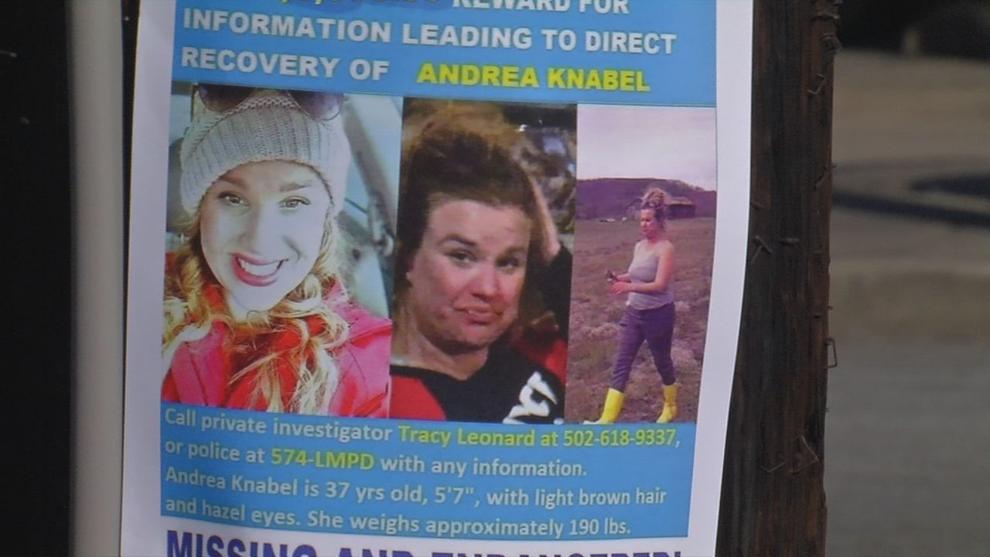 "The leads are dripping in," Michael Knabel said. "As a matter of fact, the set of flyers we put up on Bardstown Road generated on the very next day."
He's planning a vigil to also keep his daughter's name in the public eye. There's not a set location or date yet, but the hope is to have something within the next two or three weeks. Michael Knabel said he wants the vigil to include prayers, speeches and a candle-lit walk along the path Andrea was last known to be in the Audubon Park area.
There is still a $5,000 reward is being offered for information that leads to Andrea.
If you think you have seen her, you are asked to call 574-LMPD or Private Investigator Tracy Leonard at 502-618-9337. 
Copyright 2020 WDRB Media. All Rights Reserved.