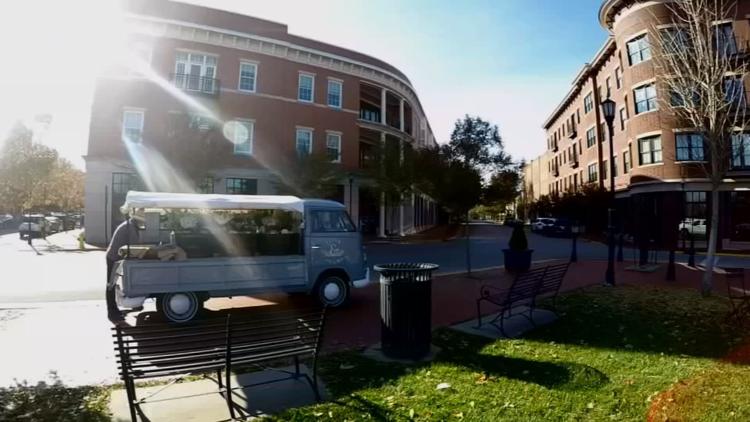 LOUISVILLE, Ky. (WDRB)-- As the leaves start to turn and litter the ground, a little taste of warmer times and a pop of color is turning heads all over town. The vintage charm of Fleur and Frond flower truck.
"There are people in town who call me the flower girl," said Lauren Stanfield, who rides around Louisville in her colorful 1959 Volkswagen Transporter overflowing with fresh flowers.
"When someone drives past or walks past they kind of see the flower truck and it kind of intrigues them," said Stanfield.
She spends her time as a full-time florist on four wheels.
"A lot of people tell me when they see the flower truck that it brings them happiness and joy," said Stanfield.
For Stanfield, heading out onto the open road meant a complete career change, trading in life behind a desk for life behind the wheel.
"I was in the investment industry and I just realized one day that I wanted to follow my dream," she said.
That dream started as a young girl growing up on a farm, but became a reality in June when she quit her job.
"I just didn't have the joy I knew I could find in something else. So that's when I decided to kind of follow my dream and put my whole heart and soul into it and kind of share the love," said Stanfield.
Now she hops all over Louisville hitting festivals, farmers markets, and places like Norton Commons.
"I absolutely love it. It just brings happiness every time I go out with the truck."
The back of the truck is filled with beautiful blooms in bourbon barrels.
"We always have about 30 different varieties and each time you see us there's always some unique items you usually don't see every day," she said.
Some she grows herself, others come from local farms and suppliers. Customers have complete creative control over what goes into their bouquet.
"When I have customers come and pick their flowers and create a bouquet, kind of share that love as well."
The truck is a little taste of spring, year round.
"When a customer comes I can do just a stem. It's as simple as one single flower, and makes just as big of a statement piece in their house," said Stanfield.
As the weather starts to turn, Fleur and Frond will still be hitting the road.
"As long as it's good weather and above freezing you should see us around," she said.
And just like the flowers she sells, Stanfield hopes her message of positivity continues to grow.
Soon, Fleur and Frond hopes to offer subscription services and workshops. For now, you can check out where the truck will be parked on Instagram and Facebook. Just search for "Fleur and Frond."
Copyright 2019 WDRB News. All rights reserved.