LOUISVILLE, Ky. (WDBR) -- Gov. Andy Beshear said the state has confirmed 39 new cases of COVID-19, including one individual who got the illness from attending a "coronavirus party."
"This is the part where I, the person that tells everybody to be calm, have to remain calm myself," the governor said. "Anyone who goes to something like this may think that they are indestructible, but it's someone else's loved one that they are going to hurt.
"We are battling for the health and even the lives of our parents and our grandparents. And don't be so callous as to intentionally go to something and expose yourself to something that can kill other people.
"We ought to be much better than that."
The governor said the party involved young adults in their 20s who were flaunting the mass gathering prohibitions, but he declined to provide more details, such as the party's location.
While he said he did not believe the people who attended knew that anyone was infected, he urged Kentuckians to follow the guidance about public gatherings.
"No more of this," he said.
In total, the state now has 163 cases.
Five of the 39 new cases were in Jefferson County, and Beshear said he believed there were 12 new cases in Fayette County, though he could confirm only six.
Some of the data will lag as more cases are confirmed and more testing labs come online, he said.
"We expect more cases every day," Beshear said.
But he also said he believed the state responded early and aggressively to prevent the rising number of cases from overwhelming the state's health care facilities.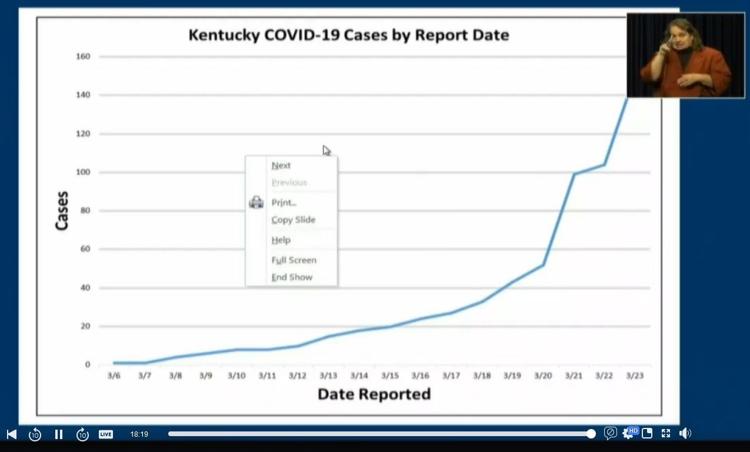 Protective gear
Beshear said the lack of proper protective gear is hampering testing and endangering doctors and nurses.
The shortage remains difficult to address, because Kentucky is bidding against other states and the federal government on securing such supplies. In one recent case, Beshear said, the state was trying to secure an order of protective gear when the Federal Emergency Management Agency, "came in and bought it all out from under us."
The governor said it's a problem when the federal government tells states to find their own supply only then to be outbid on those supplies by the federal government.
Beshear said Kentucky has requested some protective gear from the national stockpile and has received:
41,744 respirator masks
99,493 surgical masks
18,936 face shields
15,439 gowns
79 coveralls
54,972 gloves
"It's not nearly what we asked for, just like every other state," Beshear said. "We need significantly more, and one of our major challenges as a state is not having enough of this. It's what's delaying more widespread testing ... and it's what creates some danger for our front line health care workers."
While he said he understands that people want to get an idea of when life returns to normal, Beshear said the state's and nation's focus has to remain on defeating the virus "on the very first try."
The governor said he appreciates people's sacrifices and that he, too, struggles at times to deal with the situation. His son was to be baptized at Easter, but Beshear said that will not happen.
He said his son told him, "'If it helps other people, it can wait.'"
"All of us have to be ready to wait however long it takes if it helps other people," Beshear said.
The governor also ratcheted up his rhetoric on the outbreak's historical significance. In previous meetings, he had described the situation as the challenge of a generation. On Tuesday, however, he invoked a longer time horizon.
"This is the defining moment of several generations," Beshear said.
The governor said that during World War II, Americans worked and sacrificed together.
"So should we," he said.
Beshear also said:
Four front line health workers had tested positive for COVID-19.
Four people infected with COVID-19 have completely recovered.
About half of the Kentuckians infected with the illness are hospitalized, and about 6% end up in an intensive care unit.
Kentucky has 18,000 hospital beds, and the state is looking at other options to create more, including converting hotels into makeshift hospitals within a day's notice.
He hoped to announce as early as Wednesday a way to provide unemployment benefits to independent contractors and others who do not generally qualify for such benefits. Saying the current system is "unfair" and not adequate for a crisis such as this one, Beshear said he would work hard to make sure that more people affected by the crisis can get help.
Indiana Gov. Eric Holcomb said Tuesday morning that an additional five people have died of COVID-19, bringing the Hoosier state's death toll to 12. Health officials said there were an additional 107 positive tests with 51 of those in Marion County. The state's total now stands at 365.
Globally, nearly 418,000 people have become infected, 18,612 have died, and about 107,000 have recovered, according to data from Johns Hopkins University as of 7:30 p.m. Tuesday.
For most people, the virus causes only mild or moderate symptoms, such as fever and cough. For some, especially older adults and people with existing health problems, it can cause more severe illness, including pneumonia. The vast majority of people recover.
One of the best ways to prevent spread of the virus is washing your hands with soap and water. The U.S. Centers for Disease Control and Prevention recommends first washing with warm or cold water and then lathering soap for 20 seconds to get it on the backs of hands, between fingers and under fingernails before rinsing off.
Copyright 2020 WDRB Media. All Rights Reserved.