BARDSTOWN, Ky. (WDRB) -- Honor Flight of the Bluegrass is raising funds to send surviving officers of a unit of the Kentucky Army National Guard from Bardstown to Washington to see the war memorials.
The C Battery, 2nd 138th Field Artillery Battalion of the 138th Brigade was activated during the Vietnam War. Don Parrish was a Battery C officer. 
"We were supposedly the best firing unit in southeast Asian," he said. "And when we went to Vietnam, we actually had seven pairs of brothers. There were 106 of us altogether."
Parrish described the unit as a band of brothers: Everyone knew everyone. They're fondly now called the Sons of Bardstown.
But June 19, 1969, the unthinkable happened.
"During a heavy, heavy rainstorm, the enemy got through the line," said Doug Foster, mission director for the Honor Flight of the Bluegrass. "They were out to destroy the six guns and that battery and every American there."
Parrish remembered 44 men were wounded that night. Fourteen died, five of which were from Bardstown.
Standing in front of the battered American flag that flew on that southeast Asian hill, Parrish looked at it and paused.
"It's difficult to even talk about it," he said.
June 19, 2019, will mark 50 years since the men's homecoming. To honor that, Parrish worked with Foster to create the Sons of Bardstown Honor Flight Bluegrass Campaign. On Oct. 16, Honor Flight will host at least 40 men from Battery C to the nation's capital to visit the war memorials. The group hosted a ceremony Thursday in Bardstown to kick off the fundraising campaign.
"It's a great opportunity to honor them and welcome them home," Foster said.
Two more men from Battery C died in Vietnam. Even more men from Bardstown died during the war. Foster said the city has the highest killed-in-action rate of any small town in America.
"Bardstown being a really small but tight community," Foster said. "They went through the whole thing together, and it was devastating."
But their sacrifice will never be forgotten, and the impact Battery C had on America will never fade.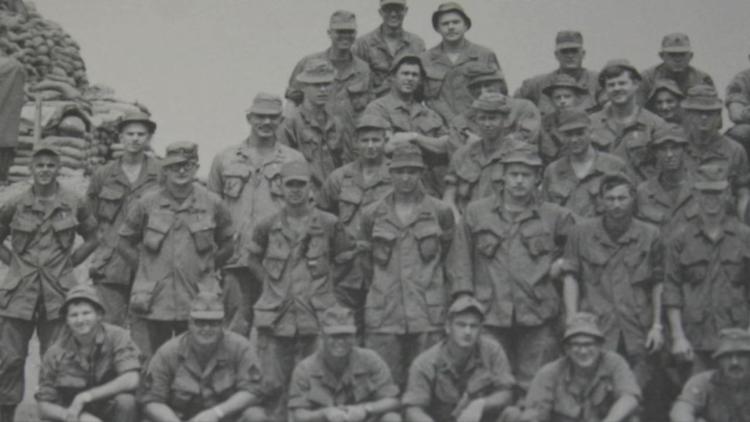 "I need for people to know that the Kentucky Army National Guard is a part of this nation's first line of defense," Parrish said. "And our unit helped make that happen."
If you would like to make a contribution to the Sons of Bardstown Honor Flight mission, click here.
Copyright 2019 WDRB Media. All Rights Reserved.