FRANKFORT, Ky. (WDRB) -- Supporters of legalizing medical marijuana believe momentum is building toward passing a bill in the Kentucky House this session.
But, the idea that it would help heal the state's budget is going up in smoke.
House Speaker David Osborne said if a medical marijuana bill does pass this session, it will not include a tax.
"If we're truly going to view medical marijuana usage as medicine, then it's not appropriate to tax it," Osborne said.
Some supporters of medical marijuana, including Gov. Andy Beshear, have said it could be a new source of much-needed revenue.
"I believe that it can be done in a revenue-positive way where no one is priced out of medication they may need, but that it will also help the budget in so many other areas," Beshear recently told reporters.
But Osborne said any bill that taxes medical marijuana would likely not pass his chamber. Medicine is one product that is exempt from Kentucky's 6% sales tax. Osborne, who is a supporter of medical marijuana, said it should not be treated differently.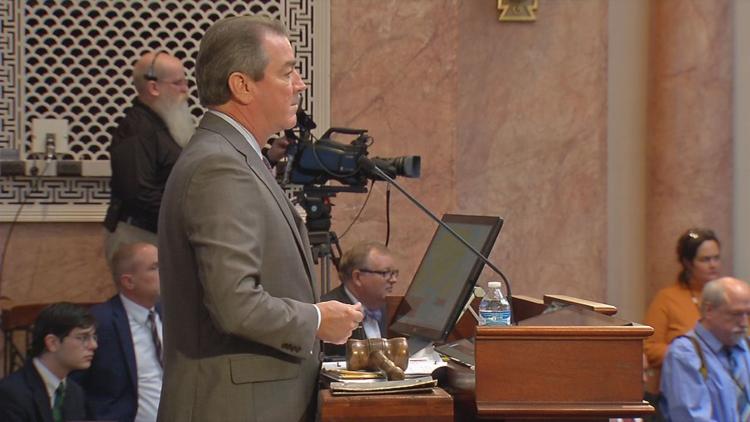 "I think medicine is medicine, and so there's just really no interest in our caucus, if we were to pass it, to turn it into a revenue source," he said.
Rep. Jason Nemes, R-Louisville, the primary sponsor of HB 136, which would legalize and regulate medical marijuana, agreed it should not be taxed.
"If you do that, you're raising money on the back of sick people and poor people," Nemes said. "So it's not a revenue measure."
Nemes said a potential lack of revenue from medical marijuana should not hurt the chances of passage. In fact, he said, it is the opposite.
"I think it would hurt the effort if we tried to make money off it," he said. "That's not what this effort is about. This has nothing to do with the budget."
But supporters did agree the state's economy could benefit from licensing fees and new jobs that could result from medical marijuana.
"However it is done, the industry that it creates will be revenue positive for this state," Beshear said.
But Osborne does not expect a windfall.
"It could have some residual effect," he said.
HB 136 should get its first test within the next two weeks when it comes up for a vote in the House Judiciary Committee.
Copyright 2020 WDRB Media. All Rights Reserved.