FRANKFORT, Ky. (WDRB) -- Kentucky's new governor officially took the oath of office late Monday night.
Gov.-elect Andy Beshear and Lt. Gov.-elect Jacqueline Coleman took the oath just after 12 a.m., solidifying their place in Frankfort. In a speech afterward, Beshear said he was humbled and grateful, vowing that there are "great days ahead."
Beshear, 42, follows in the footsteps of his father, Steve Beshear, whose two terms as governor preceded the single four-year term of Republican Gov. Matt Bevin. They are the first father-son duo to serve as governors in Kentucky history.
The middle-of-the-night swearing is customary in Kentucky, to ensure continuity at the head of state government.
Andy Beshear defeated Bevin in last month's election, overcoming a recent Republican trend in the bluegrass state. He countered Bevin's strong ties to President Donald Trump with a disciplined campaign that stuck to "kitchen-table issues" such as education and health care.
The new governor took the oath of office with his hand on a Bible that was given to his parents as a gift on their wedding day. The same family Bible was used when Steve Beshear was sworn in as attorney general, lieutenant governor and both times as governor, and when Andy Beshear was sworn in as attorney general.
The pageantry begins Tuesday. Beshear and Coleman will take a ceremonial oath on the grounds of the State Capitol at 2 p.m. Tuesday followed by a speech from Beshear.
Coleman will be sworn in first, with Justice Michelle M. Keller, of the Kentucky Supreme Court, administering the oath of office. Beshear will then be sworn in by Kentucky Supreme Court Chief Justice John D. Minton Jr.
Immediately following the swearing-in ceremony, the state Capitol will hold an open house that will be decorated for the inaugural balls and evening celebration. 
Beshear finished filling out his cabinet hours before being sworn in with ten secretary appointments, including:
Justice Cabinet: Justice Mary Noble
Public Protection Cabinet: Kerry Harvey
Personnel Cabinet: Gerina Whethers
Interim Secretary of the Cabinet for Economic Development: Larry Hayes
Labor Cabinet: Larry Roberts
Energy and Environment Cabinet: Rebecca Goodman
Acting Secretary of the Cabinet for Health and Family Services: Eric Friedlander
Deputy Chief of Staff for the Office of the Governor: Jonathan Smith
Executive Director of the Commonwealth Office of Technology: Ruth Day
Commissioner of the Department of Juvenile Justice: LaShana M. Harris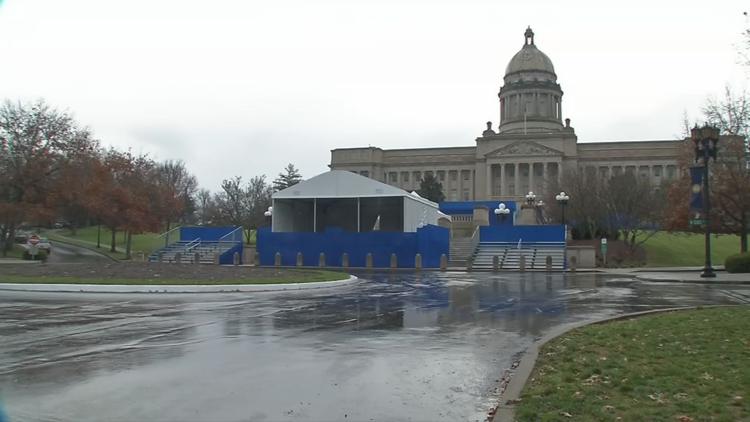 Tuesday's inaugural events include a breakfast reception at the Thomas D. Clark Center for Kentucky History, followed by a worship service at First Christian Church. The inaugural parade at the Capitol will begin at 10 a.m. 
The parade route begins at High Street at the Old Governor's Mansion and straight down Capitol Avenue to the Capitol Annex. 
Beshear, his wife, Britainy Beshear, and their children, Will and Lila, will join Coleman, her husband, Chris O'Bryan, and their children, Will, Nate and Emma in open horse-drawn carriages provided by the Kentucky Horse Park.
Kentucky educators will serve as Grand Marshals, including 2020 Kentucky Teacher of the Year Erin Ball, of Georgetown Middle School, in Scott County, and 2019 National Education Association Education Support Professional of the Year Matthew Powell, of Graves County Central Elementary School.
The inaugural parade includes former Gov. Steve Beshear and former first lady Jane Beshear, Kentucky's Supreme Court justices, Kentucky Attorney General-elect Daniel Cameron, Kentucky Secretary of State-elect Michael Adams, members of the Kentucky House and Senate, a Kentucky Air and Army National Guard Color Guard, plus police units, union members and high school marching bands from across the state. 
The parade ends at the Capitol steps, where musicians from across Kentucky will perform including: 
202nd Army Band, Kentucky National Guard; Chief Warrant Officer Gregory Stepp, director
Harlan Boys Choir; Marilyn Schraeder and Marybeth Christman, directors
Northern Pulaski Middle School Honors Choir; June Correll, director
Louisville Eastern High School Chamber Singers; Lori J. Knapke, director
A grand march presenting the new governor and lieutenant governor will begin at 8 p.m. in the Capitol Rotunda, and two inaugural balls will run from 9 p.m. to midnight. All inaugural events including the balls, catered by Kentucky State Parks, are free and open to the public. Teddy Abrams and the Louisville Orchestra will provide entertainment.
Other members of the Beshear administration are scheduled to be sworn in on Jan. 6.
Copyright 2019 WDRB Media. All Rights Reserved.