FRANKFORT, Ky. (WDRB) -- Kentucky State Police say an Ohio woman abducted from a college campus did not die in a shootout with police on Interstate 71 in Oldham County. She was killed by the man who apparently took her hostage.
An autopsy shows 20-year-old Skylar Williams died of a single gunshot to the arm that went into her chest, according to KSP Commissioner Rick Sanders. He says forensics show the bullet that killed her was fired by the gun used by Ty'rell Pounds.
Pounds is the only suspect in the abduction of Williams, who witnesses say was forced into a van on the Mansfield campus of Ohio State University on Monday morning. The two had been in a relationship and shared a young son.
Sanders credits witnesses at a Valero gas station in Gallatin County with alerting police. He says witnesses called for help after seeing Williams mouth the words "help me." Callers to 911 said witnesses believed she was being held against her will by a man they believed had a gun. They gave police the make, model and Canadian license plate for the vehicle that got on I-71.
When KSP troopers spotted the van, they tried to pull it over. The pursuit went through two counties before police blocked I-71 and forced the van off the highway at the Pee Wee Valley/Crestwood exit. Police blocked the on-ramp as Pounds tried to get back on the interstate.
It was on that ramp that Trooper Joey Brown did a pit maneuver, or spin-out, to stop Pounds. Sanders says the maneuver forced the van to spin 180 degrees. The van stopped, after hitting the open door of Brown's KSP cruiser. Brown could see Pounds had a weapon. According to Sanders, he yelled "Gun! Gun! He's got a gun!" before firing into the driver's side door.
Sanders says Pounds was wearing a Kevlar bulletproof vest, but he was eventually killed at the scene after Brown fired several shots. After Pounds went down, Brown went to the passenger's side of the van to check on Williams, took a tourniquet from his utility belt and tried to stop the bleeding from the gunshot wound.
Williams was rushed to University Hospital, where she died.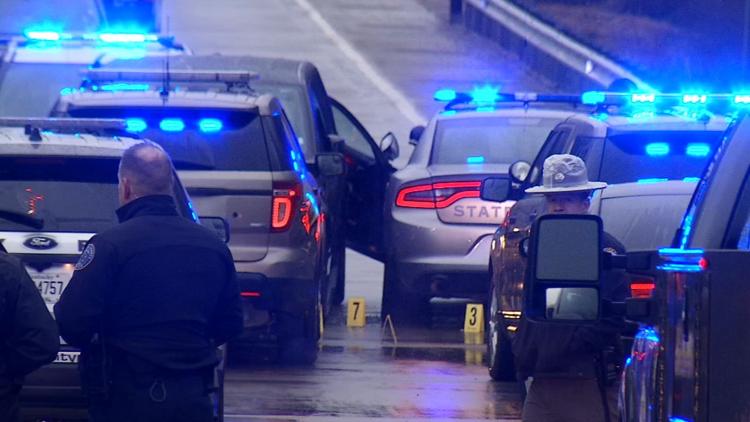 Sanders praised Brown for trying to save Williams' life after he had been in a serious crash and a shootout with a suspect.
"He was not physically injured, but as you can imagine, this takes an emotional toll when you're involved in something like this," Sanders said.
Sanders said it was important for investigators to determine whether it was a police weapon that killed Williams.
"We wanted him to have some peace knowing that he did not fire that round," he said. "I'm sure that he's relieved knowing that. But he has still been involved in a terrible scenario. It's an emotional strain. It will take a while for him to get over it.
"I'm extremely proud of how Kentucky State Police handled this situation."
Sanders called Brown an "exemplary" trooper with no disciplinary action in his file for his five years with KSP. Brown is on administrative leave until the investigation is complete and the commonwealth's attorney has reviewed the case.
A post from a Facebook page that appears to belong to Ty'rell Pounds has been widely circulated. Sanders said it was pretty obvious that with the message he left, that he didn't expect to live.
"He knew when he left that he was going to kill her and kill himself or be killed by the police. And that's why the Facebook post to his son talked about 'I'm not going to be around. She's not going to be around.'"
Trooper Steven Dykes was the person who called Pounds' mother to tell her what happened. Sanders says she was apologetic.
"She said, 'Bless you for what you're doing. I'm sorry you were put in this situation. My son wanted to become a state trooper in Ohio,'" Dykes said Wednesday.
Pounds was enrolled in classes to become a law enforcement officer.
"It's kind of ironic that he wanted to be a trooper," Sanders said. "What caused him to snap? We'll probably never know. But it's unfortunate for everybody involved."
Sanders also reassured witnesses at the northern Kentucky gas station that called police, who he says made a big difference.
"We talked to one witness who was second guessing himself," he said. "Should he have done more? But when you are confronted with someone with a weapon, what we tell people to do is call the police. So I think they responded appropriately. And I really appreciate them calling us to notify us."
Williams and Pounds were in a battle for custody of their young son.
Copyright 2019 WDRB Media. All Rights Reserved.