LOUISVILLE, Ky. (WDRB) -- While social distancing keeps families apart during some of the most difficult times, namely funerals, one Louisville family found a way to honor a loved one while keeping a safe distance.
"We're showing respects for my nephew, John Renn Jr., who died in a car accident over the weekend," said Rick Obst.
Renn, 31, leaves behind a wife and four children. His family said his death was indirectly caused by the coronavirus. Renn, who worked the night shift at Lowe's, spent his final day watching his children while his wife worked at UPS. With little sleep due to lost childcare, Obst said Renn crashed after falling asleep at the wheel.
"Nobody's able to gather. Nobody's able to go to church. Nobody's able to go to the funeral home," Obst said, standing in the parking lot of Kenwood Elementary School on Thursday evening.
As cars began filling the lot (with everyone remaining inside of them), Obst stood next to buckets of flowers in preparation for his nephew's drive-by funeral procession.
Dozens of cars drove through the neighborhood off Manslick Road, on the way to Renn's father's house, a Louisville firefighter. The immediate family members had no idea they were about to witness — from a distance — an outpouring of support.
"There's no really other way to acknowledge them, other than a phone call or text, which is great, too," said Obst. "But they're going to be able to see the people and feel their love for them."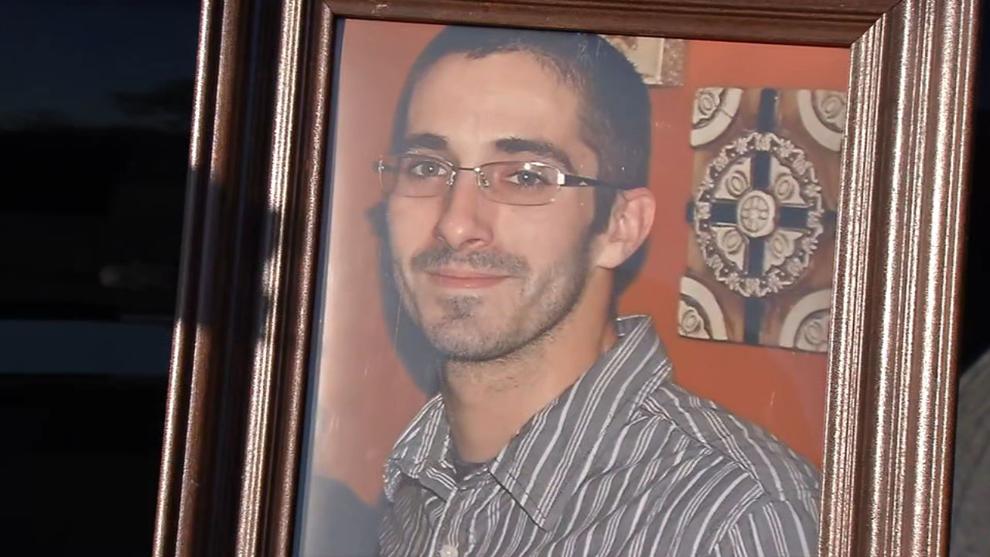 One by one, cars stopped in front of the Renn family's front yard to look at a photo of the 31-year-old father, displayed on an easel at the end of the driveway.
They tossed flowers out of their car windows, released balloons, smiled, waved and wiped away tears, as family members waved back from their front yard.
"What a time that we're living in right now," said Obst. "Everybody needs a hug, but throwing tragedy on top of it? You can't shake somebody's hand. You can't squeeze them. You can't love them. You can't kiss them."
Because they couldn't express their sympathies up close, friends and family members also held signs out of their car windows to express their love.
"These kinds of celebrations have to be done and can be done," Obst said. "We're trying to set an example, hopefully, of how we can do this the best way and still stay safe from the coronavirus."
Despite the physical distance, the connection, support and love was palpable.
"Nothing's gonna beat a hug. Nothing's gonna beat a kiss," Obst said. "But this is all we've got."
Copyright 2020 WDRB Media. All Rights Reserved.