LOUISVILLE, Ky. (WDRB) -- A protester is suing the Louisville Metro Police officer who was caught on video repeatedly punching him in the face during an April 18 arrest at Jefferson Square Park. 
The lawsuit, filed Tuesday on behalf of Denorver "Dee" Garrett, accuses LMPD Officer Aaron Ambers of battery, unlawful imprisonment and intentional infliction of emotional distress. LMPD is not named in the suit and has not identified Ambers as the officer who punched Garrett. 
Garrett was arrested after police allege he "was causing a disturbance to the public" and "safety issue to motorists" by standing in the middle of Sixth and West Jefferson streets "holding a large wooden cross" from 3:27 p.m. to 4:05 p.m., according to his arrest report. Garrett's attorney, David Mour, argues police had no "legitimate cause or purpose" to arrest him and "intentionally" made it appear that he was resisting arrest, the lawsuit says. 
LMPD is conducting an investigation into Ambers and his on-scene supervisor, Chief Erika Shields said in a statement after video of Garrett's arrest, captured by Jaime Hendricks, was widely shared on social media. Shields said Ambers' conduct raised "serious questions and is not consistent with LMPD training."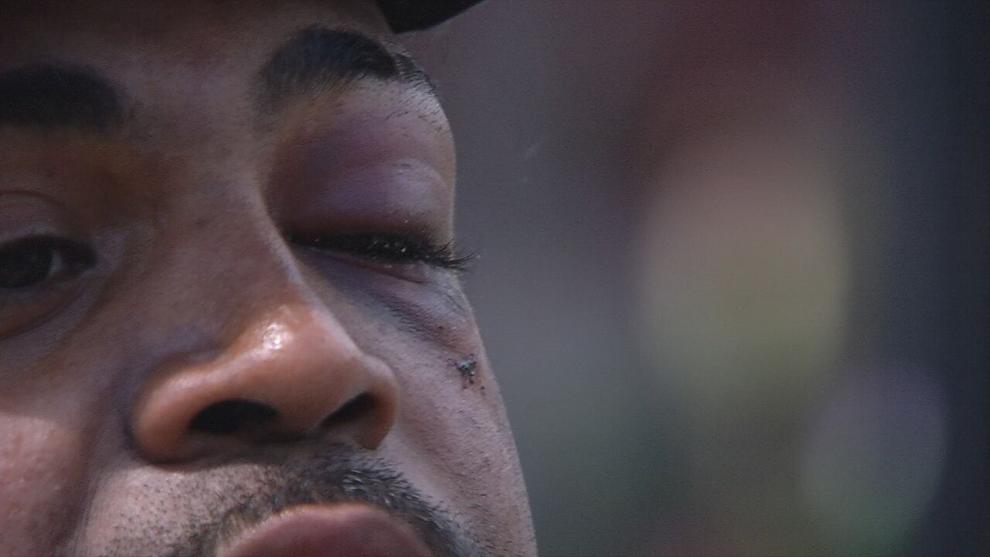 "Our officers have to manage difficult situations every day. That's part of our job," the chief said in her statement. "My expectation of officers is to handle these incidents professionally and consistent with their training, every time."
LMPD has not responded to WDRB News' request for comment on Garrett's lawsuit. The department typically does not comment on pending litigation. 
In a statement released Monday, LMPD Officer Beth Ruoff said the department anticipates completing its internal investigation of Ambers "in approximately a month."
"The timeline of the investigation is driven by multiple factors; to include, reviewing all body-worn camera footage, interviewing all of the officers who were on scene, interviewing any witnesses who are willing to provide a statement, and going through a supervisory review process," Ruoff said in her statement. "We understand the interest in the case and are committed to expediting the timeline to the extent possible."
Garrett has pleaded not guilty to charges of second-degree disorderly conduct and resisting arrest. The day after his arrest, he returned to Jefferson Square Park with his left eye swollen shut to say he "wants justice" from the department. 
"I have the right to protest," Garrett said. "I'm going to keep doing it. I could have been a George Floyd yesterday."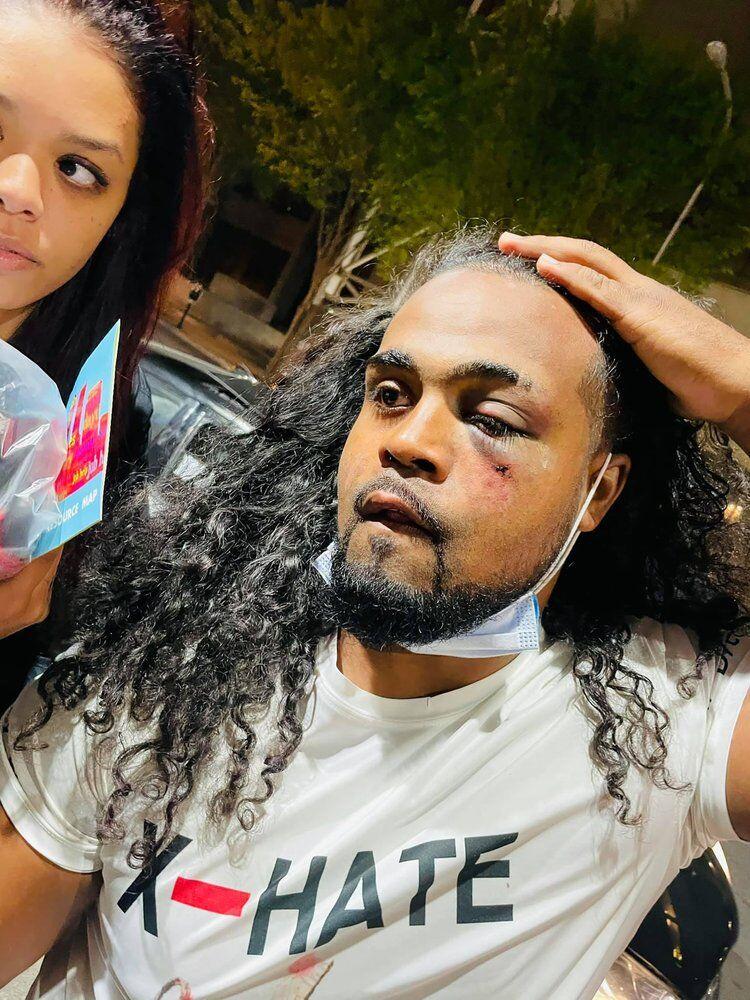 As Hendricks' 85-second clip of the arrest begins, one officer can be heard telling Garrett, "You're under arrest." An onlooker can be heard asking police, "What did he do?"
The lawsuit says Garrett was "exercising his First Amendment rights of free speech and religion" and was approached by officers after he had moved from the street to the sidewalk surrounding Jefferson Square Park. 
Hendricks' video shows an officer standing behind Garrett and holding his hands together while two other officers watch within arm's reach. Someone can be heard in the video saying, "Don't flex on me, man. Don't flex on me," and the officer behind Garrett then reaches for a pair of handcuffs on his belt. 
As the officer works to get a cuff around one of Garrett's hands, someone can be heard in the video saying, "Stop flexing on me." In Garrett's arrest report, police said he "resisted the officers movements to put his hands together close enough to put handcuffs on. He was given loud verbal commands to stop resisting and place his hands behind his back which he did not follow."
In the lawsuit, Mour argues Ambers and other officers "intentionally began to jostle Mr. Garrett about to make it appear he was resisting being arrested when he was in fact not resisting in any way.
"While this was taking place, a female police officer who was present, began to hysterically scream 'stop resisting, stop resisting,'" the lawsuit says. "This is a standard tactic used by LMPD police officers to enable them to lodge a false criminal charge of resisting arrest against the person they are taking into custody who is not actually resisting at all, in this instance, Mr. Garrett."
In Hendricks' video of the arrest, the officer appears to secure a cuff around one of Garrett's hands, and Garrett appears to move slightly. Someone then yells, "Stop," to which Garrett can be heard and seen replying, "I'm not doing nothing."
A second officer then appears to put his hands on Garrett as the officer who was first behind him puts an arm over his chest. Someone can be heard saying, "Bring your hands together — now."
Video then shows an officer putting a leg in between Garrett's legs. Garrett takes a step back, and officers begin trying to force him to the ground. An onlooking officer who was standing in front of Garret and blocking the camera's view of the interaction steps forward and joins the two other officers in attempting to restrain Garrett.
As Garrett is being forced to the ground, video shows the officer who was originally attempting to put the handcuffs on him throwing his first punch to Garrett's face. Video shows the officer throw at least three more punches to Garrett's face while he and other officers force him to the ground.
One officer can be heard in the video yelling, "Put your hands behind your back and stop resisting — now."
Video shows Garrett stop moving and the officers put him in handcuffs. As the officers pick Garrett up off the ground and lead him away from Jefferson Square Park, someone can be heard on video telling the officers they "broke his glasses."
The lawsuit says Ambers inflicted "seriously physical injury, including but not limited to temporary left-eye blindness." 
"Regardless of what he did or didn't do, we have this thing called the presumption of innocence in our constitution," Mour said the day after Garrett's arrest. "When they're taking him into custody, he's innocent, and this is the way we treat an innocent Black man."
Garrett is seeking a jury trial and compensatory and punitive damages. 
Related Stories: 
Copyright 2021 WDRB Media. All Rights Reserved.