LOUISVILLE, Ky. (WDRB) -- After 27 years of saying he was defending himself, a judge will now decide whether Keith West should be cleared of killing two men in 1992.
West is one of at least four people who say that former Louisville Police detective Mark Handy framed him for murder. West doesn't dispute that he shot and killed the two men in west Louisville in 1992. Instead, he claims he was acting in self-defense because the men kidnapped him and were going to rape him. 
The case initially went to trial in 1995, and West was convicted of two counts of murder. That case was thrown out on a technicality soon thereafter. In 1997, West took an Alford plea in the case to charges of manslaughter and was sentenced to seven years in prison. An Alford plea means that West pleaded guilty but maintained his innocence. 
West and his lawyers are now petitioning the court to vacate the plea, because they say West did not have the full context of information surrounding the lead detective, Handy, in the case.  Had he known what he knows now, they claim, he would not have taken the plea deal. 
"Keith West had no evidence to argue that Mark Handy framed him," West's attorney, Elliot Slosar, said in Jefferson Circuit Court on Thursday. 
Handy is accused of hiding evidence and altering and influencing witnesses during the course of West's case. He's also accused of similar incidents in two separate murder cases.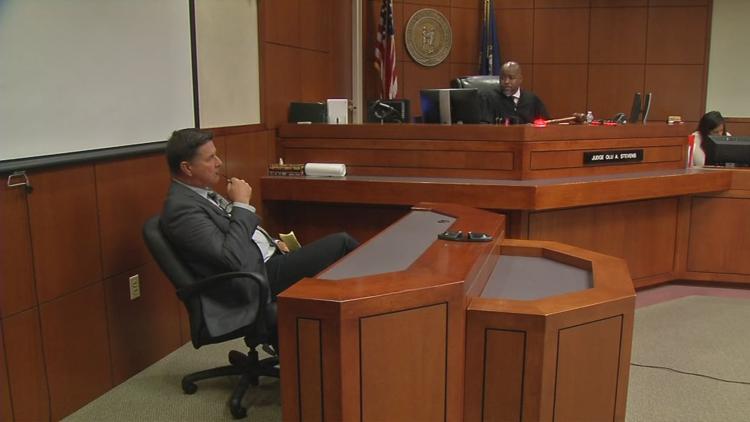 Forensic evidence cleared Edwin Chandler of murder in 2009. Handy is accused of threatening Chandler into a false confession and deleting what could have been exculpatory video evidence in the case. Handy is also accused of creating a false theory to pin a satanic ritual murder on Jeffrey Clark and Keith Hardin. They went to prison in 1995 before their convictions were overturned in 2016. 
The cases of West, Chandler, Clark and Hardin all happened within a few months of each other in 1992. 
The difference in the cases rests upon the fact that West admits to killing the men but that he was acting in self-defense, a fact that the judge in West's case harped on in court Thursday. 
"Here's whats bothering me about the whole thing," Judge Olu Stevens said. "You have individuals who were truly innocent. They did not commit the act. In this case, it's a given (that he did)."
Special prosecutor in the case, Terry Geoghegan, argues that West knew there were questions about Handy as a detective in that case and should have taken the case to trial rather than take the plea deal. 
"He got his third bite at the apple and a great break of manna falling from the heavens when an assistant commonwealth's attorney, for some reason, settled this case for ten years," he said. 
Handy was charged with perjury September 2018 for allegedly lying during Chandler's case. 
Chandler was awarded $8.5 million from the city of Louisville for his wrongful conviction.
Arguments for West's motion to have the manslaughter plea vacated wrapped up Thursday. The decision is now in the hands of Stevens, who did not specifically say when he would make a ruling. It's possible, if the plea is vacated, that West could charged and tried again. However, given Handy's current entanglements that seems unlikely, according to attorneys. 
Copyright 2019 WDRB Media. All Rights Reserved.