UTICA, Ind. (WDRB) -- A southern Indiana town has new hope after being crushed by flooding.
The banks of the Ohio River flooded in February 2018 and several homes in Utica, Indiana were destroyed.
"The water came up really quickly," David Goff said, who lives in Utica. "It receded quickly, but by then the damage was done."
Goff's home had four feet of water inside.
The community center across the street from Goff's home became a shelter for people who lost their homes, even though the center had a leaky roof.
"The water was actually coming in," neighbor Pat Harrison said.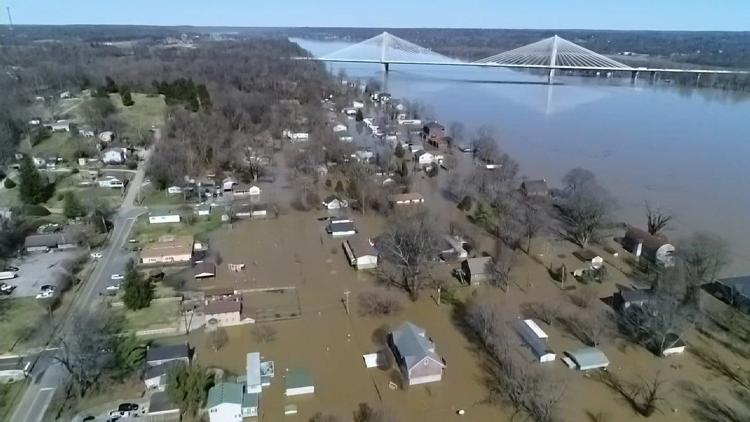 Community leaders were forced to make a difficult decision that day.
"They spent the money they saved to pay for the roof on the community center to pay for lunches for volunteers," Harrison said.
"They fed 100 people a day, three meals a day for nine weeks," Utica Town Board President Steve Long said.
The town eventually dried up, and six months later, it hosted the Arts Alliance of Southern Indiana's Monarch Butterfly festival.
Town leaders worked a hot dog stand, and that's when they met Pat Harrison.
'It was 110 degrees out that day and they said 'well, we're trying to raise money for our roof,'" Harrison said.
"We had a hot dog/hamburger stand," Long said. "You had a 100 degree day, and nobody's buying anything. She came out and said 'you guys are too old to be doing this. What's it look like?' I said 'We're trying to get a roof.' And we were a long way away from a $10,000 roof."
That's when Harrison pulled out her checkbook. And now the community center has a new roof.
The Arts Alliance commissioned a Monarch Butterfly statue for the front of the building as a reminder of the past and that sunny days are ahead when neighbors stick together.
"It just made my heart feel good to do that for them," Harrison said.
This year's Monarch Festival is on Aug. 17 in New Albany. The money will benefit the families of cancer patients.
Copyright 2019. WDRB Media. All rights reserved.