LOUISVILLE, Ky. (WDRB) – The NuLu Business Association is responding to a list of demands made by protesters last week and welcomes a conversation with the protesters to achieve change.
Protesters blocked off East Market Street to hold a block party Friday. Before the Louisville Metro Police Department arrested dozens of people, the protesters delivered lists of nine demands to each business. Those demands include adequately representing the Black population in Louisville by having a minimum of 23% Black staff and a minimum inventory from Black retailers. The demands came with a deadline of Aug. 17, or else protesters would respond by launching negative reviews and social media posts about the businesses.
"Many of us have embraced not only the protests in downtown Louisville, but the protests through the country calling for change," said Rick Murphy, the president of the NuLu Business Association.
But Murphy said no one from the group that created the list or from Black Lives Matter approached the association before Friday. While he disagrees with the approach of making demands, he agrees that more can be done in the business community in regards to the fight for justice.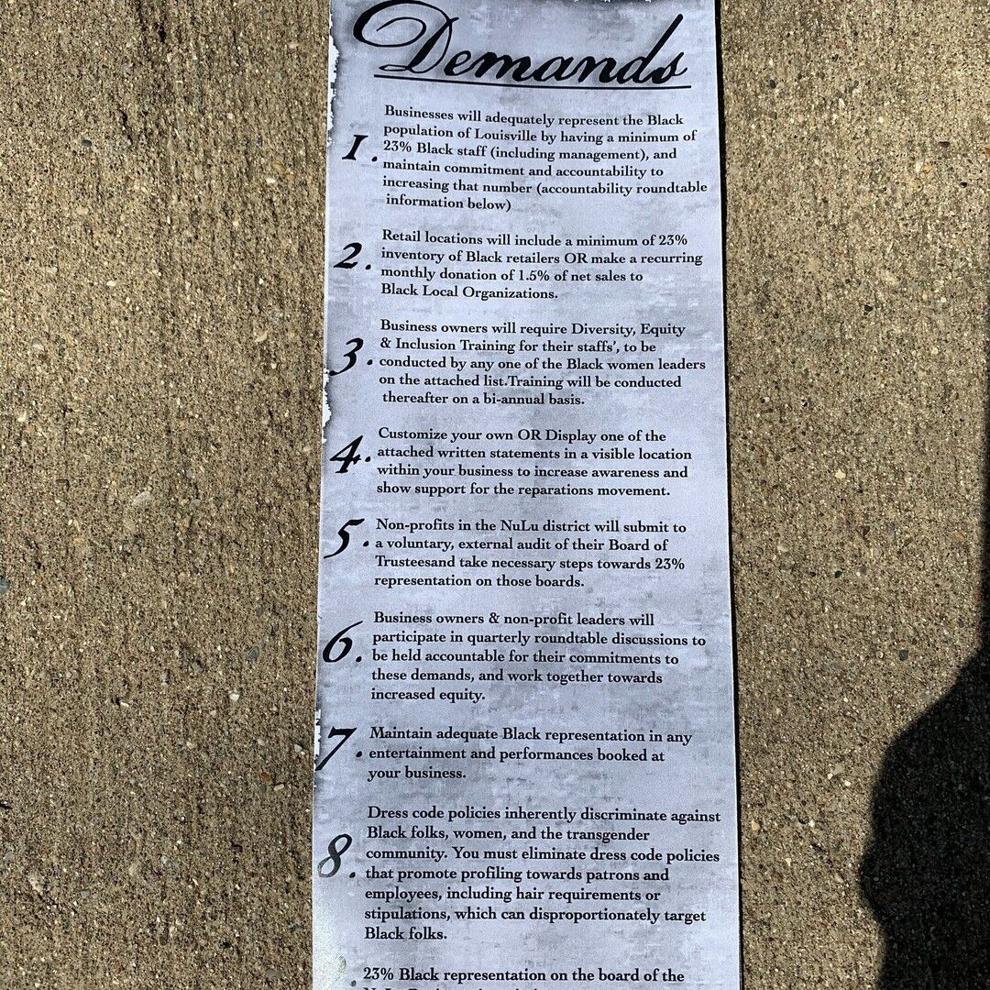 "I hate the word demands," said Murphy. "It's bullying, it's mean. We look at what they've given us as goals. I don't embrace demands from anyone. No one can demand something of me, particularly if they accompany that demand with some sort of threat or doing harm to businesses. Right now is the wrong time to try to do harm to businesses."
Murphy said he welcomes any protester or organization to join the conversation with the association, as the board already started to make some changes weeks before the protest hit NuLu. Three weeks ago, the board approved creating a Social Justice Committee.
"And that's specifically for the intent of attracting Black-owned businesses and encouraging Black employment," said Murphy. "The concept of what the protesters are asking for is totally reasonable in terms of creating goals for our neighborhood."
By creating the new committee, there will also be an open board position that will chair the committee. The intent is for this new member to be a person of color.
"Putting Black members on our board is something we can do. And we had already planned that one position three weeks ago," said Murphy.
Murphy said there are also plans for the association to offer inclusion and sensitivity training to member businesses. The list of demands included a packet of suggestions for this kind of training, and Murphy said that is very helpful to have those resources now.
Protesters chose the NuLu neighborhood as a fight against gentrification. Protesters said getting rid of the Clarksdale housing project made way for the business district, but Murphy denies that.
What is now the NuLu area used to be block after block of vacant buildings in the 90s. The Association was established in 1992 by private business owners to revitalize the East Market Street corridor, and it was done without any state or federal funding, Murphy said. He added that the Association has never had any involvement in evicting or displacing anyone. And currently, if a developer wants to build a residential property in NuLu, the Association asks that a percentage of low income units will be included.
Several business owners told WDRB News that they are open to more suggestions for change. Many already sell products and art made by Black vendors, and they are actively searching for more suppliers and artists.
For there to be real change, Murphy said NuLu will need support, too. After taking a major financial hit while the convention center was shut down for two years and now with COVID-19, business owners are barely holding on. In order to support the Black community, the business community needs to survive.
"They're hanging on by a thread," Murphy said. "What's important is civil discourse, working together, and acting together is the way change happens. It doesn't happen through bullying. That's my biggest comment. Work together, not against each other."
Copyright 2020 WDRB Media. All Rights Reserved.