LOUISVILLE, Ky. (WDRB) -- More than 60 people are searching about 60 miles of the Ohio River for a man and a woman who went missing after a barge collided with a boat carrying seven people Saturday night at the Greenwood Boat Dock. Search and rescue officials said they are "trying to leave no stone unturned" but are not hopeful that the man and woman are still alive. 
One man died at University of Louisville Hospital as a result of the crash, according to PRP Fire District Chief Doug Recktenwald. The man was among a group of five boat passengers whom barge workers pulled from the water after the crash, officials said. A witness told WDRB News that his friends were watching the Thunder Over Louisville fireworks on the boat when the crash happened. 
Members of the search party are transitioning into a "recovery" phase, Recktenwald said Sunday afternoon. Their search now spans from Caesars Southern Indiana to Brandenburg, Kentucky, and Leavenworth, Indiana. 
Crews pulled apart the barges involved in the crash to ensure the victims were not caught in between the barges, but LMPD Officer Beth Ruoff said that "did not provide any additional evidence."
Some took sonar images below the river's surface for divers to reference, while others are sweeping the shoreline. 
"We don't have any signs of life," Recktenwald said. "... Because we have been searching so extensively -- through the air, on land -- (and) we haven't found anything on the land, so our assumption is they're probably still in the water or at the water's edge at best.
"... We just don't believe that there's a chance at this point that someone's gonna come up alive from that." 
Recktenwald could not provide an update on those hospitalized after the crash. He said PRP Fire will remain on the scene until nightfall, when Louisville Metro Police, the U.S. Coast Guard and the Kentucky Department of Fish and Wildlife Resources take over the investigation. 
LMPD has recovered the boat involved in the crash, which occurred about 1,000 feet from the dock. The Coast Guard has closed the river to boat traffic in a 9-mile stretch around Caesars Southern Indiana. 
Fireworks were set off at the casino around 9:45 p.m. as part of a scaled-back Thunder Over Louisville. Recktenwald said PRP Fire responded to a reported water rescue at the boat dock a few minutes after 10 p.m. 
Recktenwald did not provide details about what led up to the crash.
"We are simply search and rescue," he said. "That is a police and Coast Guard issue. ... We have nothing to do with that. We essentially got a call at 10:08 p.m. (Saturday) evening and started to do a quick search and rescue effort, and obviously it's drawn into an 18-hour event. But we have not been any part of the investigation other than what we did when we first got here to get investigators a picture of what it looked like."
In a statement not long after Recktenwald's briefing, LMPD spokeswoman Alicia Smiley said, "The investigation into the 'who, what, why' is still continuing and we will provide updates when additional information becomes available."
Ruoff said recovery efforts will be suspended at sundown Sunday and resume around 9 a.m. Monday. 
"We anticipate the assistance of KY Fish and Wildlife, LFD, PRP Fire and the US Coast Guard among other agencies throughout the week in the recovery effort," Ruoff said in a statement. "We will continue searching the waterways and shorelines as well as utilizing our Air Unit for aerial searches. Unfortunately, the separation of the barges today did not provide any additional evidence. We will continue to provide regular updates on these efforts." 
The operator of the barges, Marquette Transportation Company, said in a statement that it is "cooperating fully with all governmental agencies that are investigating this incident and conducting search efforts."
"Our hearts and prayers go out to the individuals and families impacted by this tragic event," the company said in its statement. 
Meanwhile, several dozen people, including loved ones of the victims, gathered at the boat dock for a moment of prayer while the search continued.
Deborah Wilder, a family friend of the man who died after the crash, told WDRB News she came to the river to show support.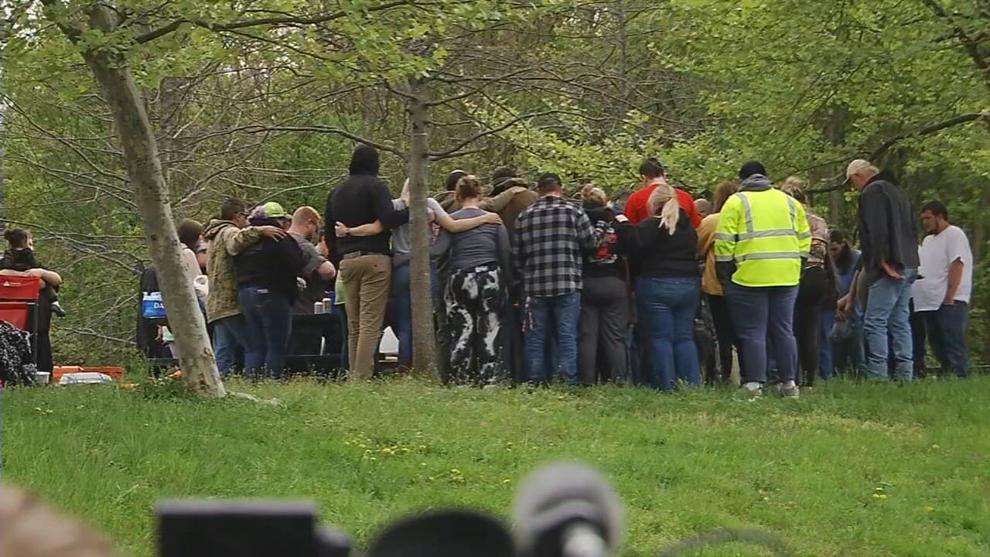 "I know what they're going through as far as, you know, the loss of a family member and how sad that is and emotional heartbreak," she said. 
This story may be updated.
Copyright 2021 WDRB Media. All Rights Reserved.