LOUISVILLE, Ky. (WDRB) – New bridges. Billions of dollars spent. Years of construction.
So far: Less traffic across the Ohio River. 
Fewer vehicles are crossing between Kentucky and Indiana since tolls were added to bridges between Louisville and Clark County, Ind., according to a preliminary report obtained by WDRB News.
The two state governments have not publicly released the study, a requirement of the Ohio River Bridges Project. But the draft version provides a first look at how drivers are responding to paying $2.05 to $12.30 to cross the river.
The traffic counts indicate that drivers apparently seeking to avoid tolls are flocking to the region's oldest span – the 1920s-era Clark Memorial Bridge – in greater numbers than previously envisioned.
In fact, the data shows the downtown Clark Memorial is carrying more than twice as many vehicles each day than the upriver Lewis and Clark Bridge that opened in late 2016 and connects Prospect and Utica, Ind.
The report also reveals that since before construction began in 2013, traffic has plummeted by nearly 50 percent on the Interstate 65 corridor, which includes the new Lincoln and retrofitted Kennedy bridges. Both are tolled.
In all, for a project whose purpose was to increase "cross-river mobility," overall traffic across the Ohio River is about 2 percent lower than before the states invested more than $2 billion on two new bridges and a rebuilt Spaghetti Junction interchange in Louisville.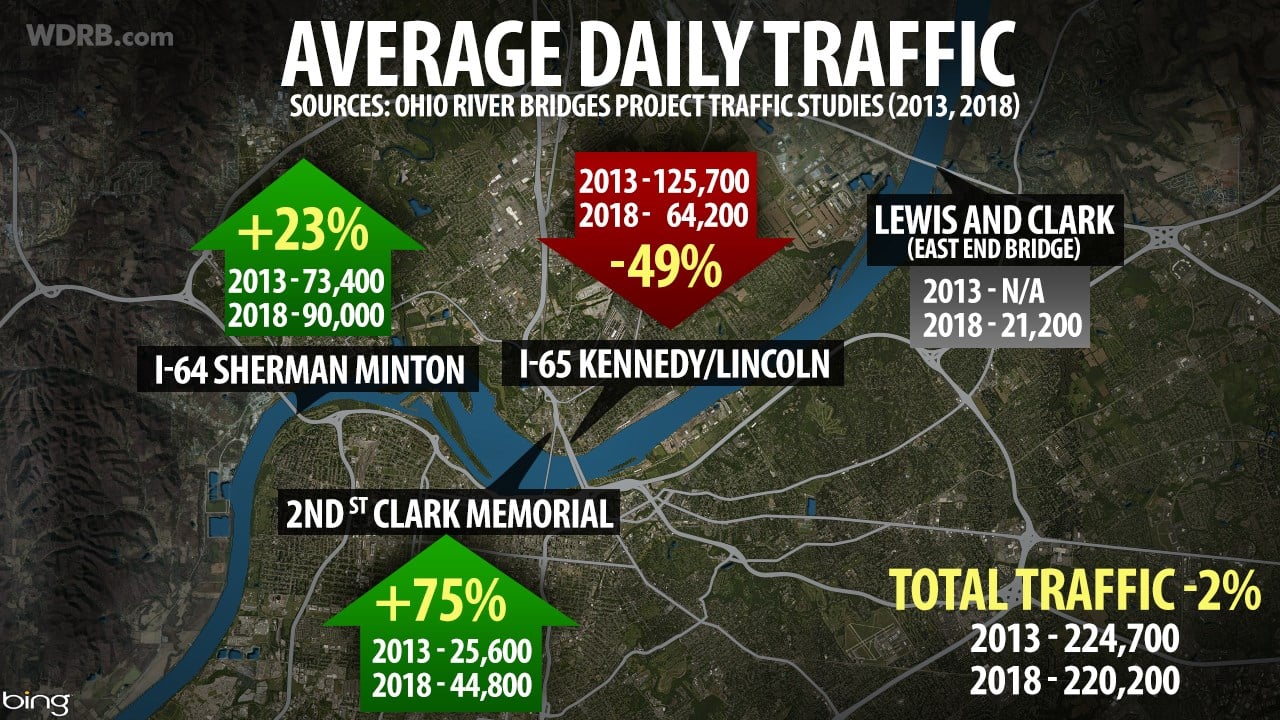 The study shows that in 2013, the average daily traffic on the three Ohio River crossings was 224,700 vehicles. Based on traffic counts taken in early 2018, more than a year after tolls began on three of the five spans, 220,200 vehicles crossed the river each day.
Earlier projections called for 250,318 cross-river trips per day.
I-65 Kennedy and Lincoln bridges
The Interstate 65 corridor now has two adjacent bridges that are tolled. The 1960s-era Kennedy Bridge carries only southbound traffic, while the new Lincoln Bridge handles vehicles heading north from Kentucky into Indiana.
In 2013, an average of 125,700 vehicles used the Kennedy each day. In 2018, after the addition of tolls, the average daily traffic was 64,200 – a 49 percent decline.
A traffic and revenue study for the project done in 2013 estimated daily traffic of 74,501 on the I-65 spans.
I-64 Sherman Minton Bridge
The Sherman Minton, which connects Louisville and New Albany, Ind., carried 90,000 vehicles in 2018, a 23 percent climb from 2013. It is the only toll-free interstate bridge in the Louisville area.
Indiana is planning an $80 million upgrade on the Minton in 2021, making structural repairs and doing other work meant to make the 56-year-old bridge safer. The span is expected to close for months.
In June, the Minton was reduced to one lane after a hole in the road surface opened and forced emergency repairs. The Indiana Department of Transportation has yet to fulfill a WDRB News public records request, submitted June 18, for the bridge's recent inspection records.
Clark Memorial Bridge
Also known as the Second Street Bridge, the Clark Memorial is the region's other toll-free route across the river. It opened in 1929.
It carried 25,600 vehicles a day in 2013, but traffic has surged to 44,800 since the toll bridges opened. Forecasts called for daily traffic of 29,335 this year.
Lewis and Clark Bridge
The new upriver span linking Indiana's Lee Hamilton Highway and Kentucky's Gene Snyder Freeway opened in late 2016, the final part of the bridges project. Consultants predicted daily traffic of 36,000 in 2018; the recent traffic counts show 21,200 vehicles are using the bridge each day.
Among other things, the report evaluates the impact of new traffic patterns on historic neighborhoods on both sides of the river. It is being prepared for officials with the two states' transportation agencies.
The Kentucky Transportation Cabinet and the Indiana Department of Transportation declined interview requests for this story. The report is expected to be made public this summer.
"Regardless of the choice a driver makes – to use a tolled or non-tolled bridge – all options are safe, regularly inspected and maintained," KYTC spokeswoman Naitore Djigbenou said in an email.
The metro area's chambers of commerce – Greater Louisville Inc. and One Southern Indiana – backed the project and were members of The Bridges Coalition, a collection of business, labor and government groups that lobbied for the work.
Greater Louisville Inc. hasn't reviewed the study or discussed the current traffic patterns with transportation experts, Sarah Davasher-Wisdom, the chamber's chief operating officer, said in a statement.
"That said, we do believe that the construction of the two new bridges and the rebuild of the downtown interchange has provided new opportunities for economic growth and commerce on both sides of the river," she said. 
Wendy Dant Chesser, president and CEO of One Southern Indiana, noted in an email that the report doesn't provide any insight into economic growth and declined to comment in detail.
Kent Lanum, President and CEO of the Jeffersonville, Ind.-based Ogle Foundation, also said the study doesn't explain what is contributing to the reduced traffic, but it raises concerns nonetheless.
"What was once a cultural and historical barrier for our region to kind of get across between Southern Indiana and Kentucky is now more of a financial and tariff barrier," he said. "And people are acting with their pocketbooks."
Lanum said he's seen businesses take steps to mitigate the cost of tolls, such as establishing offices on the other side of the river to cut down on trips.  
And that, he said, is what has worried his foundation for years.
"We weren't against tolls. Never were. It's just the fact that how they were going to be applied or how it's going to be done was going to impact that major artery that really is a connection and lifeblood for our community – that I-65 corridor," he said.
The study has been sent to members of historic preservation groups established more than a decade ago to monitor commitments made by both states.
It does not address the connection between traffic volumes and toll revenue recouped by RiverLink, the all-electronic toll network overseen by Kentucky and Indiana state governments and managed by Kapsch TrafficCom.
The most recent data submitted by Kapsch shows that toll revenue is ahead of schedule, with $86.7 million collected for the first 11 months of the fiscal year that ended June 30. Projections called for $79.3 million to be taken in over that full 12-month period.
Reach reporter Marcus Green at 502-585-0825, mgreen@wdrb.com, on Twitter or on Facebook. Copyright 2018 WDRB Media. All rights reserved.