LOUISVILLE, Ky. (WDRB) -- More than 2,400 photos are etched on the Korean War Memorial Wall in Washington, but only one Kentuckian is represented on the monument.
Rondell DeVore, an 86-year-old Cave City native, was joined by his son for a recent visit to the wall.
He's been to the wall before but said it was a long time ago.
"This is it," DeVore said with a laugh when they arrived. "I'll be forever 19 years old. I'm never going to change."
A small crowd gathered to see him look at the etched photo.
"I'm very humbled," DeVore said. "I'm very honored to have been chosen. We lost 997 Kentuckians in the Korean War."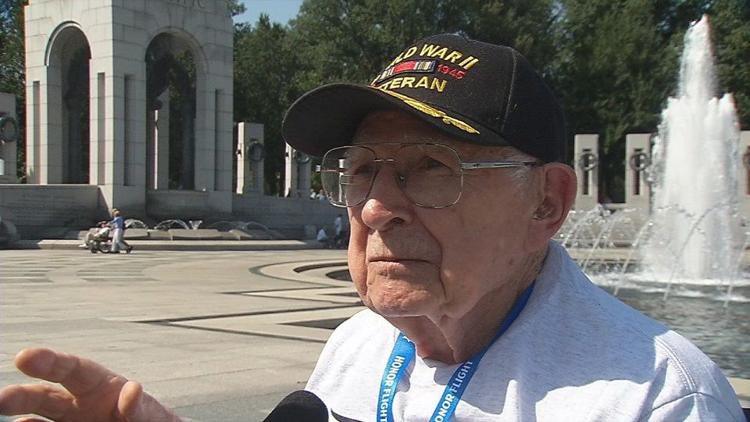 Honor Flight Bluegrass gave DeVore and other veterans a trip of a lifetime to see their war memorials. It was a chance to talk to other veterans and a chance to hear all they went through.
DeVore was part of the 18th Airborne Corps. He was wounded three times. He was a prisoner of war and considers himself lucky to be alive.
"I was only a prisoner for three months," DeVore said. "We were captured, my group, on what was called a search and destroy mission. We were dressed in native Korean clothes. You can imagine what a white Caucasian looked like in Korean clothes. Nobody around but Koreans — you stood out."
DeVore said his group was easily captured, and the North Koreans tortured him and others.
"I was put on trial for being a 'capitalist running dog,'" he said. "That meant that I wasn't even good enough to be a capitalist. I was just a running dog for a capitalist. To be honest with you, I wasn't quite sure what they were talking about."
DeVore said he was found guilty after the three-day trial. The punishment was severe.
"They thought it would be ... the thing to be was put you in a dog pen," he said. "It was 4 feet tall, 4 feet square. You couldn't lay down for four days and four nights."
He was served one meal a day and muddy water to drink. DeVore still has lasting effects from his North Korean captors.
"He was holding (a gun) against my head during one of the interrogation sessions, and I don't know if he intentionally pulled the trigger, or if he just pulled trigger. It was against this ear," DeVore said, pointing to his right ear. "It damaged this ear."
He said he has trouble hearing in his ear to this day. 
DeVore said when American pilots swept his camp with .50 caliber machine guns, not knowing his group was there, North Koreans and Americans died. He said he can't blame the pilots, because they were given coordinates and were following commands.
He said it was a fight for survival, grabbing any weapon they could, and then he found the body of the North Korean officer in charge.
"I knew he was dead," DeVore said. "I shot him in the head twice, then I realized how stupid I was. I used two rounds and only had three rounds left in that rifle."
DeVore and his group then took off running as fast as they could.
"We had to leave, had to leave those begging us," he said. "They couldn't go, was not able to go. They weren't going to make it."
"Fifteen minutes later, B-51s came in from the southwest with Napalm and Napalmed what was left," DeVore said. "Napalm is liquid fire. It leaves nothing."
For his bravery and sacrifice, DeVore received numerous awards, including a Bronze Star for valor and two Purple Hearts.
"This is Senior Paratrooper Jump Wings," DeVore said, as he displayed yet another award. "I got those pinned on me in September of 1951 at Fort Bragg, North Carolina."
He's forever thankful for this latest honor, which includes a picture from 1952 that was selected from the National Archives to appear on the memorial wall.
"It's really difficult to say what it means to realize they would do that," DeVore said. 
Related Stories:
Copyright 2019 WDRB Media. All Rights Reserved.