LOUISVILLE, Ky. (WDRB) -- Gov. Andy Beshear proclaimed National Suicide Prevention Week in Kentucky on Tuesday.
Beshear, mental health care providers and others gathered outside UofL's Peace Hospital to promote awareness for suicide prevention.
"All of us — young or old, man or woman, coming from wealthy or modest backgrounds — all of us are vulnerable," Beshear said. "And all of us have a duty to help those that are most at risk." 
In 2020, 756 Kentuckians died by suicide. Crisis calls to the National Suicide Prevention Hotline increased by 8%, with more than 350 Kentuckians calling each week on average. On Tuesday, Beshear discussed future plans to change the National Suicide Hotline number to 988 in July of 2022, making it easier to remember.
"That three-digit line is there because we want you to be able to get help as quickly as possible," he said. 
Beshear also shared his own personal connection to the issue.
"I'm not sure I ever shared it, but I lost a cousin — a first cousin — to suicide about eight years ago," he said. "He left behind an incredible wife and a 16-year-old daughter. He was a rocket scientist, not necessarily who we might think would suffer from mental illness." 
He wasn't the only one to share a personal perspective.
Jaydee Graham, who was admitted to Peace Hospital when she was 17 years old on a 24-hour suicide watch, said Tuesday that at the time, she thought she was alone.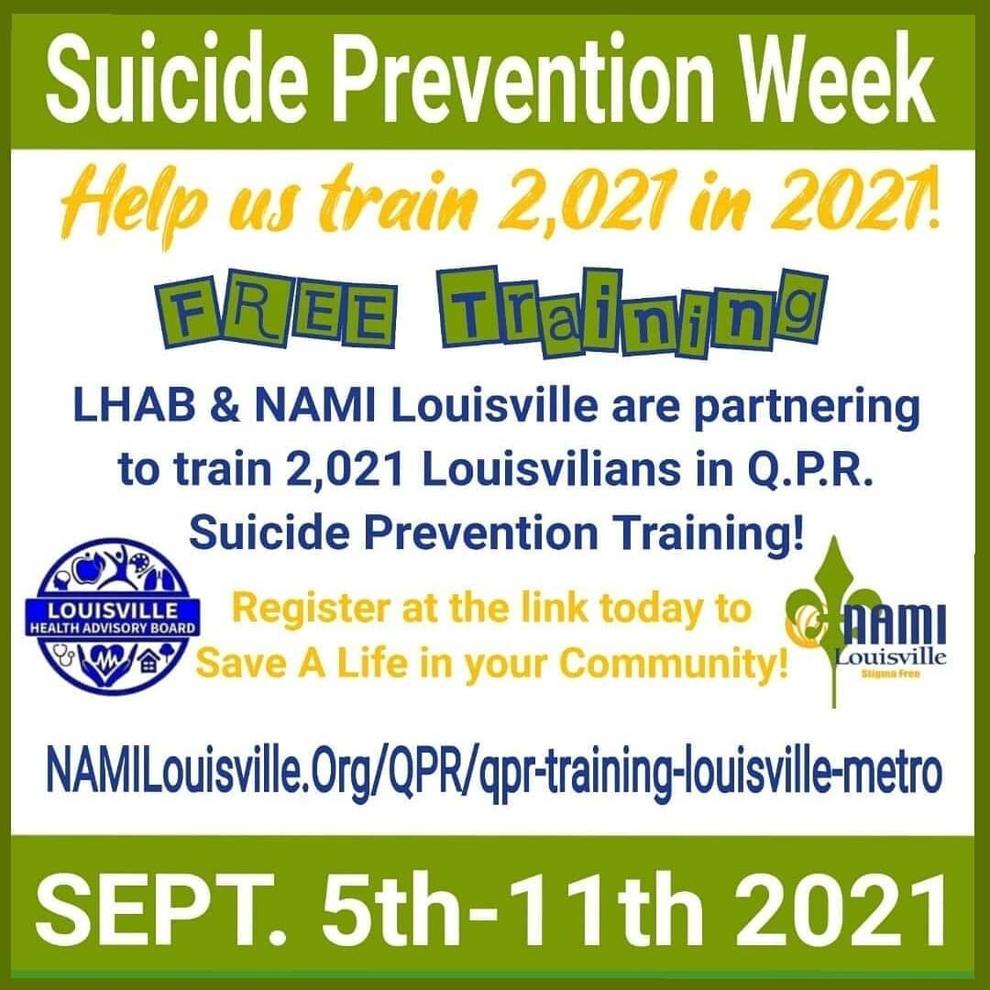 "The trenches are dark and they are hard and they are deep they are raw and they are painful, but you are not alone," she said.
Graham is glad to see more conversations happening now.
"The power of collective conversation and talking about our feelings, our emotions, and what we're going through is so incredibly powerful," she said.
Peace Hospital and the National Alliance on Mental Illness (NAMI) in Louisville are offering a specific kind of training to help people have conversations with people in crisis called QPR, which stands for question, persuade, refer.
"Talking about suicide is not going to talk someone into taking their life," NAMI Executive Director Nancy Brooks said. "Talking about suicide gives you that one chance to help them, to be the person who changes the outcome."
QPR training is free, online and takes about an hour. It teaches people how to question someone they feel may be in crisis and how to persuade them to get professional help.
"Not just for the people in your family that you maybe think are already at risk," Brooks said. "But for the neighbor you have no idea is at risk, for that person at work who one day turns to you with that fear and that concern about their well-being. Now, you have the tools to help them." 
Brooks said the goal is to get 2,021 people trained this year. People can sign up for the free training HERE. 
Copyright 2021 WDRB Media. All Rights Reserved.