CORYDON, Ind. (WDRB) -- A police chase through Kentucky and Indiana ended Sunday with a woman taking her own life and her husband in the hospital.
Residents of the Seven Oaks mobile home park said their family movie night was interrupted by gunshots outside of their home.
"It was very scary for us, because we had to get our kids and tell them to get down on the ground and stay away from the windows, something that a mother never wants to tell her kids," Alesha Cunningham said. "Duck their heads, just in case. They were both just huddled beside me on each side."
"It sounded like a bunch of fire crackers going off," Tiffany Richard added.
The police chase started in Breckinridge County around 5 p.m. Sunday and ended in Harrison County at the intersection of Highway 62 and state Road 135 in Corydon.
Brandon Scott Lewis, 34, and his wife, 32-year-old Alisha Star Lewis, from Mammoth Cave, Kentucky, were in a black stolen SUV.
"They were driving a stolen black SUV out of Louisville, Kentucky, that had stolen license plates out of Bowling Green, Kentucky," Harrison County Sherriff Nick Smith said.
The Corydon Police Department, Irvington Police Department, Brandenburg Police Department, Breckinridge County Sheriff's Department and Harrison County Sheriff's Department were all involved in the chase. Law enforcement in Harrison County used spike strips to stop the black SUV, and that's when police say they were forced to shoot at the couple.
"The male suspect started firing on the Irvington Police officer that was just in front of his vehicle," Smith said. "We are very happy to say the officers are safe. They were not injured ... We've provided you with a photo that gives you an idea of what it was like to be the Irvington Police officer who was fired upon first by the people inside of the vehicle."
Brandon Lewis was badly injured. He is at University Hospital in Louisville in critical condition. Police said Alisha Lewis turned the gun on herself and died.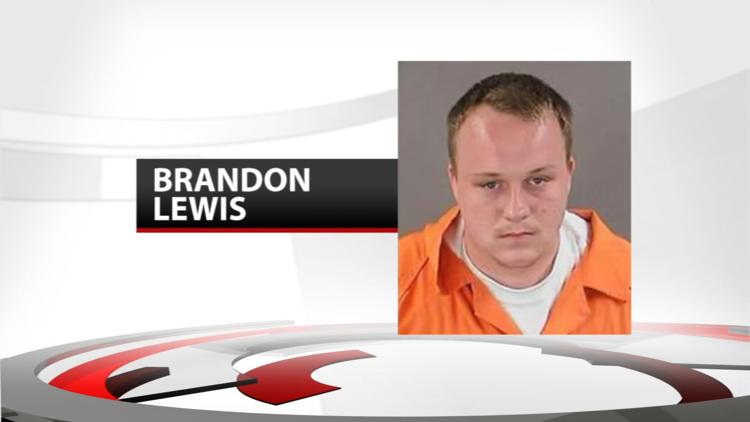 Police said the couple has a long criminal history.
"Our prayers and our hearts go out to them," Smith said. "It's a tragic moment for all of them and their families."
Residents of Seven Oaks said they're glad the gunfire was contained to the area around state Road 135.
"I'm 33 years old and have never experienced anything like that," Cunningham said. "And my children being 11 and soon-to-be 14 and having to see something like that, hear something like that, and it being right there, is awful."
Related Stories:
Copyright 2020 WDRB Media. All Rights Reserved.