LA GRANGE, Ky. (WDRB) -- Police are looking for a suspect in a violent theft at a Walmart in Oldham County.
It happened Thursday afternoon at the Walmart on New Moody Lane in La Grange. Police said the suspect got away with several pieces of jewelry, but what's causing the outrage is how he got his hands on the merchandise.
Dennis Clark, the 89-year-old victim's son, said his mother as working at Walmart on New Year's Eve when she was assaulted by a customer asking to see jewelry.
"An individual came up to the jewelry counter where she was working, wanted to see some jewelry," Clark said. "When she started to unlock the drawer, he reached over, and she just put her hand out and said, 'No.' And with his other hand, he hit her on the side of the head, and it knocked her into the counter and then onto the floor."
Clark said the punch left his elderly mother bruised, bleeding and unconscious.
"She had a big lump on her head, and then she had scrapes and cuts on her head as she was falling and hit the counter and then hit the floor," Clark said.
Clark is also a K-9 officer with the Strathmoor Village Police Department. He said, despite 35-years in law enforcement, what happened to his mother is still shocking.
"She's a tough person, and she was like, 'Don't panic. The police are here. I'm going to the hospital. It's going to be OK,'" Clark said. "She's telling me it's going to be OK. She's an old woman that's 4'11 and 89 pounds. I mean, there's no reason to have to do that."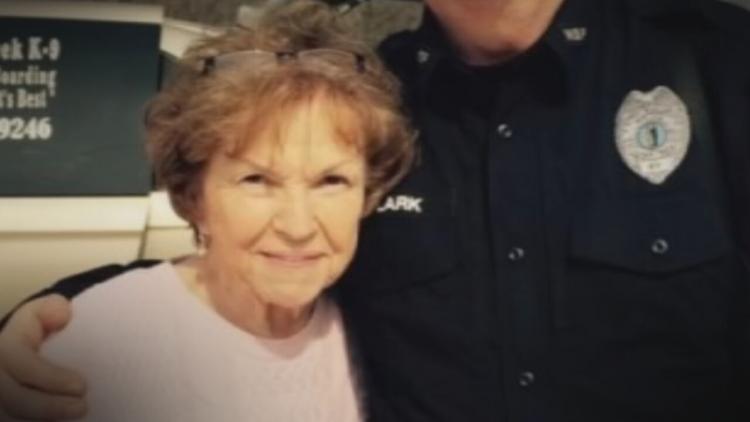 Clark was not happy that the suspect was able to just walk out of the store.
"I asked her if anybody did anything. She said some people came over when she was on the ground," he said. "I said, 'Nobody chased this guy out of the store? Nobody followed him from a distance with a cellphone? Nobody grabbed him? Nothing?' If I would have thought any place would have grabbed him, it would have been in that area there."
Clark shared his outrage and an image of the suspect from store surveillance video on Facebook. The post has been shared several hundred times.
"It's like that old saying: 'Everybody wants to be a hero ... until you have to do hero things,'" he said.
La Grange Police also posted the suspect's picture on the department's Facebook page and describe him as a white man wearing a black hoodie, black mask, gloves and camouflage pants.
"I feel really assured that they'll solve it because ... knowing how I would investigate it, he's a local, we'll find out who he is," Clark said.
Clark said his mother was taken to the hospital but has already been released. He said she's always been a fighter.
"She has beat cancer," he said. "She's had her neck broken, had a knee replacement."
Clark said his mother's Walmart family has also been helpful.
"I know the manager up there. He's good manager," he said. "You know, they love my mom. Everybody in town knows her. She was born and raised there, just really nice person, do anything for you. So Walmart is really taking care of her."
Which is why Clark said he will not try to prevent his mother from returning to the job.
"She has worked there for 36 years," he said. "She works 40-50 hours a week because she volunteers for the overtime. She says it keeps her young."
If you have any information about the suspect, you can call the La Grange Police Department at 502-225-0444.
Copyright 2021 WDRB Media. All Rights Reserved.