JEFFERSONVILLE, Ind. (WDRB) -- The nice weather predicted for Memorial Day weekend means people are already looking for places to take a dip.
Many public pools in southern Indiana, like the Jeffersonville Aquatic Center, are getting ready to welcome swimmers and sun bathers for the first time in more than a year. The 2020 pool season was a bust because of the pandemic. However, the aquatic center off Middle Road in Jeffersonville used the down time to spruce up the pool with new murals and a fresh coat of paint on the slides.
"We were closed all summer, it was a weird summer for everyone. So this year we're expecting probably a decent turnout and a very packed first day," said Olivia Mann, the manager at the Jeffersonville Aquatic Center.
The pools have been cleaned, the water features have been tested, and the pool loungers have been power washed. They are also adding a hand-sanitizer station near the pools.
"I'm sure all these chairs are going to be full by the first day. I'm very excited, and I know we're going to have a great summer," Mann said.
The Jeffersonville Aquatic Center will be celebrating its 20th pool season this year.
With the unofficial start to summer right around the corner, lifeguards are in high demand. Several pools in southern Indiana have "now hiring" signs out front. Mann said they were able to hire a full staff of 30 lifeguards because they increased pay to attract workers.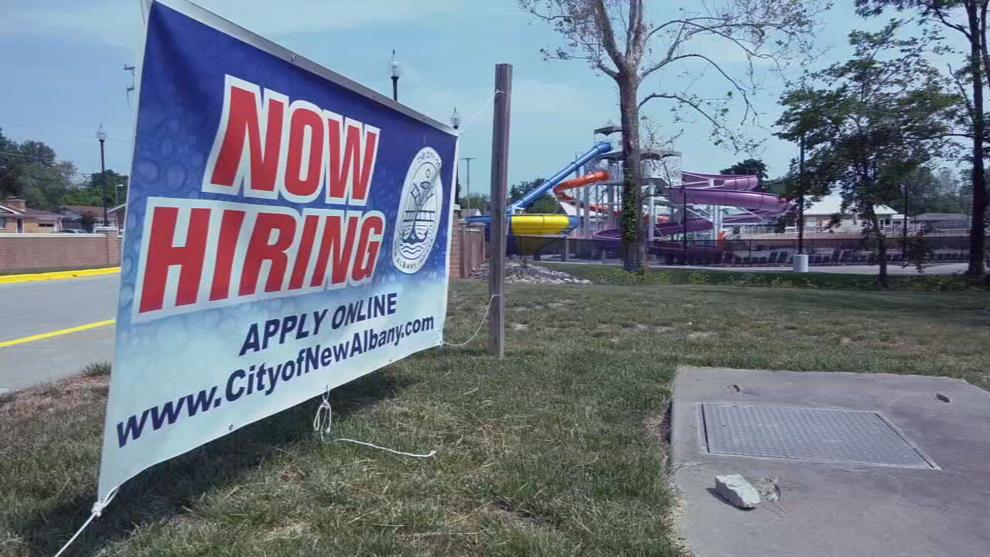 "Once we upped that pay, we had a lot of people coming in. And we had a lot more people for the concessions stand and admissions, too," said Mann.
Staff will be disinfecting chairs, bathrooms and railings throughout the day, but they are asking guests to keep some things in mind.
"When you come in, we still need to keep our social distancing. And masks are encouraged, but they're not required. So when you come up for concessions, it'd be nice if you could wear a mask in line," said Mann.
Mask or no mask, they're ready to make a splash. The Jeffersonville Aquatic Center opens at 11 a.m. Saturday. The individual rates are listed as $6 for Jeffersonville residents, $7 for Indiana residents, and $12 for out of state residents. Season passes are also available.
Other area public pools are making the same final arrangements before opening this weekend. Both New Albany's River Run Family Waterpark and Clarksville Cove Family Aquatic Center are also scheduled to open Saturday, May 29. The town of Sellersburg's pool at Mosley Park is scheduled to kick the summer season off on Friday, May 28, according to the park's Facebook page.
Copyright 2021 WDRB Media. All Rights Reserved.