LOUISVILLE, Ky (WDRB) – In a special election Tuesday, voters will determine who will succeed longtime state Sen. Dan Seum, R-38.
Seum retired last fall, and his seat has been vacant. Most of District 38 is in Bullitt County, but it also includes the southern portion of Jefferson County.
Monday night was a last-minute campaign push for the two men vying to succeed Seum. 
Mike Nemes, a Republican who was part of the Kentucky Labor and Education and Workforce Development cabinets under Bevin, said he would work to improve the district and the state.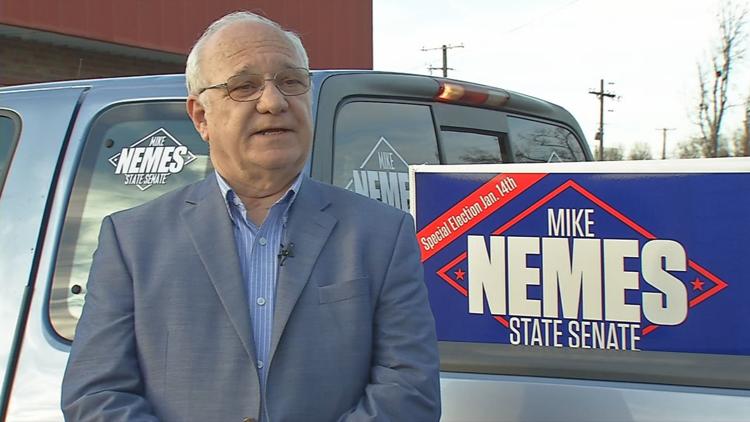 "Sure you are going to push for your district but also many of the votes and many of the things affects all of the state," Nemes said.
The Democrat on the ticket is Andrew Bailey, an educator with 13 years of experience as a teacher.
Both men agree one of the biggest issues they want to tackle is teacher pensions.
"We have a hard time recruiting teachers, and one of that is they don't want to be locked into 20 years of doing something. They want to be transferable. They don't believe in that," Nemes said.
Bailey disagrees.
"Educators don't want to be transferable. They want to stay in the classroom. They want to be doing the right thing for the community," he said.
Both men want to clean up infrastructure for the district's 126,000 residents, an area that is the second fastest growing area in the state.
Nemes said the state is in "dire need" of skilled workers.
"When I say skilled workers, a lot of people think of carpentry, electrical, which we are. It's also IT, nursing," he said.
Bailey said he has been canvassing the area for weeks and believes he, too, has his finger on the pulse of what constituents want.
"They care about better jobs, high paying jobs, that can turn into careers. They care about their access to healthcare and they care about their retirement and pension once they have completed that journey," Bailey told WDRB News.
Polls will be open from 6 a.m. to 6 p.m. You can find out whether you're registered and information about your voting location here.
Bullitt County Schools will not be in session.
Seum made waves last year when he supported Democrat Andy Beshear for governor. Seum also was critical of then-Gov. Matt Bevin, a Republican, and held a "Bullied by Bevin" picnic to support teachers and their pensions.
Copyright 2020 WDRB Media. All Rights Reserved.